Managing Food – When Eating Out Feels Like Risky Business
Back in the old days (I miss you 2019), my family would be using Yelp and TripAdvisor to locate the best local eateries and food experiences along the road and at every destination when traveling. We consider ourselves foodies and do our best to seek out the hottest or OG spots for the best food. No hole in the wall joint is too shady for us if the reviews are good and the place is busy.
Unfortunately, every food establishment and otherwise "busy" place was put on the "highly questionable" list for this trip due to COVID 19.
I knew that if we were going to make this trip work without compromising safety, I would have to manage pretty much all of our food. At first, that seemed to take a little shine off the trip. It took me just a quick minute to check that attitude and decide that it could be another fun adventure. I made sure to include the kids in creating the meal and snack plan as well. For them, it seemed like we were doing something intentionally unique and fun for all of us. It wasn't as hard of a sell as I thought it would be. AND, it was easier than I thought to execute.
Added bonuses to preparing all your food: If you are working on following any eating plan or avoiding particular foods, it is easy to tailor your meals to your needs. It is also less expensive than eating at restaurants, paying tips, and wasting food from portions that are too large and having no ability to safely save and reheat them.
Planning was essential for the success of the meal plan. We were going to be in the car ALOT, so that meant that I needed to have car breakfasts and lunches figured out and easy to assemble from the trunk of the minivan. I also needed to make sure we had plenty of fun, somewhat healthy, snacks in the car for the long drives. Dinners at cabins with kitchens made that meal a little easier, but I still had to make sure I was planning meals that included limited ingredients, simple prep, basic kitchen tools, and appropriate portion sizes to limit waste. Meal lists and grocery lists were critical to managing minimal grocery store runs and maximizing ease and enjoyment for all of us.
A quality cooler was a MUST HAVE item for this long road trip. I needed to make sure that we had a cooler in the car that could keep our food at safe temperatures for at least 12 hours. My husband and I decided that the money we would save not eating out on the trip would probably cover the cost of a top shelf cooler. We finally bit the bullet and purchased a YETI brand cooler for this trip. It was amazing. It kept our food very chill for almost 2 days without needing additional ice or ice packs. I will never look back- and hopefully this cooler will last my lifetime! The high quality cooler definitely lightened my worries as well as my workload.
Before we left for the trip, I also prepared a few things ahead to make life a little easier for me and more enjoyable for everyone.
For breakfasts on the road, I made a large batch of hard boiled eggs and peeled them. I also prepared family favorite banana oatmeal chocolate chip muffins and some washed fruit. Costco sells shelf stable, Kirkland brand, organic chocolate milk in little drink boxes, so I threw several of those in the cooler as well. I don't usually offer the kids chocolate milk for breakfast, but I was going for, "spontaneous and fun trip mom" rather than my usual, "let's start the day with some real nutrition," mom-self. (I totally sneaked in plenty of nutrition anyway.)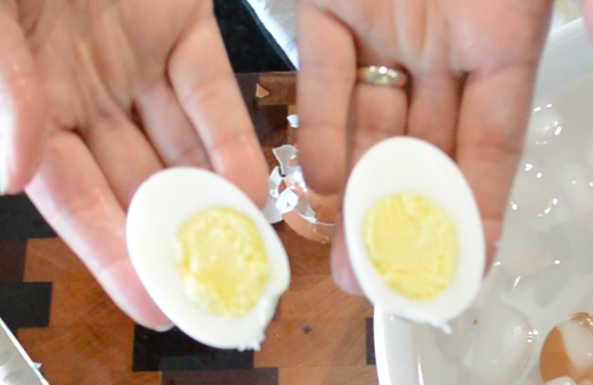 I planned for lunches by packing bread, chips and peanut butter in our dry goods bag along with some chips and homemade chocolate chip cookies. In the cooler, I packed lunch meat, cheese sticks, jelly, DIY Refrigerator pickles, mayo (because if you follow me on Instagram or Facebook, you know my husband has a mayo obsession) and cut raw veggies along with some washed grapes. I kept a stash of paper plates in the dry goods bag for the car rides and that made things easy to manage from the car. Yes, all that sounds like a boring, typical lunch…but it really didn't feel boring to any of us. Making lunch on the run, so to speak, was a mini adventure in itself. The kids were allowed to pick out the chips (their beloved Pringles), and the family favorite chocolate chip cookies made lunches feel extra special as well.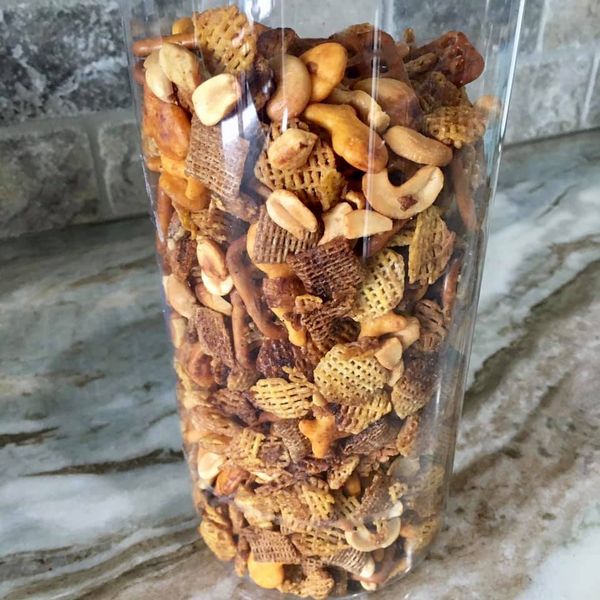 The kids rule the kingdom of snacks so I mostly purchased snacks that they requested. Boxes of granola bars, nut mixes from Trader Joe's, fresh fruit, and applesauce pouches. The kids didn't totally leave me out of the snack equation. They kindly requested that I make a large batch of homemade snack mix (aka: Chex Mix- but I don't only use Chex).
Here's the list of meals I made at the cabins:
Breakfasts: I did plan some hearty breakfasts because we would be hiking long hikes and potentially eating late lunches. I always serve fruit with our breakfasts and to make the breakfasts feel more like breakfasts out, I purchased OJ for the kids.
Homemade pancakes: I actually mixed all the dry ingredients at home and brought along two baggies to manage two mornings, that way I only needed eggs, milk and oil/butter, and syrup at the cabin.
Biscuits and gravy: There are almost never left overs when I make this. It was easy to purchase a small can of refrigerator biscuits and then sausage. I purchased a small container of Wondra flour rather than a big bag of flour that might be wasted.
Breakfast Burritos: One of the nights we made tacos for dinner. I used up the leftover taco meat, cheese and salsa from taco night to make a hearty breakfast scramble in the morning, which we wrapped up in the few left over tortillas.
Bacon and scrambled eggs: I was going to have to purchase eggs anyway, so this was an easy way to use some of them up.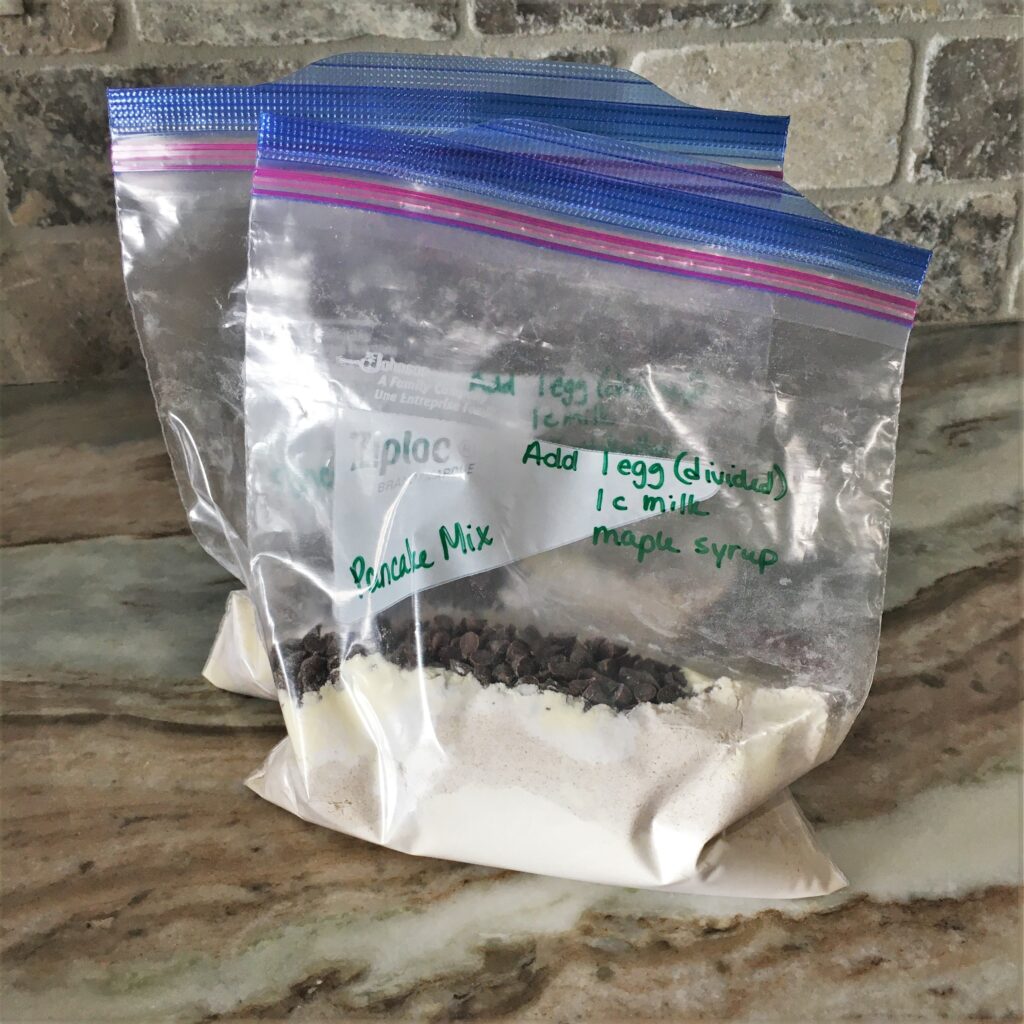 Lunches: Lunches continued to be picnic style lunches. I tried to add a little variety by purchasing different breads for the family to enjoy, and one of the days I made bacon for breakfast, I made extra and we had it on sandwiches for lunch.
Suppers: This took a lot more thought than breakfast and lunch as I knew that I would be barely functioning after long hikes. I also didn't want to waste food, or find that the kitchen at the cabin didn't have what I needed to make the meal I planned.
Steak, Baked Potatoes, and Salad: This was our favorite meal of the trip. The first night we arrived, we hit the grocery store for all of our cabin meals. We splurged on steaks since we knew there would be a grill and a good steak just needs a little salt and pepper to be flavorful and indulgent.
Taco Night: Tacos are easy, inexpensive, and there's not a lot of waste. I brought along a box of cilantro lime rice and can of black beans from home to supplement what I might find at a smaller grocery store. I used up all the leftovers the next morning in breakfast burritos.
Roasted Hot Dogs: The kids had a blast one evening roasting hot dogs over the fire. I made some oven tater tots and microwave peas to accompany this easy meal. And since we had the fire going, we made some s'mores as well.
Spaghetti Night: There is absolutely no shame in enjoying a good quality jarred marinara sauce over some spaghetti with a big side of garlic bread and bagged salad mix.
Grilled Chicken and Veggies: I purchased a marinade packet to marinade the chicken while we were hiking. My husband does a nice job on the grill, so that made cooking and clean up a cinch. A box of garlic couscous and some steamed broccoli rounded out the meal.
Desserts: You cannot think that I would neglect desserts on this trip!!! I packed some hot cocoa for cool nights, and other nights we indulged in some fresh s'mores and roasted marshmallows around the campfire.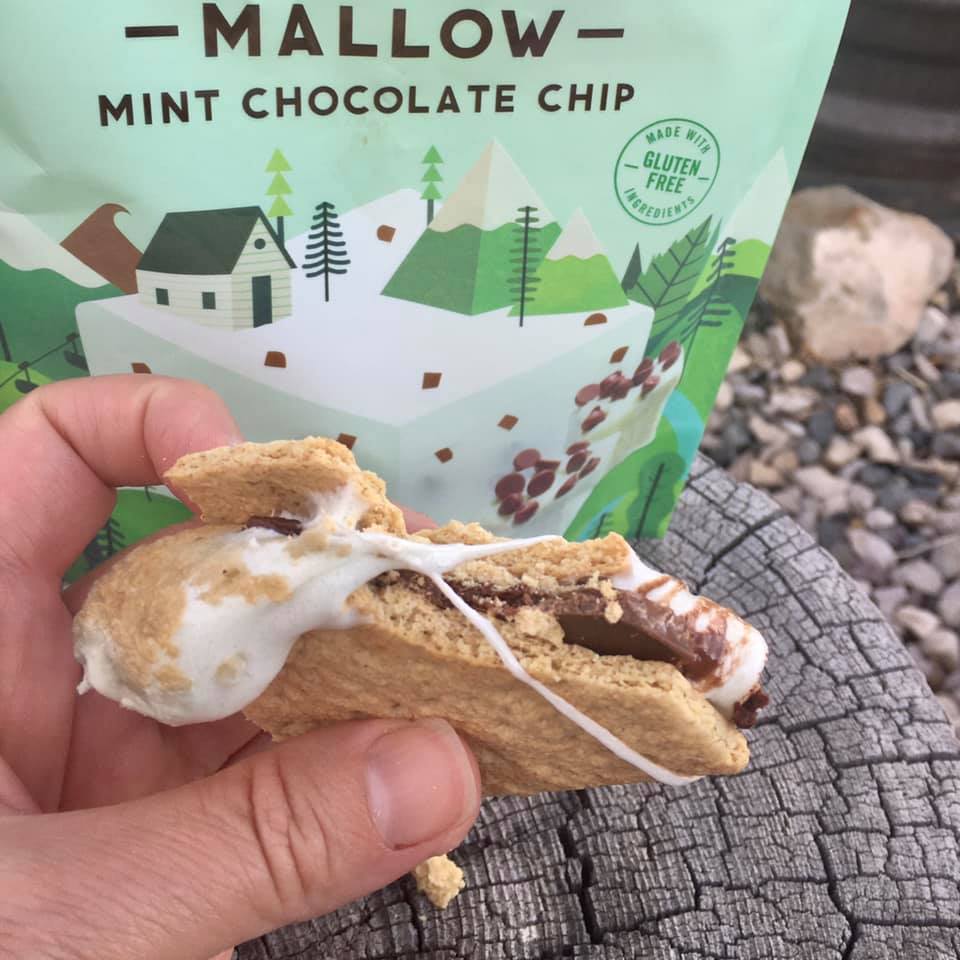 What are your favorite road trip foods? Do you have easy meals that you like to prepare when you are staying at a VRBO or AirB&B? Please share your tips and tricks in the comments!
Also, please always feel welcome to ask questions in the comments. If you're not already following me on Instagram and Facebook, I post a lot of pictures of things I'm up to that don't always make it to the blog.
Stay well and travel safely!