Pancakes can be as personal as fingerprints. Do you like yours flat? Fluffy? Sweet? Whole grain? Flavored? The size of a plate? That's not even addressing the toppings. Don't even get me started on personal preference with pancake toppings! The opportunities for a delightful breakfast are endless.
My family likes pancakes thick and fluffy. I always make a big batch because the pancakes freeze surprisingly well and make quick and easy weekday breakfasts for the kids.
This recipe for super pancakes fits our family bill nicely. My mom has been making super pancakes for me since I was a kid and I have tweaked her recipe to my own preferences and goals of being (ever so slightly) more nutritious for my crew. My contributions to this recipe include doubling it, subbing half the all purpose flour with whole wheat pastry flour, using liquid coconut (MCT) oil in place of vegetable oil, as well as adding some cinnamon and some maple syrup to the batter.
I make at least 6 variations of this recipe to suit family requests and the season. You'll notice that the pictures today are mini-chocolate chip. That's the #1 request from the kids. I also like to make super pancakes with blueberries, shredded apples, mashed bananas, pumpkin puree and pumpkin spice, and at birthdays- marshmallows, sprinkles and mini-chocolate chips. I'll give directions for those variations in the notes of the recipe.
It would also be easy to make this recipe dairy free by using a nut milk, and Gluten free using a gluten free flour blend that swaps 1:1 for all purpose flour.
I always start by measuring my dry ingredients (flours, salt, cinnamon, baking powder) in a bowl and whisking them together. There's a lot of baking powder in this recipe, so you want to make sure it gets distributed evenly. Side note: I once (accidentally) made this recipe with baking soda instead. Ewe! Not tasty. Don't do that. My family still brings it up whenever I'm due a little humility. Remember that time……
Separate your eggs! Whites go in one bowl so that you can whip the egg whites to a soft peak. Yolks go into the milk. I use a hand mixer to whip my egg whites because I'm a wimp. You may be a rock star, or maybe it's "arms day" and you want to skip the gym? A hand mixer or stand mixer works more quickly and effectively for me.
Stir your milk, egg yolks, maple syrup and liquid coconut oil in a separate bowl with a fork or whisk. Get those eggs broken up!
I always give my griddle or pan time to warm up, so I would put the griddle on low at this point.
Pour your milk mixture into the dry ingredients and gently stir. The batter will be lumpy! Add the whipped egg whites and gently fold into the batter. The whipped egg whites give the pancakes some of their beautiful fluffy lift.
Add anything firm like mini-chocolate chips or blueberries at this time. Other add ins need to be mixed at other times: see notes.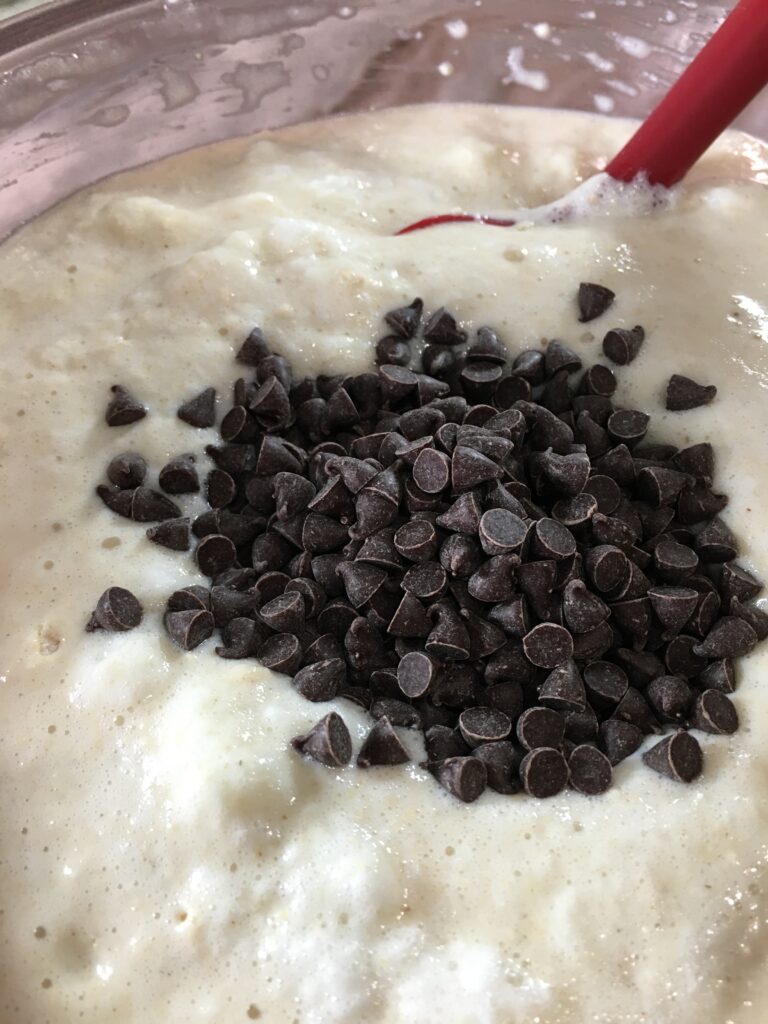 Raise the temp on the stove to the lower side of medium.
I use a 1/3 cup measuring cup to scoop my pancake batter onto the griddle. I learned from experience that I want to put the batter scoops closest to me first, then at the back of the pan. This makes flipping the pancakes much easier.
As much as I dislike ambiguous directions, I also don't like failure, so with these pancakes you'll know when to flip them when the bottom edges start to look cooked and there are bubbles on the top that pop and leave little holes. Don't walk away. Resist the urge to turn up the heat.
If you're wanting to eat all together, keep a plate in a warm oven and transfer finished pancakes to the warm plate. Otherwise, serve straight from the griddle! Pancakes that are going to be frozen should be allowed to cool completely on a cooling rack before putting into a container for freezing. You can totally freeze the pancakes in a plastic freezer bag. I am trying to move away from one time use plastics, so I have a glass container that will fit two stacks of pancakes that I use.
If warming up from frozen, I pull straight from the freezer the number that I want to reheat, microwave them for 30 seconds, flip over, then microwave another 30 seconds. Sometimes I pop them into the toaster after microwaving them to give them a little crispy edge. These pancakes will stand up to most methods of reheating pretty well.
Pancakes from the freezer can also be left as is, spread with nut butter and put into a lunchbox! They will be defrosted by lunch time.
Favorite toppings at my house are butter, pure maple syrup, and on special occasions; fresh whipped cream. How do you top your pancakes?
Super Pancakes
Course: Breakfast, Lunchbox
Difficulty: Easy
Ingredients
1 cup unbleached all purpose flour

1 cup whole wheat pastry flour

1/2 tsp cinnamon

1/4 teaspoon salt

4 Tablespoons baking powder

2 cups milk (or nut milk if doing dairy free)*

2 eggs, separated

1 Tablespoon pure maple syrup

3 Tablespoons liquid coconut (MCT) oil
Directions
Whisk your dry ingredients in a large bowl: flours, baking powder, cinnamon, baking powder.
Stir together with a fork; milk, oil, syrup, egg yolks. **See notes if doing apple, banana, or pumpkin**
Whip the egg whites to soft peaks. At this stage, get your griddle on the stove and begin warming it on low.
Make a well in your dry ingredients and pour in the milk mixture. Gently stir. The mixture will be lumpy.
Add the beaten egg whites to the batter and gently fold in with a spatula. Turn the skillet up to medium.
At this point, blueberries, chocolate chips, nuts, coconut, marshmallows, sprinkles, (i.e. firm additions), can be stirred into the batter before cooking. 1/3-1/2 cup is usually a good amount. This is a texture and flavor preference.
Using a 1/3 cup measuring cup, scoop batter onto the griddle or pan, placing scoops closest to you first. Watch the batter closely. When the bottom edges look cooked and there are bubbles that pop on top and don't fill in, it's time to flip.
Enjoy hot off the griddle, or move to a warmed plate in a warm oven.
Notes
**If making apple pancakes; grate a large peeled apple with a cheese grater and add to the milk mixture in step 2.**
**If making banana pancakes; mash one large, ripe banana and add to the milk mixture in step 2.**
**If making pumpkin pancakes; substitute the cinnamon for 1/2 tsp of pumpkin spice in step 1. Add 1/3 cup of pumpkin puree to the milk mixture in step 2. (We like this variation with mini-chocolate chips too.)**
*I do not recommend using buttermilk in this recipe. The batter is already quite thick and buttermilk makes is too thick.*