My thoughts on where/how to stay overnight.
Traveling beyond the safety of our home meant nights away from our safe, clean, beds. Choosing places to stay where we would feel safe and how we would manage more than one location also required some thought and consideration.
For most of the trip we chose to stay at cabins that were not close to other people and provided a full kitchen set up to prepare our meals. (That's another post!) Because of the distance of this particular adventure, we did have 3 nights where a hotel was unavoidable.
Hotel Routine
Two of the three hotels had mask policies in place and were operating far under capacity. The Bullock Hotel in Deadwood is a small hotel and did not seem to have a mask policy. Many guests wore masks like us, and everyone was respectful about keeping 6 feet or more away and not sharing the elevator.
One adult (my husband) wore a mask to check in and then went to the room to clean it with bleach spray, Clorox wipes and Lysol spray.
The rest of us then donned our own masks and brought up the luggage and our pillows with clean pillowcases. (I packed extra clean pillowcases as well as laundry detergent to make sure we were never putting our faces on potentially contaminated surfaces.)
Hotel nights did end up being the few nights we didn't prepare our own supper and we ordered take out from restaurants. Thankfully the hotel rooms had microwaves to reheat the food; just in case.
We skipped hotel breakfast in the morning and opted for the muffins, fruit and hard boiled eggs I had packed in our cooler for the trip.
Cabin Routine
The cabins felt inherently safer, partially because we stayed in them more than one night, but mostly because there were not other people close by and it was easy to manage cleaning them once. I also felt that the Air B&B cabins we rented had owners who were taking COVID very seriously and we could smell that the spaces had been cleaned with bleach when we entered them. We still cleaned them anyway.
Before arriving at a cabin, we made a stop to purchase the groceries we would need for meals.
Upon arrival, we wore masks into the cabins and cleaned the spaces with disinfectants before unloading the minivan.
We switched out our pillowcases for clean ones. I did not bring full sets of sheets and instead opted to Lysol spray the sheets that were on the beds.
Although neither cabin had laundry services, there were laundromats close by that were not heavily trafficked and we felt comfortable sanitizing the units we used. It was critical that we wash our used masks and clothes halfway through the journey. (Each of us wore a clean mask every day and sometimes more if a mask became soiled before the end of the day.) Although I do not think the laundromats were unsafe, I would have preferred having laundry on site at the cabins and I will push harder for that in the future when making reservations with my spouse. It can be challenging to find neat places with laundry. The cabins we rented were lovely, with beautiful views and plenty of privacy, so I really can't fuss.
We prepared our meals at the cabins and had clean spaces to enjoy them. (A future post will share how I managed the meal plan.)
The Airbnb cabins really were spectacular and relaxing. The kids had plenty of room to roam and explore without being anywhere near other people. We had the space to move comfortably and not feel trapped in one small room like in a hotel. Both cabins we stayed at had fantastic outdoor eating areas to enjoy the stunning views and mild morning and evening weather.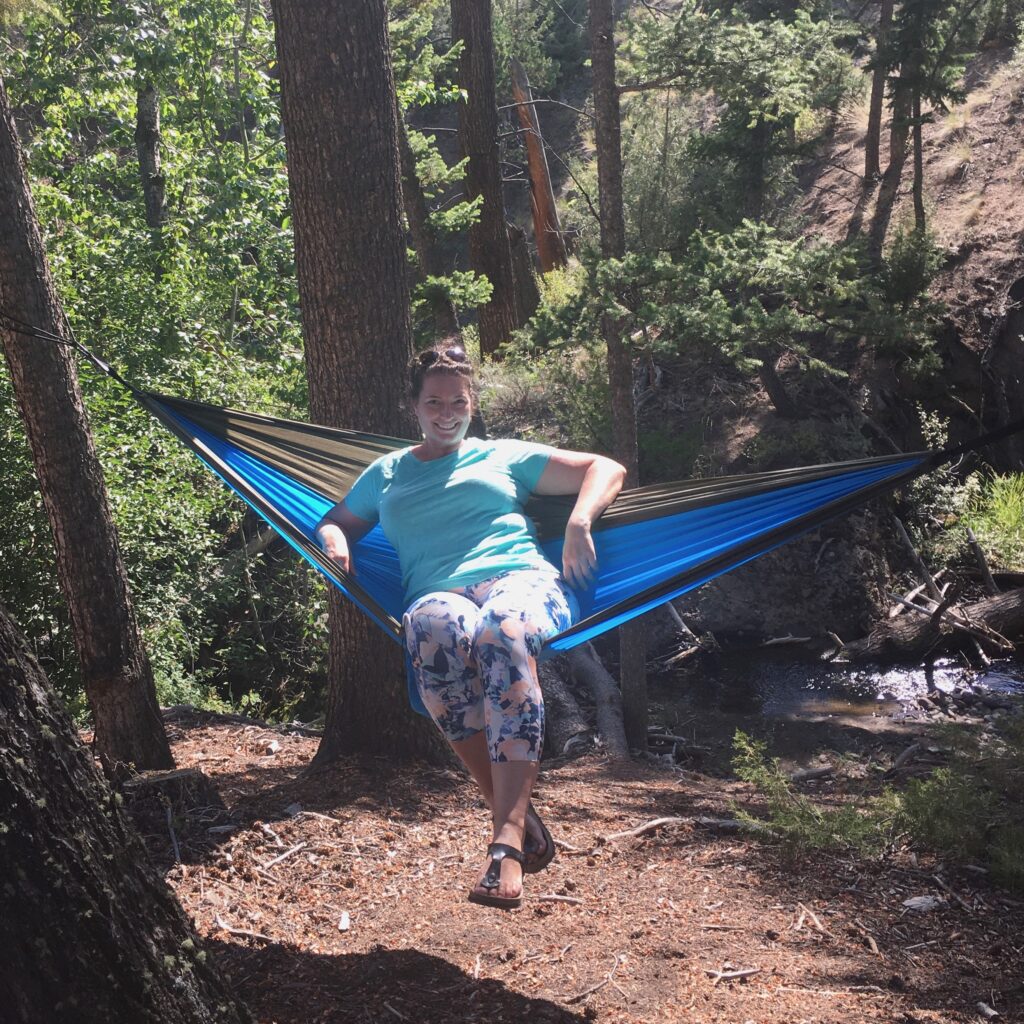 The cabin we rented near Cody, WY was on the outskirts of Yellowstone park, on a small mountain. It was our favorite location as it was VERY private. (Well, there were two friendly horses about 30 yards from the cabin front door- who we enjoyed petting and feeding apples.) There was even a little path behind the cabin which led to a secluded fire pit next to a little stream. My son and I made the most of that little bit of forest and set up the new hammock next to the stream. We spent a fair couple of hours out there in the afternoons and early evenings.
I would like credit for effectively hanging a hammock folks. My son and I could both recline in this two person hammock without it crashing to the ground a single time. (Whew!)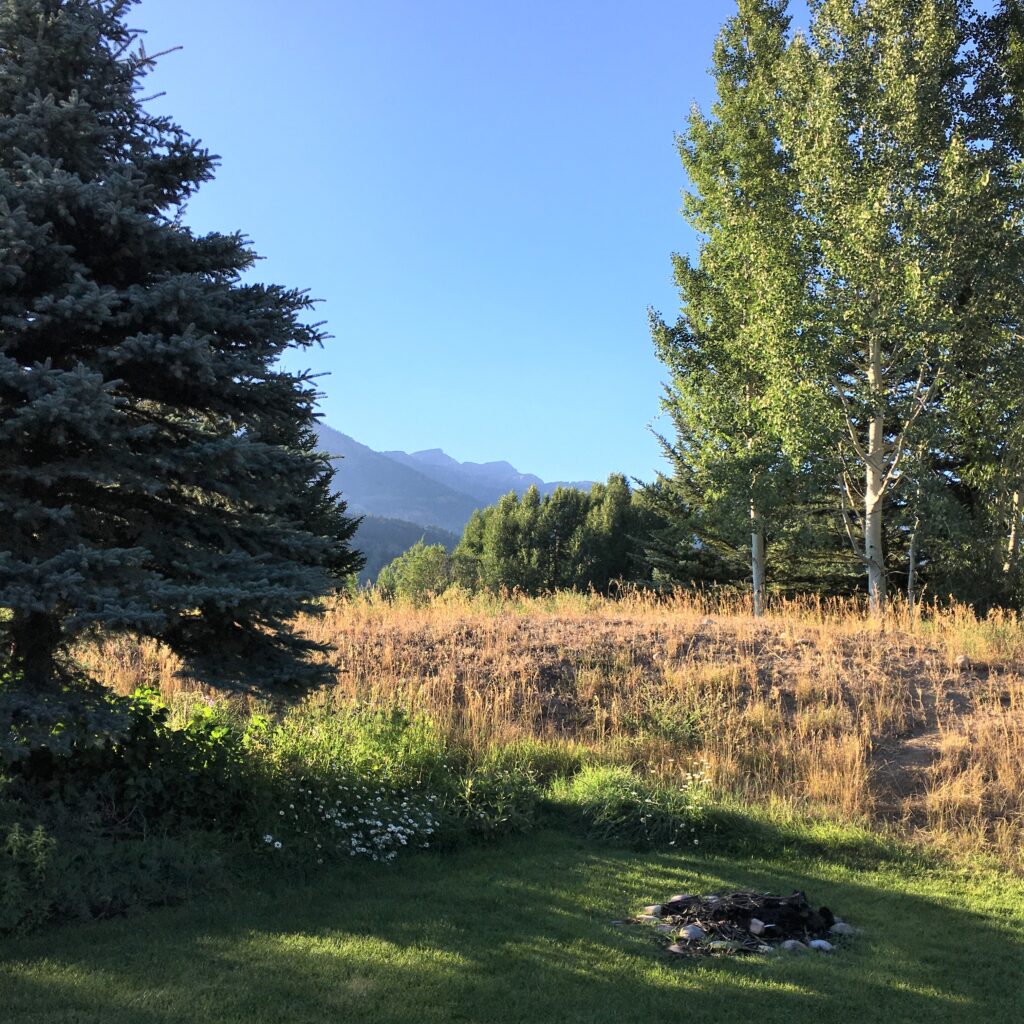 The Tetonview Bed and Breakfast Cabin was also a delight. The cabin was located on property with a bed and breakfast, but we had plenty of privacy. The cabin provided our own space to park our minivan as well as private outdoor dining (check out that view from the picnic table), and the breakfast was outstanding. The owners of this B&B know what they are doing in the kitchen. From baked french toast to egg dishes and scones; we were a well fed, and very happy crew each morning.
This part of the trip has inspired me to think about working part of my blog as an imaginary bed and breakfast host. What would I feed the lovely guests who would patron my B&B? Stay tuned……
I hope you'll share your tips and tricks for safe travel during these wild times in the comments below. If this pandemic continues, there may be another family road trip in my future for the next year!