If you have the opportunity to pick apples out at an orchard, or even better, from your backyard; this recipe for spiced apple butter is a "must have."
PSA: Apple butter is not butter. It's apples and spices cooked down to the point of being so thick, it spreads on breads and baked goods as if it were butter. I use it like I would a jam or jelly, although it is thicker. Apple butter can also be used in recipes similarly to apple sauce, only it has a more concentrated, and richly spiced flavor. Check upcoming blog posts for my most favorite apple butter baked good: Salted Caramel Apple Spice Cake.
Just before my husband and I were married, we purchased a century old house in the Brookside Neighborhood of Kansas City, MO. In the small backyard, was a very old apple tree of unknown variety. That first season, we had an enormous apple harvest, which I decided to turn into jars of apple butter as favors at our wedding. Great idea, right?! Our wedding wasn't crazy big, but 100+ jars of apple butter is something else folks. Whew!
Ever since, apple butter has reminded me of that first home and those early days of our marriage. Good times.
Although we do not have an apple tree in our current yard, and I didn't make it out to an apple orchard this year, I was over the moon excited when my friends Peggy and Phil dropped off a big bag of apples from the tree in their yard. The prospect of putting together another batch of apple butter after so many years had my mouth watering and my mind whirring with what I wanted this batch to be like.
This recipe was tweaked from Tartine Bakery and made in the Instant Pot. you do not have to have an Instant Pot to make it. Do try to source high quality cinnamon and spices for this apple butter as that will make a big difference in the flavor.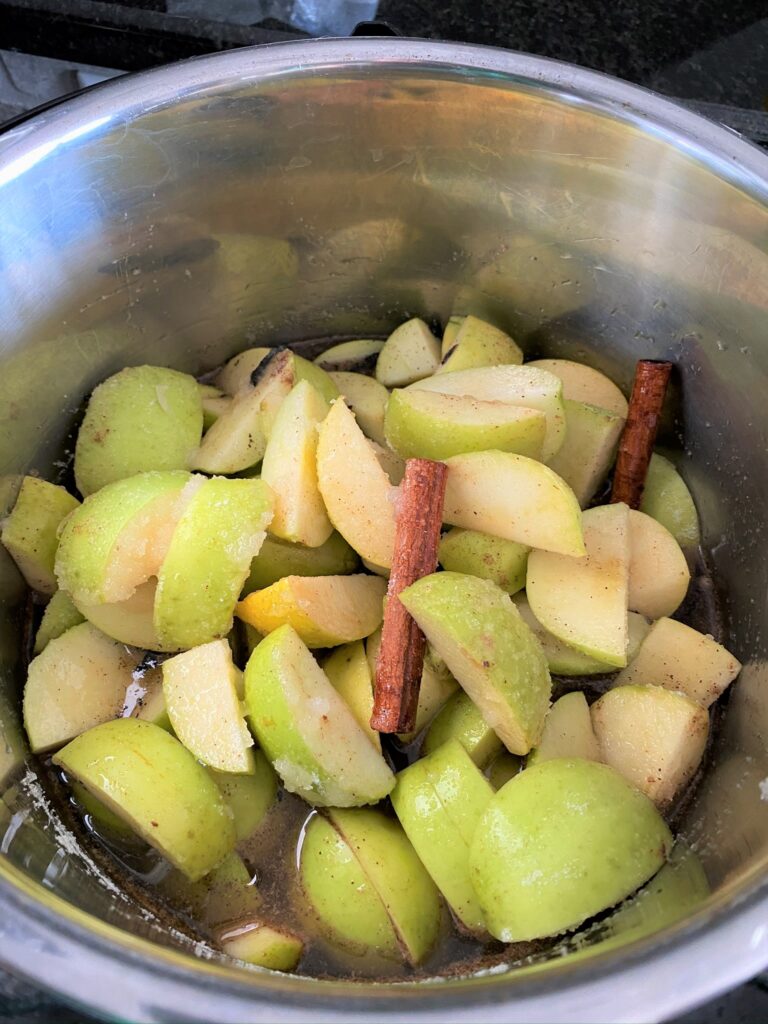 I keep the peels on in the first stage of cooking because that is where the pectin is stored in apples. The pectin will help thicken your apple butter as well as provide additional nutrients. You can go ahead an peel your apples before the first stage if you just want to skip the process of removing cooked skins.
Spiced Apple Butter
This recipe makes approximately 3 cups of apple butter.
Ingredients
14 medium apples of any flavorful variety cut into 8 with seeds removed. (Keep the peels on.)

2 1/4 cups granulated sugar

2 cinnamon sticks

1 tsp grated (or ground) nutmeg

1/2 tsp ground cloves

1/4 tsp ground allspice

2 pods of dried star anise

1 vanilla bean, split and scraped (or 2 tsp vanilla extract)

1 1/2 cups apple cider

1/4 cup apple cider vinegar

1/4 tsp vanilla salt (or flaky sea salt)
Directions
If using an Instant Pot: Place all ingredients in the instant pot. Stir to coat all the apple slices. Set on high pressure for 6 minutes. When the high pressure is finishes, allow the pressure to naturally release for 20 minutes before manually releasing the pressure and removing the lid.

If using a slow cooker or pan on the stove: Place all the ingredients in the pot. Stir to coat all the apple slices. Simmer the apples and spices for 2 hours or until the peels become opaque and the apples are soft.
If you left the peels on, scoop the apples from the pot with a slotted spoon and press them through a food mill or colander into a bowl using a wooden spoon or silicone spatula. The peels should remain in the colander or food mill and you will be left with something like applesauce.
Return the pressed apples to the instant pot or stove to simmer for 1 hour, stirring occasionally. Apple butter tends to spatter, so I put the lid on in a way that will allow steam to release, while also protecting my surface from a lot of splatter. You could also use a splatter guard for this.
After 1 hour of simmering, turn your instant pot to "slow cook high" or if you are using the stove, keep simmering on low. You should begin checking the thickness of your apple butter ever 30 minutes or so. When you can scoop it onto a spoon and it stays mounded, your apple butter is ready. This took approximately 2 hours of slow cooking for me. I do think the variety of apple may affect the cook time.
Optional: If you like really smooth apple butter, you can press the final product through a fine mesh sieve before placing in jars. It's not necessary, but does remove any last chunks of apple.
Place the apple butter into jars and allow to cool before placing in the refrigerator. The apple butter should stay good for 3 weeks, refrigerated.