My Autumn Harvest Toffee has been making the rounds in my fall baking for a few years. It's one of the most requested pieces of candy by my spouse and a few of my closest friends. One friend says this toffee is "everything." Plenty of warm spices and crunchy seeds stud this melt in your mouth toffee which is then covered in dark chocolate and more beautiful seeds. Simple ingredients that get turned into something complex and spectacular. My recipe was inspired and based on a recipe by Feast + West.
I may have missed the dates for a "fall," post. Life gets busy! However, this toffee is a pleaser, no matter what season! AND….
If you want to make it look stunning for the holiday season, just switch out the orange candy coated sunflower seeds with red, gold, or silver. Ta-Da! That's holiday magic.
Toffee is a perfect bite sized treat on any table. From book club, to coffee with a friend, a large family gathering, or a holiday party, this toffee will look stunning and deliver on flavor. One batch will also make 2-3 treat bags that could be used as host gifts or holiday gifts. It's also gluten free!
I took lots of process photos to help new toffee makers through the process.
Use quality ingredients! I like Kerrygold butter in this toffee, as well as Penzey's pumpkin spice mix, and VAIN vanilla in spiced rum. You will also need a candy or instant read thermometer for best results.
Start with a heavy bottomed pot set just above medium heat. Add 1 cup high quality salted butter, I use KerryGold, and add 1/4 tsp kosher salt, and 1 cup granulated sugar. Stir Gently until melted and combined.
2. Continue cooking, stirring constantly until the mixture reaches 300° F. The mixture will have thickened and turned darker.
3. Immediately remove from heat. Add in 3/4 cup unsalted, roasted pepitas (pumpkin seeds), 1.5 tsp pumpkin pie spice, and 1/2 tsp vanilla extract and stir vigorously to combine. The mixture will steam and sizzle a bit.
4. Pour toffee mixture out onto an ungreased metal sheet and spread with a silicone spatula. It's as much a "push/press," motion as it is a "spreading" motion. I can usually almost fill up the whole cookie sheet once I've spread it to my desired thickness. Allow to cool to room temperature. (Do not refrigerate!)
5. Once the toffee is room temperature, spread a layer of tempered (or melted chocolate melts such as Ghirardelli melts) dark chocolate and immediately sprinkle with 1/4 cup pumpkin seeds, candy coated sunflower seeds, sesame seeds, and kosher salt.
6. Once the chocolate has hardened, cut into pieces using a knife or bench scraper and store in an airtight container. I store my toffee in single layers separated by a sheet of parchment paper to keep each piece looking clean and sharp.
7. The toffee packages nicely in gusseted cellophane bags with a ribbon if you plan to give toffee as gifts.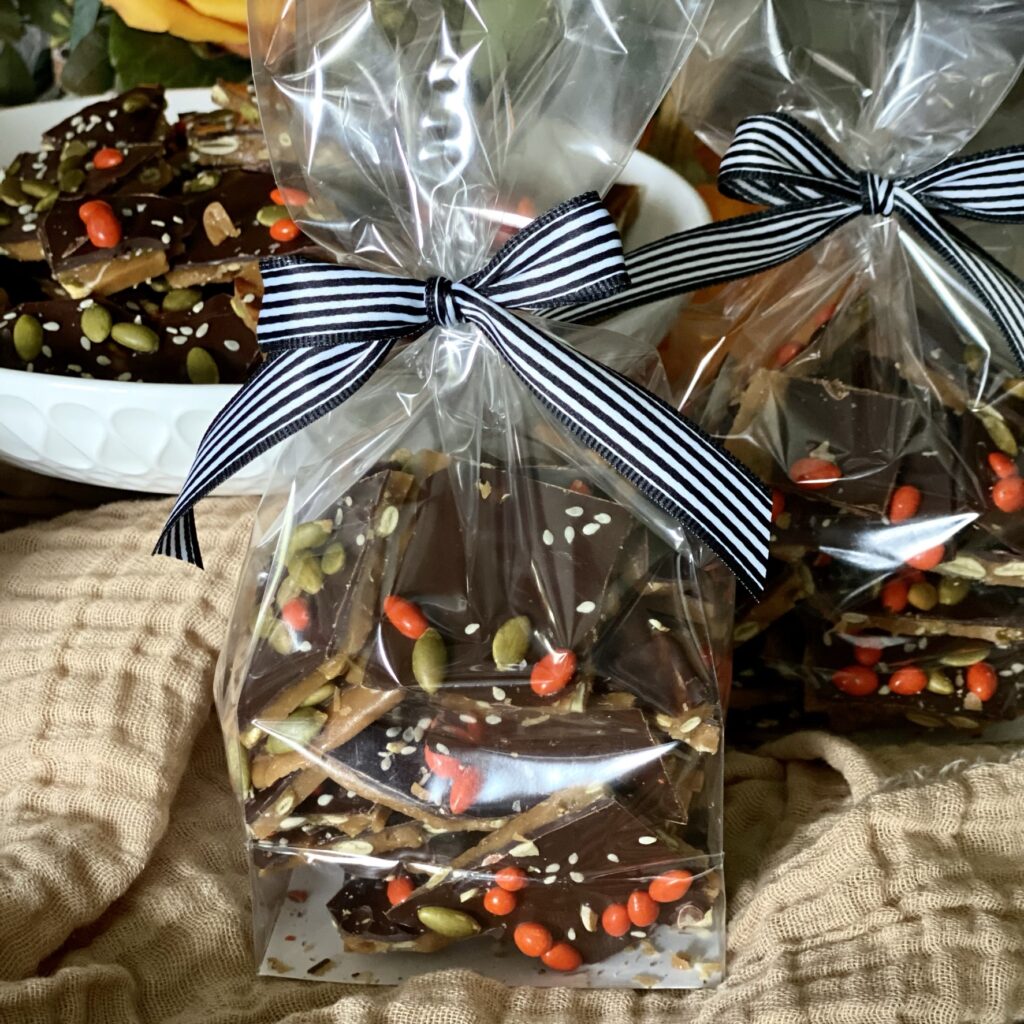 I hope you'll comment with your thoughts and feedback. It makes my day to hear that someone has been successful with and enjoyed one of my recipes.
Share your pics on instagram and FB. Tag me @meltedkc or #meltedkc
Autumn Harvest Toffee
Course: Dessert
Difficulty: Moderate
Ingredients
Toffee

1 c salted butter

1 c granulated sugar

1/4 tsp kosher salt (I used vanilla salt)

3/4 c unsalted roasted pepitas

1 1/2 tsp pumpkin pie spice

1/2 tsp vanilla extract

Toppings

5 oz melted or tempered dark chocolate *see notes

1/4 c unsalted roasted pepitas

1/4 c candy coated sunflower seeds (optional)

1-2 tsp sesame seeds

1/2 tsp kosher flake or vanilla salt
Directions
Measure out and have ready all of your toffee ingredients before you begin cooking. Set out a metal sheet pan on a heat safe surface.
Using a heavy bottomed pot, melt the butter, sugar and salt over medium heat, stirring gently.
Continue stirring constantly with a silicone spatula or wooden spoon until the mixture reaches 300° F on a candy thermometer or instant read thermometer.
Remove the pot from heat and add in the pepitas, pumpkin spice, and vanilla. Stir vigorously until combined. Pour immediately onto the ungreased metal sheet and spread the toffee using pressing and pushing motions with your spatula.
Once the toffee has cooled to room temperature, coat with tempered/melted chocolate and sprinkle immediately with your toppings. Allow to rest until the chocolate is solid before cutting.
Use a knife or bench scraper to cut the toffee. Store in an airtight container at room temperature for up to 3 weeks.
Notes
If you are not comfortable tempering dark chocolate, opt for dark chocolate candy melts. Ghirardelli makes good quality melts you can find at Target, Walmart, or most large grocery stores. You can also find dark chocolate melts at your local cake store. Melt the chocolate melts on half power in your microwave, stirring every 30 seconds until melted.