A favorite treat from your childhood reimagined.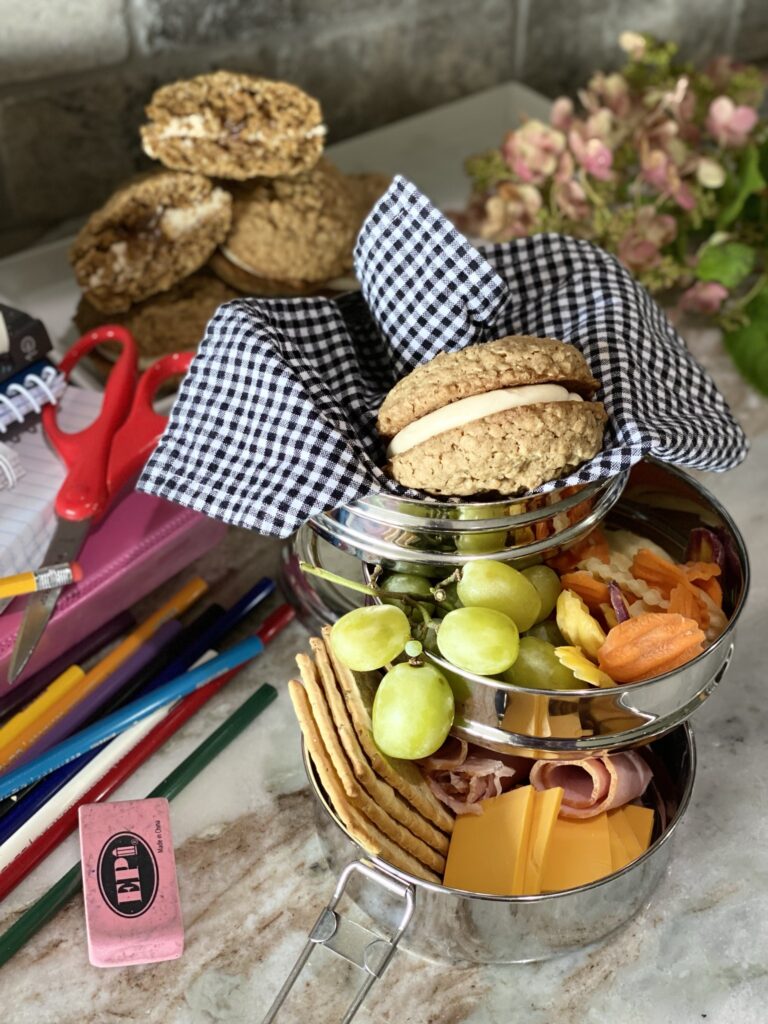 Tell me you don't want one of these in your school lunch.
When I was growing up, Little Debbie Oatmeal Creme Pies were special treats reserved for road trips or swim meets. It was not something I had in my lunchbox or on a regular basis. I'm pretty sure that the rare availability of Little Debbie snacks in my life made them taste even better at the time.
Now I'm a grown up and I don't even buy Little Debbie snacks for my kids.
I know. They are deprived. My guess is that they get them other places, like at their grandparent's house, so don't feel too sorry for them. Also, this homemade version is considerably more delicious, and my kids get to eat these on an all too regular basis.
Several years ago, I stumbled upon a recipe for homemade Oatmeal Creme Pies by Carlsbad Cravings that completely changed the oatmeal creme pie game for me. Never again will I crave a Little Debbie. I do, however, find myself craving the homemade version all the time. I mean, these oatmeal creme pies are the things about which foodies have explicit dreams. Just sayin.
While the the OG recipe from carlsbadcravings.com (linked above) is fantastic, perhaps you'd like to elevate your creme pie game with the caramelicious pumpkin spice version I am sharing instead?
I hope you'll comment below when you make them! Keep reading for the recipe as well as some tips and tricks!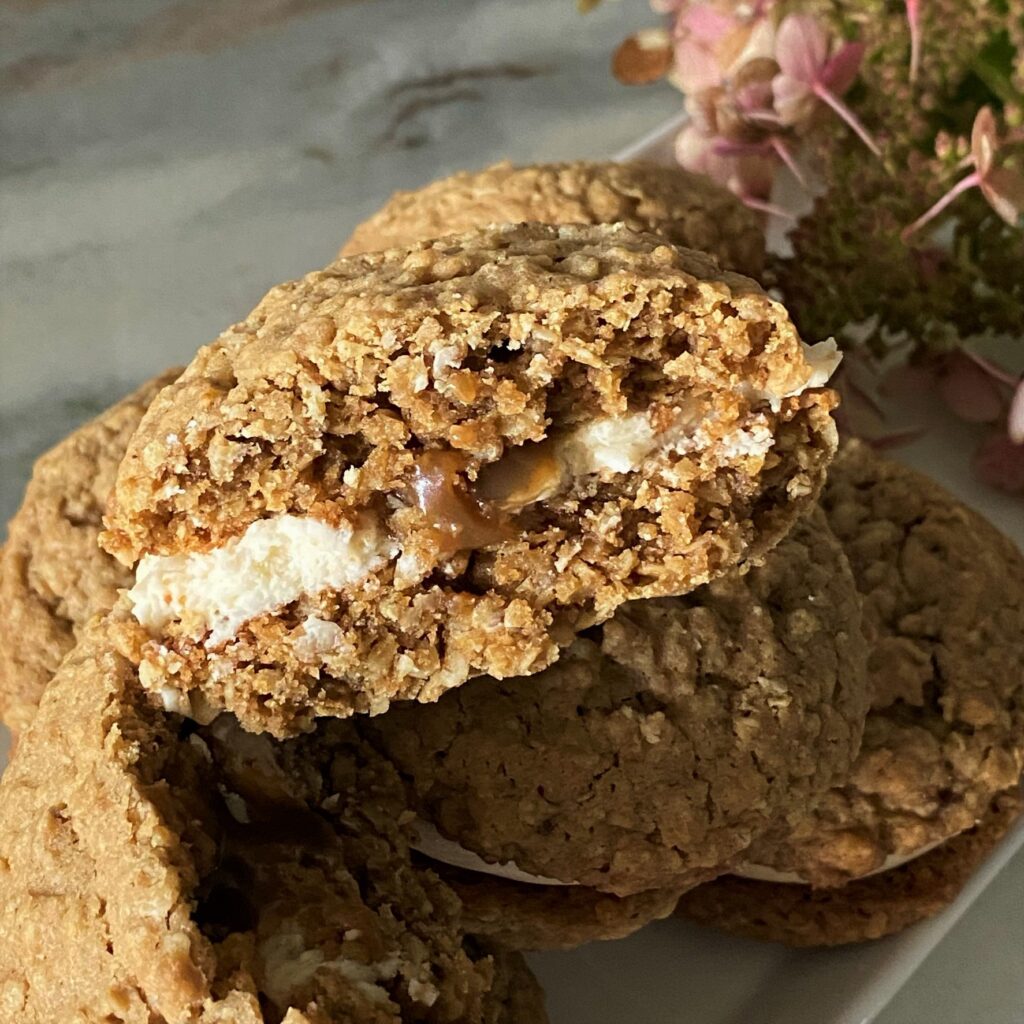 Recipe Tips and Tricks:
Freezer friendly! Make ahead! Oatmeal Creme Pies freeze really well! Wrap individual sandwiched cookies in plastic wrap and place in a sealed freezer bag in the freezer for up to 3 months. Remove cookies from the freezer bag and allow to thaw on the counter at least 30 minutes.
If you do not have quick oats, measure 3 cups of old fashioned oats into a food processor or blender and pulse 5-6 times until the oats look about the same as quick oats.
You can use a salted caramel sauce or butterscotch sauce for filling. My family and friends seem to like the butterscotch filling best, but I just use whichever filling I have already prepared. Store bought sauces will work fine too! Some of the sauce is used in the creme filling as well as a dollop of sauce in the center. The ooey gooey center filled with sauce is oh so yummy- don't skip!
For the pumpkin spice flavor, I have used Penzey's ground pumpkin spice or Amoretti Pumpkin Spice Extract. There is a considerable difference in price between the two products. The ground spices are much less expensive than the extract. The ground spices do add speckles and affect the smooth texture of the creme filling. The extract packs a major flavor punch and keeps the creme filling smooth, creamy and free of speckles. Extract does have a longer shelf life than the spices as well in case that may influence your decision.
For even more caramel and spice flavor, I used VAIN vanilla extracted in spiced rum. This vanilla is a fall baking pantry essential.
Scoop the cookies using a 3-4 Tbsp cookie scoop or cupcake scoop. For flatter cookies, gently press the scooped dough with the bottom of a glass. I don't mind fatter cookies, so I skip this step.
For the filling: Match cookies together by size, flip one over and pipe a circle of creme. Fill in the hole with butterscotch or caramel sauce. Place the matching cookie on top and press gently to seal.
Pumpkin Spice Oatmeal Creme Pies
Course: Dessert, Snacks
Ingredients
Cookies

1 1/4 cups unsalted butter (2.5 sticks) softened

1 cup dark brown sugar

1/2 cup granulated sugar

1 large egg, room temperature

1 1/2 tsp vanilla extract *

1/2 tsp pumpkin spice extract* (see notes if using ground pumpkin spices instead)

1 Tbsp dark molasses

1 1/2 cups unbleached all purpose flour

1 tsp baking soda

1/2 tsp vanilla salt

3/4 tsp ground cinnamon

1/4 tsp ground cloves

3 cups dry quick-cooking oats (see notes if you only have old fashioned oats**)

Creme filling

3/4 cup (1.5 sticks) unsalted butter, softened

3 cups powdered sugar

pinch of vanilla salt

1 tsp vanilla extract

1/2 tsp pumpkin spice extract (see notes if using ground pumpkin spices)***

1/4 cup butterscotch sauce, salted caramel sauce (see notes for link to recipes or use premade)****

2-3 Tbsp heavy cream
Directions
Cookies
Preheat your oven to 375° F. Line baking sheets with parchment paper or a silicone mat.
In a medium bowl, whisk together the flour, baking soda, salt, cinnamon and cloves. Add the quick oats and stir well to combine. Set aside.
In the bowl of an electric mixer, cream the butter and sugars together on medium for 2 minutes or until light and creamy.
Scrape down the sides and bottom of the mixing bowl before adding the egg, vanilla, pumpkin spice extract, and molasses. Continue scraping down the sides as necessary.
Reduce the mixer speed to it's lowest to slowly add the dry ingredients to the sugar mixture. The dough will become thick and you may have to finish combining the ingredients by hand.
Use a large cookie scoop to drop cookies 2 inches apart onto the prepared baking sheets.
Bake for 10 minutes or until you see the edges turning a light golden color around the edges. Remove the cookies from the oven. Allow the cookies to cool on baking sheet for 3 more minutes before transferring the cookies to cooling racks to cool completely.
Creme Filling
In the bowl of a mixer, beat the butter on medium speed until creamy, about 1 minute.
Add the powdered sugar, salt and extract. Turn the mixer to low to begin incorporating the sugar. Increase the speed gradually to medium and beat until creamy.
Add the sauce and continue beating on medium.
Add the heavy cream 1 Tbsp at a time until the frosting has reached your desired consistency.
To Assemble
Match cookies by size into pairs. Turn one cookie in each pair on its back.
Pipe a ring of creme filling on the overturned cookie.
Spoon or use a very small scoop to fill the center of the ring with butterscotch or caramel sauce.
Top with the other cookie and gently press the cookies together, being careful not to press so hard the filling comes out the sides.
Notes
* If using ground pumpkin spices in the cookies, increase the vanilla to 2 teaspoons and add 1 teaspoon pumpkin spices to the dry ingredients.
**This recipe requires quick cook oats! If you only have old fashioned oats on hand, measure 3 cups old fashioned oats into a blender or food processor and pulse 5-6 times until the oats resemble quick cook oats.
***If using ground pumpkin spices in the creme filling, increase the vanilla extract to 1 1/2 teaspoons and add 1/2 teaspoon pumpkin spices to the filling.
****Premade sauces purchased at the store will work in this recipe. If you'd like to make your own, click on these links for recipes to make Homemade Butterscotch and Salted Caramel Sauces.