With Lemon Curd and Fresh Whipped Cream
The flavors of this scone paired with lemon curd and fresh whipped cream will burst on your tongue like a welcome ray of spring sunshine.
This recipe is a lot like a lemon version of strawberry shortcake. The buttery scone is studded with melted white chocolate chunks, and glazed with fresh squeezed lemon juice and powdered sugar. Then you add a generous helping of thick, tart lemon curd. Top that off with a generous dollop of freshly whipped cream and you've got a show stopping breakfast, brunch, tea, or dessert on your hands- or rather, in your mouth!
Another great feature of this recipe is that is can be mostly made ahead. The curd can be made several days in advance. The scones can be made without baking and stored in the freezer for several days as well! If you want the scones for breakfast, I recommend making them up to the point of baking the day before you want to have them.
If making the curd and whipped cream isn't your thing, then purchase them. Trader Joe's has a delicious lemon curd that I use on occasion, and you can easily purchase your preferred whipped cream from a can or a tub.
The original recipe for the scones came from The Vanilla Bean Blog. I adjusted a couple things in the ingredients, but I made more adjustments in the directions and technique. The lemon curd recipe and technique is from Sally's Baking Addiction. I make it just the way she has it written. She does mention using a silicone whisk, which I don't actually have, and it seemed to work just fine with a regular whisk. (Just in case you're kitchen drawer is missing a silicone whisk too!)
For the whipped cream, just whip 1 cup of very cold whipping cream with an electric mixer on high speed with 1 Tablespoon powdered sugar and 1/2 teaspoon vanilla extract until stiff peaks form.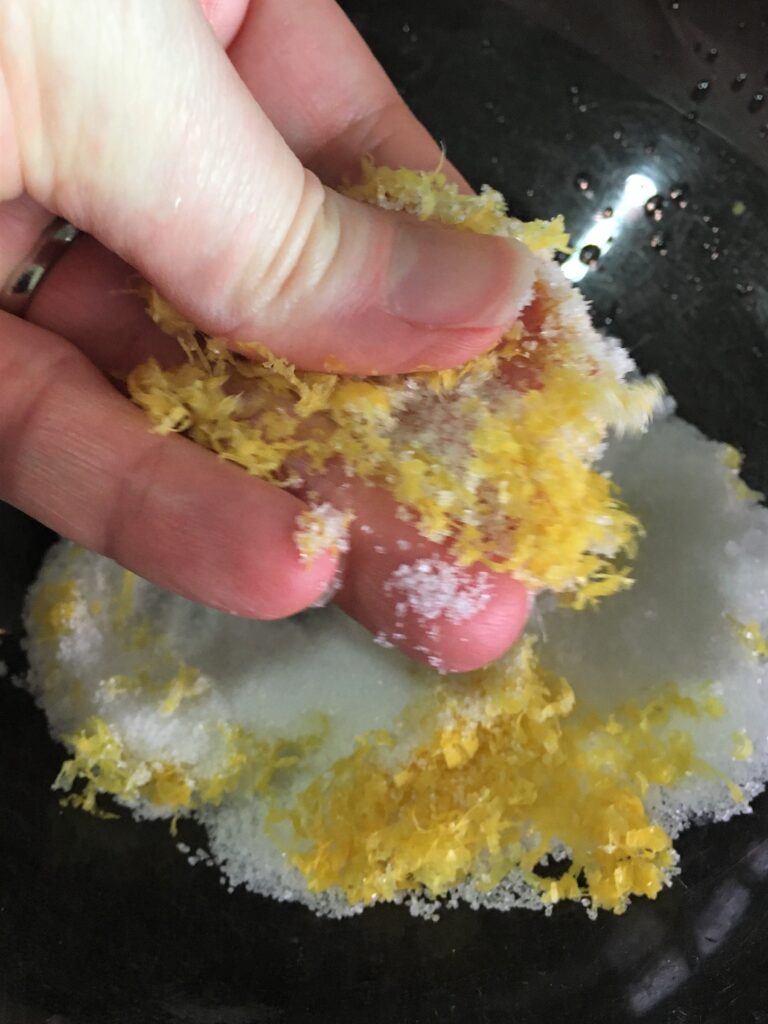 White Chocolate Lemon Scones
Course: Breakfast, Dessert, Brunch
Difficulty: Medium
Ingredients
scones

2 Tbsp granulated sugar

1 Tbsp lemon zest (about 1 large lemon)

2 1/4 cups of unbleached all purpose flour

1 Tbsp baking powder

1/2 tsp salt (I use vanilla salt)

12 Tbsp unsalted butter, frozen and grated

1/2 cup heavy cream +2 Tbsp for brushing

1/4 cup lemon juice (about 2 large lemons)

1 egg

1/2 tsp vanilla extract

4 oz white chocolate, chopped (or use chocolate chips)

lemon glaze

1/2 cup powdered sugar

2-3 Tbsp fresh squeezed lemon juice

1/4 tsp vanilla

pinch of salt

Lemon Curd homemade and cold, or purchased
Whipped Cream (See Notes or purchased)
Directions
Put the sugar and zest into a large mixing bowl and rub them together to infuse the sugar with the lemon essence. Add the flour, baking powder, and salt to the sugar mixture and whisk well to combine. Add the chopped chocolate and stir together.
Add the grated frozen butter to the flour mixture and fold until you see all the butter has been coated by the flour mixture.
In another bowl, whisk to combine 1/2 cup heavy cream, vanilla, egg and lemon juice.
Add the wet ingredients to the dry ingredients and mix until combined. Do not worry if it seems dry or crumbly.
Pour the mixture onto a lightly floured surface and knead the dough 6-8 times to help it come together. (Add a little more flour if the dough is too sticky.)
Using a floured rolling pin, roll the dough into a 12 inch square. Fold the dough from the left and right into thirds (like a business letter).
Then fold the top and bottom into thirds and you'll have a fat 4 inch square.
Check your surface and rolling pin for adequate flour, then roll into a 12 inch square again. like you did in step 6. Pat/shape your rectangle until it is about 12 inches x 4 inches.
Using a sharp knife or bench scraper, cut the long rectangle into 4 equal rectangles, then cut each rectangle diagonally to form two triangles.
Transfer the triangles to a plate or try lined with parchment, cover, and freeze for at least 1 hour, up to 1 week.
Before baking: Preheat your oven to 425 degrees F. Remove the scones you want to bake from the freezer and place them 2 inches apart on a parchment or silicone lined baking sheet. Brush them with the remaining heavy cream. Reduce the oven to 400 degrees after placing the scones in the oven. Bake for 20-25 minutes. (Some of the white chocolate chunks might look a little burnt if they were on the bottom edge. Just trim those off after they cool.)
Allow the scones to cool for 10 -20 minutes before dipping in the glaze.
To make the glaze, whisk all the glaze ingredients together in a bowl large enough to dip the scones.
Serve with lemon curd and fresh whipped cream.
Notes
Whipped Cream: With an electric mixer, whip together: 1 Cup heavy whipping cream, 1 Tbsp powdered sugar, 1/2 teaspoon vanilla extract until stiff peaks form.