I know my blog and social media feeds are a bit sugar heavy, but I do actually make and eat lots of veggies. This particular recipe is gluten free, dairy free, Wahl's protocol friendly, and whole 30 friendly.
Brussels sprouts were practically a four letter word when I was growing up. My dad like them, so my mom cooked them. Back then, my mom boiled frozen Brussels sprouts. I cannot adequately describe how awful those were to eat. I don't know what my dad saw in them.
Fast forward to my adult life where I wanted to incorporate a variety of healthy foods for myself and my children, so I tried Brussels sprouts another way. Fresh, oiled, and broiled. The difference a little caramelization makes on this vegetable is incredible. That was when I realized that Brussel sprouts and I could get along in this world. I don't remember if we changed my parents, or if they discovered the better ways of preparing Brussels sprouts before their kids. We are all just glad it happened. To give credit where it is due, this recipe is a nod to how my dad prepares his sprouts now. Thanks Dad!
I look forward to this side dish more than the main dish on nights that I make it. Always two scoops of this for me, and leftovers the next day are just as satisfying. This recipe for Brussels sprouts sauteed (caramelized) in bacon drippings, seasoned with shallot, salt, pepper, and finished with the lightest drizzle of balsamic vinegar is the Cadillac of Brussels sprouts preparation.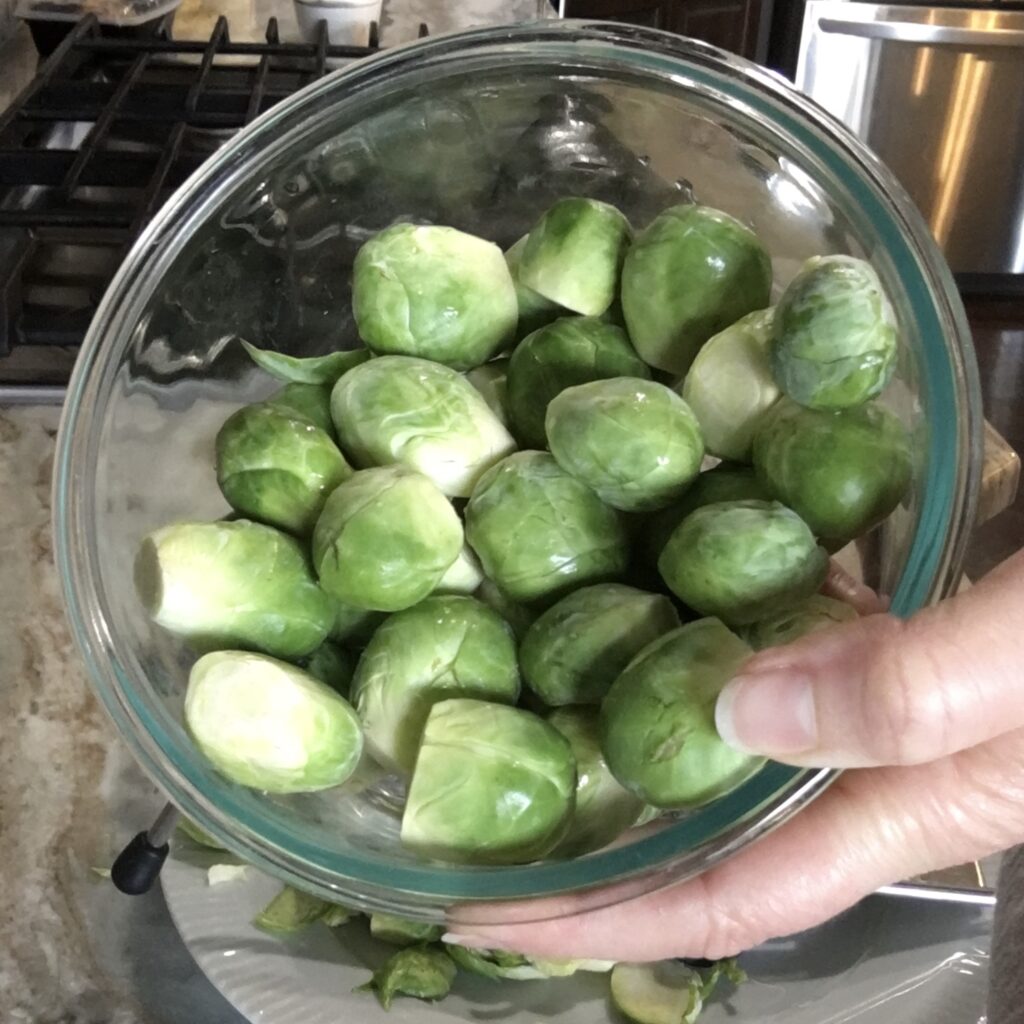 You'll want to start with fresh Brussels sprouts that you wash and trim. Trimming sprouts is just slicing a little off the bottom with a paring knife and removing any loose or wilted leaves.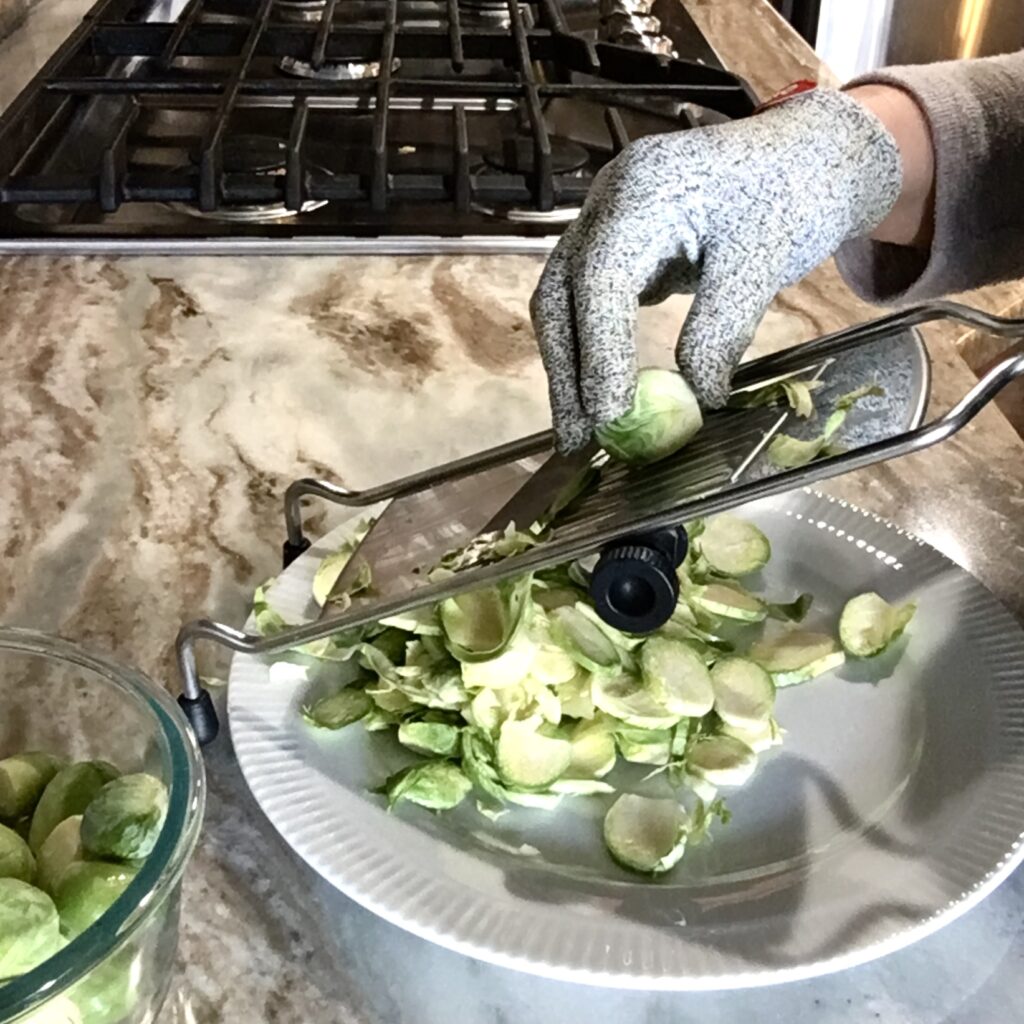 I use a mandolin to slice the sprouts in quarter inch slices. The glove is to protect my hand from the slicer, and I try to always have the top of the sprout go into the slicer first, this seems to keep the slices together better.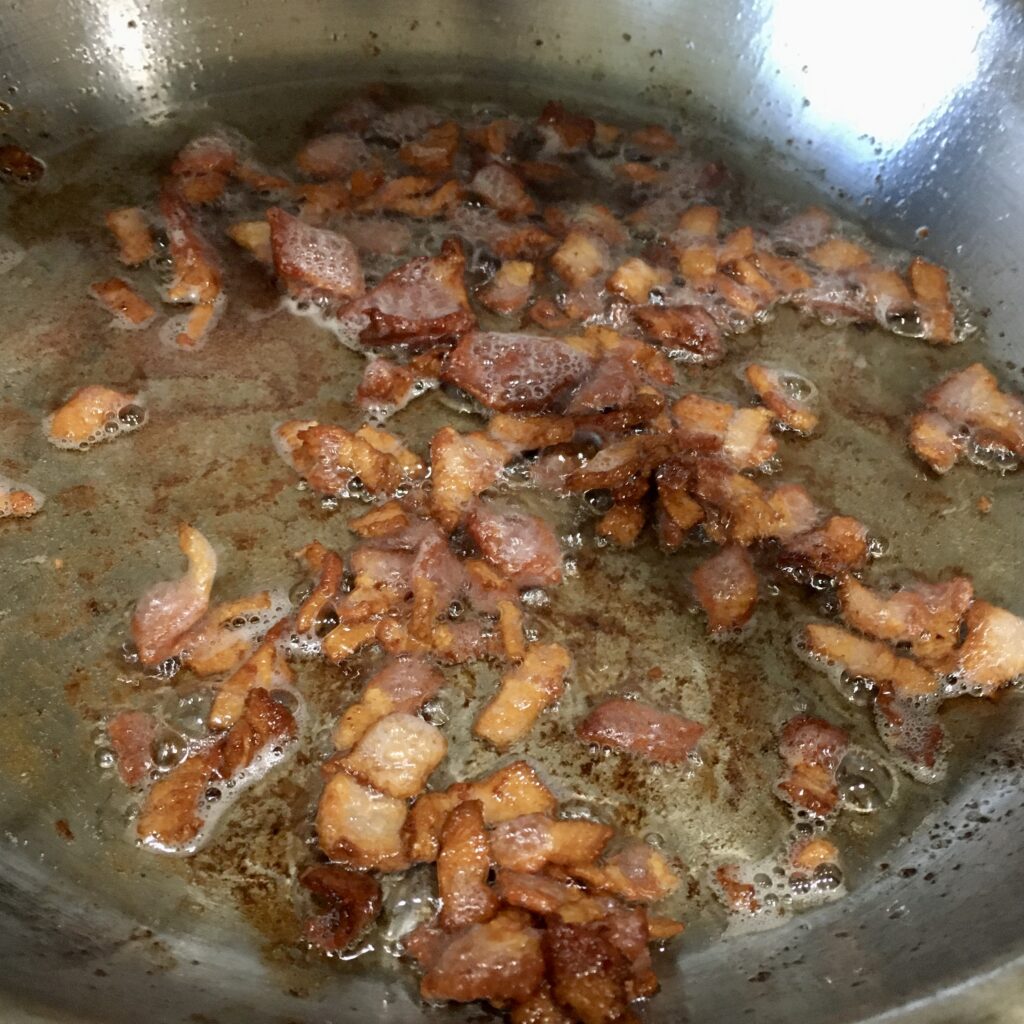 Chop your bacon and brown the pieces in a large saute pan.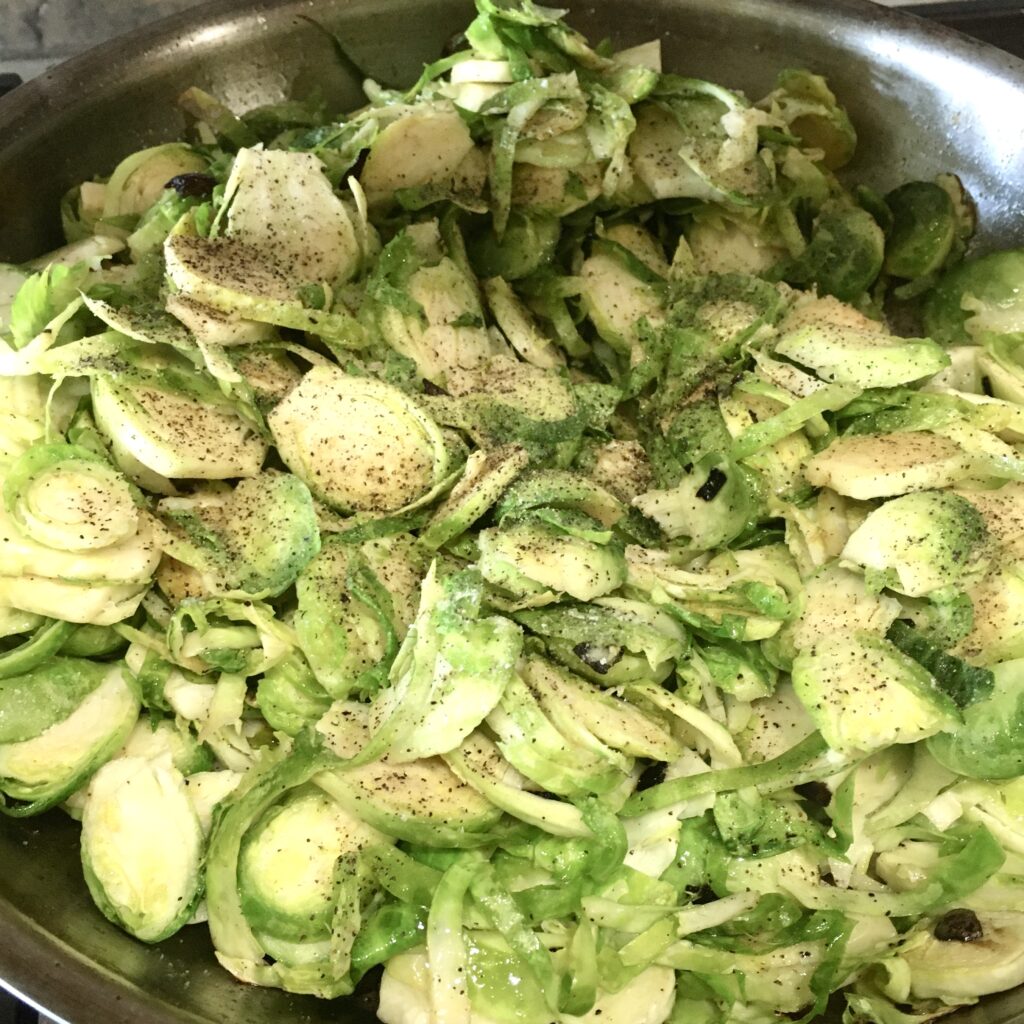 Remove the cooked bacon, leaving the bacon fat. Add the shallots and sliced Brussels sprouts along with the salt and pepper. Stir every few minutes until the Brussels sprouts are soft and there are some golden and brown bits on them.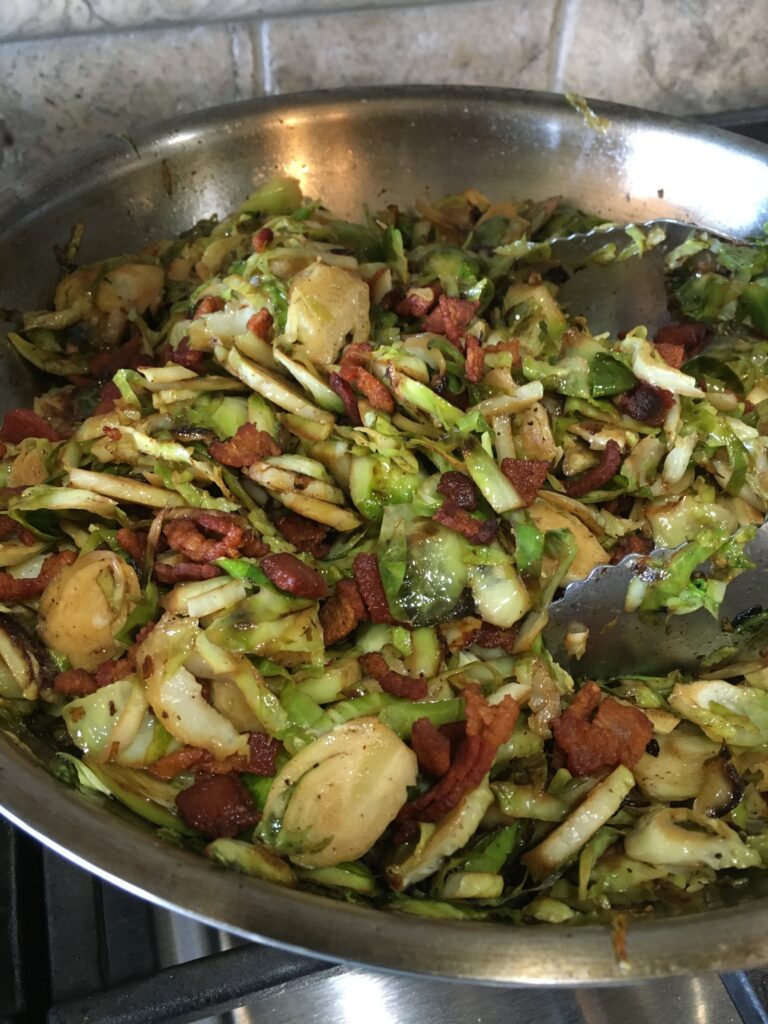 Drizzle the cooked sprouts with balsamic vinegar and return the cooked bacon to the pan. Serve hot!
Sauteed Brussels Sprouts with Bacon
Course: Sides
Difficulty: Medium
Ingredients
1.5 lbs Brussels sprouts (washed, trimmed, and sliced)

3 slices regular bacon (or 2 slices thick cut bacon) chopped

1 shallot, chopped (about 2 Tbsp)

1/2 tsp salt

1/4 tsp ground black pepper

1 tsp balsamic vinegar
Directions
Wash, trim and slice your Brussels sprouts. You'll want the slices to be about 1/4 inch thick.
Cook the chopped bacon in a large saute pan over medium heat.
Remove the cooked bacon to a plate, leaving the grease in the pan. Add in the chopped shallots, Brussels sprouts, salt and pepper.
Stir every few minutes until the sprouts are soft and you can see caramelized spots of golden or dark brown on some parts. About 20-25 minutes.
Drizzle the balsamic vinegar over the Brussels sprouts and return the cooked bacon to the pan. Give one last stir and serve!