These chocolate muffins are essentially cupcakes without frosting. I did make some healthier substitutions where it wouldn't impact the flavor or feeling of decadence. It's Valentine's Day!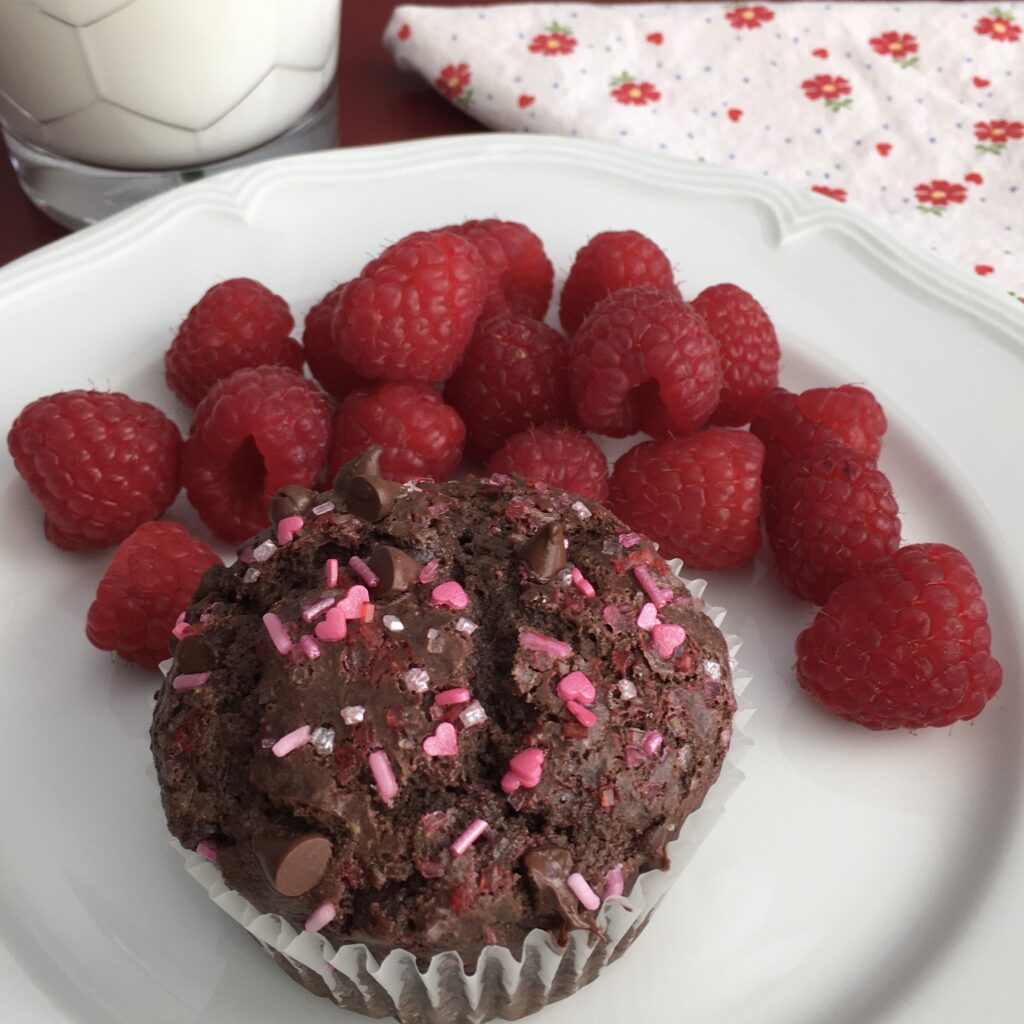 The kids gave this recipe a 9.75 out of 10 stars. It might have been the sprinkles, but I have to admit, these were pretty yummy. Be sure to serve them warm with a glass of cold milk. Oh my goodness. This recipe is adapted from Double Chocolate Muffins by Sugar Spun Run.
If you are using dutch processed cocoa, see the notes on how to adjust the recipe.
This recipe does make a lot of muffins, so if they aren't gobbled up in a day or two, freeze the rest and have quick and easy snacks and breakfast at the ready. A quick 30 seconds in the microwave from frozen will do it.
Fudgy Chocolate Muffins
Course: Breakfast, Snacks
Difficulty: Easy, Kid Friendly
A fudgy, decadent muffin to enjoy with others.
Ingredients
1/2 cup melted coconut oil or liquid coconut oil

3/4 cup sugar

1/2 cup buttermilk *

2 large eggs, room temperature, lightly beaten

2/3 cup sour cream, room temperature

1 cup unbleached all purpose flour

1 cup whole wheat pastry flour

1/2 cup natural cocoa powder **

1 1/2 tsp baking soda

1/2 tsp salt ( I use vanilla salt)

1 cup mini chocolate chips + extra for topping

optional: sprinkles
Directions
Preheat the oven to 375. Line 15 muffin cups with paper liners.
In a large bowl, hand whisk together oil, sugar, and buttermilk until well combined.
Add eggs, vanilla and sour cream. Whisk gently to combine.
In a separate bowl, whisk together flours, cocoa powder, baking soda and salt.
Fold the dry ingredients into the wet ingredients. When just moistened, add the chocolate chips and fold together. Be careful not to over mix.
Using a cupcake scoop or a 1/4 cup measure cup, drop heaping scoops into liners. Top the batter with a few mini chocolate chips and sprinkles if desired.
Bake for 18 minutes or until a toothpick comes out mostly clean. This can be tricky if the toothpick hits a melted chocolate chip, so use your best judgement.
Notes
*To make cheater buttermilk, put 1/2 tsp lemon juice or apple cider vinegar in a liquid measuring cup. Add milk to the 1/2 cup line. Allow to sit for 5 minutes.
**If you are using dutch processed cocoa, substitute 1 tsp of the baking soda for 1 tsp baking powder.