Is it a cake or is it a cookie?
Your call.
I think we can all agree it's a pleaser.
I'm pretty sure everyone has a fond cookie cake memory. I was never a huge cookie cake person myself, until I started making this recipe. It's soft, fluffy, chocolate chip-y, buttery and not greasy (like some of the grocery store varieties).
This recipe was adapted in my kitchen over a decade ago from a recipe I found on Food.com . The two big changes I made include subbing some of the regular flour for whole wheat pastry flour and I added ground cinnamon to the dry ingredients. Adding some whole wheat pastry flour in place of the regular flour gives the cake a little more of a "cookie" texture, while still keeping the cookie cake vibe going strong. The cinnamon lends a warm spice flavor without overpowering the brown sugar and chocolate chips flavors.
Chocolate Chip Cookie Cake makes a regular rotation at our house. It is often the "family party" birthday cake for my kids. (Yes, I make more than one birthday cake for my children each birthday. You're shocked. I know.) I also make several of these cookie cakes for the elementary school cake walk each year, and most recently for the No Kids Hungry Bake Sale. People love cookie cakes, and this recipe is easy!
I prefer to get 2- 8in cakes from this recipe, but you can absolutely use it to make 1 -15 inch cake like you would get from a store. I have also found that I can double this recipe to get 3- 9in + 1- 6 inch cake. Play around with what you want and need. Use the pans you have and the sizes that meet the needs of your gathering. This cake freezes beautifully for 2-3 months when well wrapped. I do that all the time, then when I need a quick dessert, I just whip it out of the freezer to defrost for an hour or so.
Cake pan wraps will help you achieve a flat top. I only tried the wraps on the cookie cakes recently. I do prefer using them now though. You may prefer the extra baked tall edges and a more gooey center that you'll get if you skip the pan wraps. Again; totally up to you!
Almost always; I add a little buttercream for decoration. Easy peasy. I've done designs, flowers, dinosaurs, or just simple borders with sprinkles or mini chocolate chips. Have fun with it!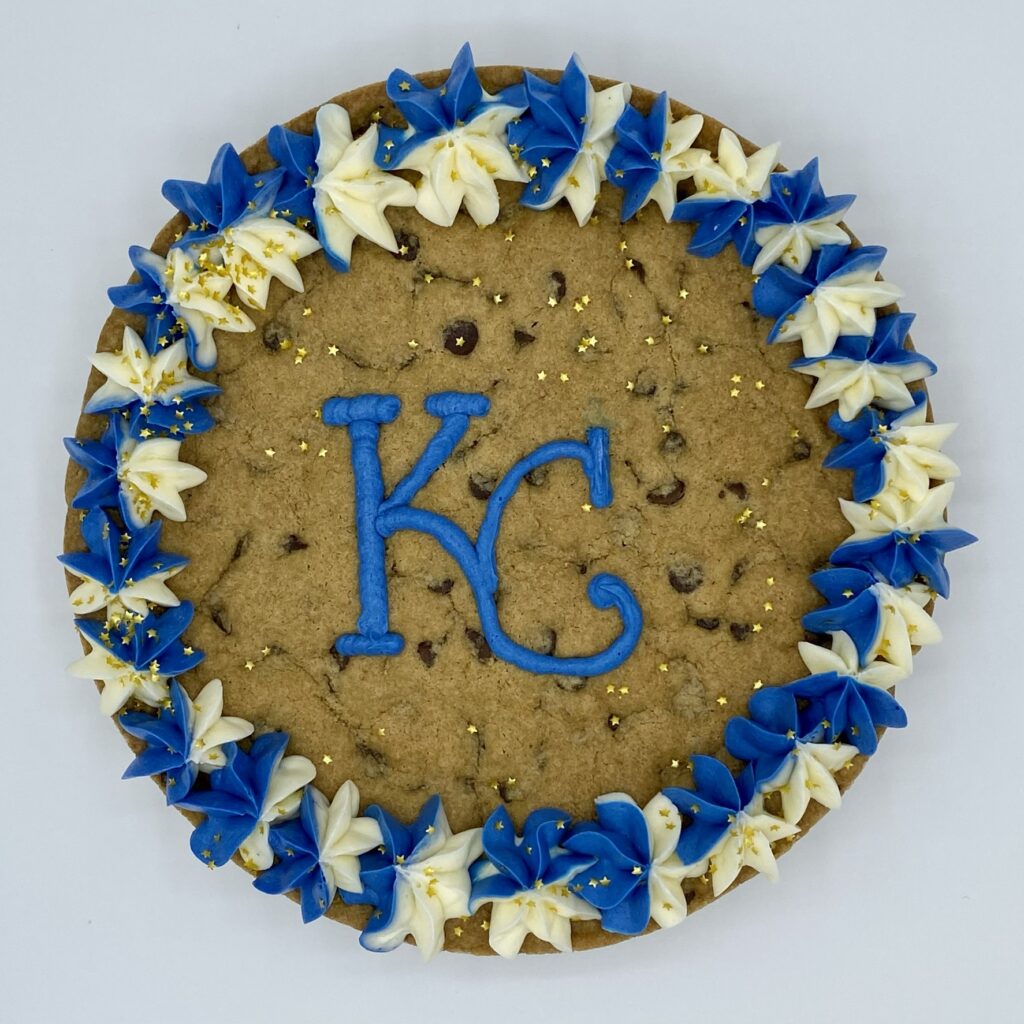 Chocolate Chip Cookie Cake
Course: Dessert
Total time
1
hour
10
minutes
Ingredients
1 cup unsalted butter, softened

1/2 cup granulated sugar

2/3 cup dark brown sugar

2 eggs, room temperature

1 tsp vanilla

1 1/4 cups unbleached all purpose flour *

1 cup whole wheat pastry flour *

1 tsp vanilla salt (or kosher salt)

1 tsp cream of tartar

1 tsp baking soda

1/2 tsp cinnamon

2 cups semi-sweet chocolate chips
Directions
Preheat the oven to 350° F. Spray your pans with baking spray and line the bottoms with parchment rounds.
In a large bowl, whisk together flours, salt, cream of tartar, baking soda, and cinnamon.
In the bowl of an electric mixer, beat together butter and sugars on medium speed until combined and fluffy, about 2 minutes.
Add the eggs one at a time, beating between additions. Add the vanilla.
Reduce the speed of the mixer to low. Slowly add the dry ingredients. Mix until just combined and you do not see any dry flour bits.
Fold in the chocolate chips by hand or on lowest speed of the mixer.
Spread the dough into the prepared pans.
Baking times will vary based on the size of your pans and how thick your cookie cakes are. The baking time will also be longer if you use the cake wraps. Start checking all sizes around 18 minutes. Once the center is set and no longer appears wet, check with a toothpick. The cake is done when only a couple crumbs stick to the pick or it comes out clean.
Allow the cakes to cool in their pans for 5-10 minutes on a cooling rack before flipping to remove. Cool completely before adding frosting, or enjoy warm with some ice cream scooped on top!
Notes
You can use 2 1/4 cups unbleached all purpose flour if you don't have whole wheat pastry flour.
If you want to use regular whole wheat flour, use 3/4 cup whole wheat flour and 1 1/2 cups all purpose flour.