AKA: No Food Color Black Frosting
I was this many years old before I knew that black cocoa could be used to make black frosting without food color.
MIND BLOWN!
I mean, look at the depth of color here.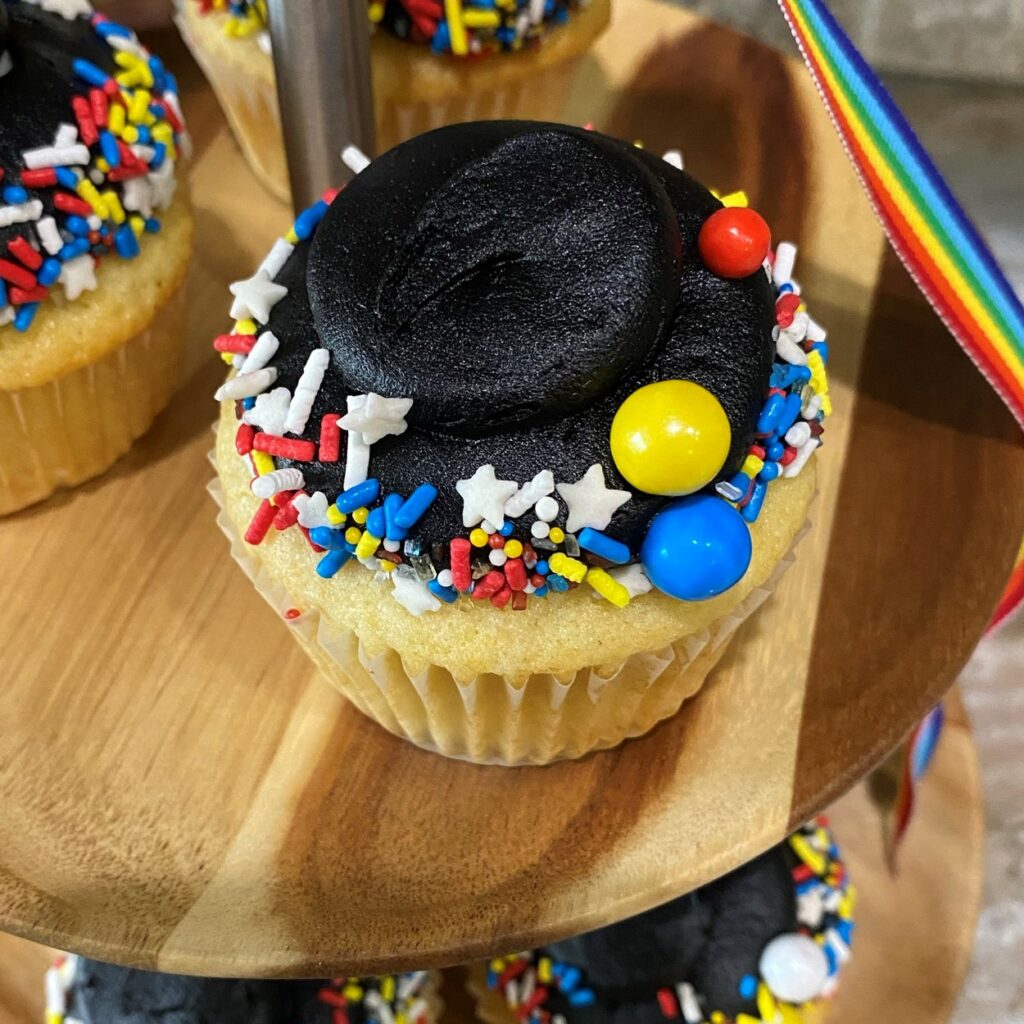 The key is black cocoa. Black cocoa is highly processed (Dutched) cocoa powder. The result of the extra processing is a less acidic, black cocoa that is perfect for creating darker products. While the color is reminiscent of black coal dust, the flavor is less chocolatey than natural or regular Dutch processed cocoa powders. Because the fat content in black cocoa is lower than other cocoas, your recipes will need a little extra fat and/or liquids. The amount of liquids for this frosting recipe may seem like a lot, but the extra is there to help reach that perfectly smooth mouthfeel. For black frosting, you must make sure you are using cocoa powder labeled "BLACK." King Arthur brand has black cocoa powder you can order from their site. Amazon also has some good brands available.
Bonus, this frosting tastes like your favorite black cookie with cream filling. See what I did there?
The recipe is sufficient to frost a three layer, 9 inch cake. Half the recipe should take care of a batch of cupcakes swirled to perfection.
So whip up a batch of this deep, dark, black goodness for cookies and cream cupcakes, your chic friend who lives in her LBD, a Halloween cake, "Over the Hill" celebration, or a dessert for your kid who is going through a bit of a goth phase and only likes black. This frosting will do the trick, without turning your mouth black for hours (days).
Black (Cocoa) Frosting
Course: Dessert
Ingredients
2 cups unsalted butter, softened

1 tsp salt (I use vanilla salt)

8 cups powdered sugar

2 Tbsp meringue powder

1 1/2 cups black cocoa

2 tsp vanilla extract

1/2 cup + 2 Tbsp cream or milk to desired consistency
Directions
In the bowl of a stand mixer fitted with the paddle attachment, beat the butter and salt until smooth and creamy.
Turn the mixer off and scrape down the bowl. Then add the powdered sugar, meringue powder, black cocoa powder and vanilla. Place the mixer on the lowest setting to begin mixing the ingredients.
When the ingredients appear to be combining, turn the mixer up to medium and beat until the frosting is thick and smooth.
Turn the mixer back down to low to add the cream/milk. You may need as little as 1/2 cup or as much as 3/4 cup. Add the milk in small amounts until the frosting is the consistency you'd like.