"That was heavenly" – Sarah, neighbor and resident macaron tester.
"Grhmmmmp, Ohummmmm, Yuuuuuuuuuum." – Daughter and macaron critic.
More and more, I find myself in situations where I wish I had a quality vegan dessert recipe up my sleeve. Whether it's staff appreciation, book club, or a neighborhood gathering, I'm noticing that there's always a few people who are opting to eat vegan. As someone who has experienced some hefty food restrictions, I want to always ensure I'm providing something for everyone at a gathering. My problem is that pretty much every dessert I have ever made includes butter, dairy, or eggs. Not vegan friendly! When I came across Pies and Tacos recipe for Vegan Strawberry Macarons, I knew I had to try a vegan macaron. It would be my chance to make something yummy for all the plant based foodies in my life. This recipe is bonus amazing because it's gluten free, corn free, dairy free, and vegan. That's serving a lot of dietary needs in one crispy, chewy, fruity, beautiful dessert!
The key to vegan macarons is using plant based aquafaba as a substitute for egg whites. I had my doubts about using canned chickpea juice (aka: aquafaba) in place of egg whites for macarons. I mean, serious, side eye doubts. Would it have a funky bean flavor? Would the shells have feet and still rise the same? Would the texture be the same? With a skeptic heart, I dove in and was quickly surprised by the results.
Following the guidance of Camila's (Pies and Tacos) recipe, I made sure to purchase a can of chickpeas (aka: garbanzo beans) that did not include any added sodium that might impact the flavor of the shell. I discovered an average (15oz) can of chickpeas should have enough juice for two batches of vegan macarons. I chose to add a light pink color to my shells as well as some stripes of color to the piping bag to achieve something of a marbled look. A quick dusting of rose gold edible luster when the shells came out of the oven added that extra classy vibe. Sparkles are classy, right?!
While the strawberry macarons looked delicious, my mind kept wandering to some freshly picked local strawberries and a bottle of Amoretti Artisan Natural Guava Flavor that I've been wanting to try. I decided to craft my own filling recipes to fit the bill. I was pretty sure strawberry and guava paired well because I used to drink strawberry guava juice in middle school and high school. (Mom used to buy mixed packs of juice bottles from Sam's that my siblings and I always took to school in the mornings. Haven't had those in YEARS!!!) It made the most sense to me to make the vegan buttercream guava flavored and I would make my own strawberry jam to compliment the guava. I didn't want the strawberry jam to be one note, so I researched (read: googled) what other flavor profiles pair well with guava. It turns out that all citrus fruits compliment guava. With that gift of knowledge, I added Japanese Yuzu juice (similar to a cross between lemon and mandarin orange that I found at my local Asian market) and VAIN Citrus Vanilla Drops to the jam. The citrus notes kept the jam really tart, the vanilla mellowed all the sharp and bitter notes, and that was complete serendipity with the sweet guava "butter"cream.
The macarons had the best flavor and texture the day after assembling. The day of, the vegan shells seemed more crispy and lacked some of the chewiness you expect from a typical macaron. Of course I tried one right away, that's how recipe development works! The next day, all the textures and flavors came together fully developed.
Please note: You can absolutely use strawberry jam or preserves from a jar. I like making my own and I share the recipe below. I recognize that there are some specific ingredients that I am citing, but those are ingredients I have around from doing other baking projects and I believe they are high quality ingredients that add a depth of flavor that I enjoy. If you want to make your own jam but do not want to purchase specialty ingredients, you could totally substitute lemon or orange juice for the Yuzu and your favorite vanilla extract for the citrus vanilla extract.
Admittedly, I got carried away with photos for the shells and completely neglected photos for the jam and buttercream. I do have other jam and buttercream recipes on the blog, so check those for photos if you need them.
When making macarons, you'll always get the best result if you weigh your ingredients.
Let's cover the process for the shells.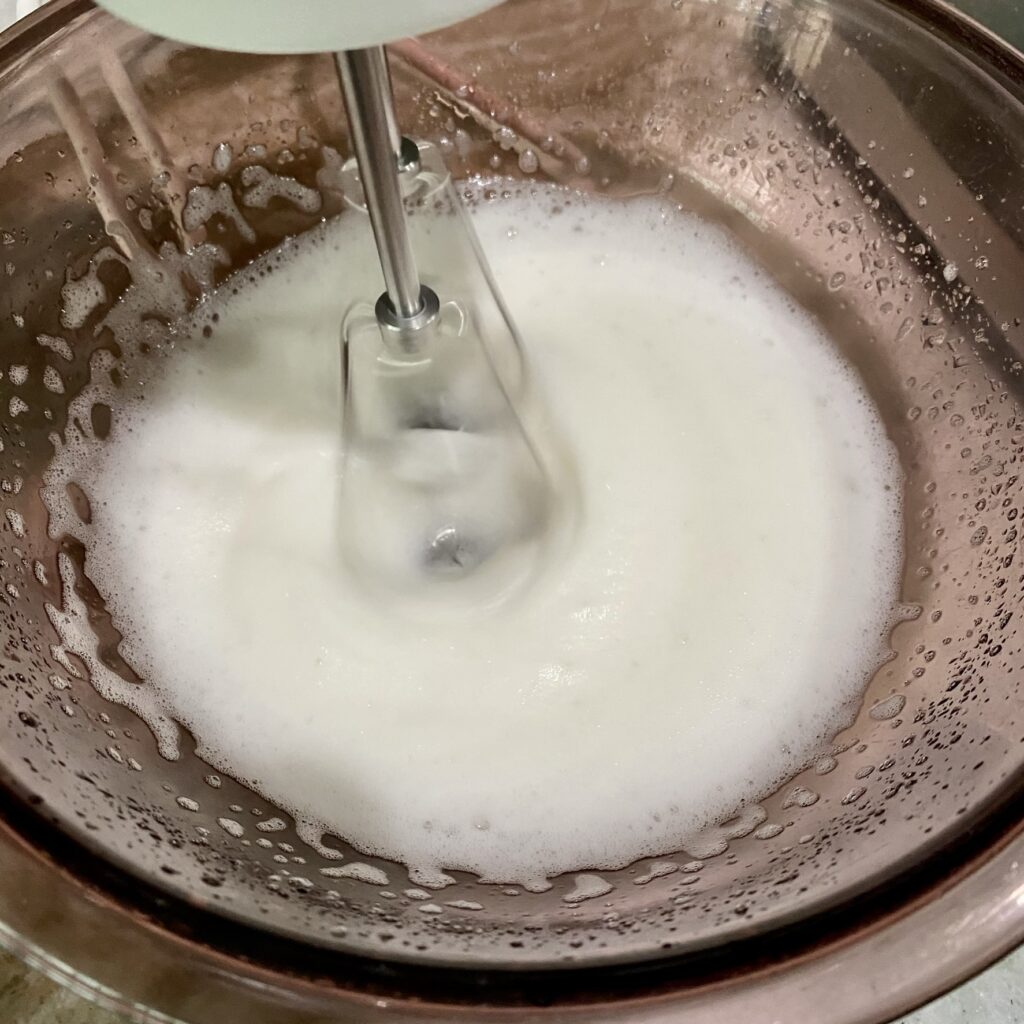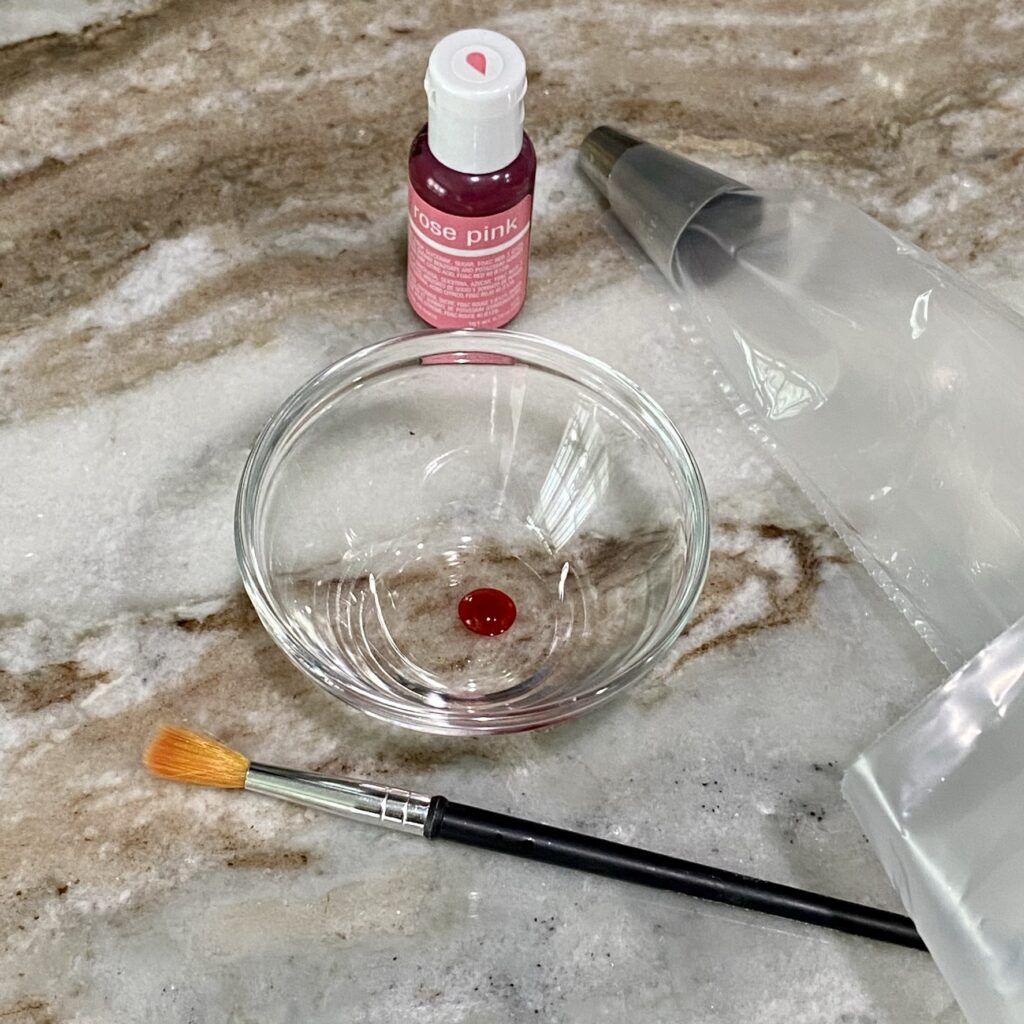 I made my jam and "butter"cream while the macarons were drying and baking.
Once your shells are completely cooled and sparkly, it's time to assemble. I like to match my shells up like it's the dating game, then flip one over so I can just go down the line with the fillings. I used a French tip to create the "butter"cream ring and then filled the inside with the cooled jam.
Vegan Strawberry Guava Macarons
Course: Dessert
Difficulty: Difficult
Ingredients
Macaron Shells

75 g Unsalted Chickpea Juice at room temperature (aquafaba)

110 g Almond flour

110 g Powdered sugar

1/4 tsp cream of tartar

66 g granulated sugar

optional: food coloring

optional: edible luster dust or edible glitter powder

Vegan Guava Buttercream

4 oz plant based (vegan) butter at room temperature

2 cups sifted powdered sugar

Optional: 1 1/2 tsp vegan meringue powder

pinch of vanilla salt

1/2 tsp vanilla extract (I used VAIN citrus vanilla drops)

10 g Amoretti Artisan Guava Flavor (reduced guava juice or guava preserves would also work)

1 Tbsp plant based milk (I used almond)

Vegan Strawberry Jam

1 cup fresh or frozen strawberries

1 1/2 tsp Yuzu juice

1 Tbsp sugar (maple syrup or agave would work as well)

1/4 red apple with peel, grated

1/2 tsp vanilla (I used VAIN citrus vanilla drops)
Directions
Macaron shells
Line two baking sheets with parchment or silicone mats. Preheat the oven to 300° F. Fit a pastry bag with a large round tip. Optional: stripe the bag with pink food coloring.
In a medium bowl, sift together the almond flour and powdered sugar. Measure the cream of tartar and granulated sugar before moving onto the aquafaba.
Using an electric mixer fitted with the whisk attachment, begin to beat the aquafaba on low speed. Add the cream of tartar and beat until the mixture starts to show gentle whisk lines in the foam.
Move the mixer to medium high and gradually add the granulated sugar. Continue beating on medium high until the mixture forms stiff peaks. Stiff peaks will appear shiny and stand up straight when you remove the whisk.
Add the sifted almond flour and powdered sugar (and optional 1 drop of pink food color) to the whipped aquafaba and fold together using a "J" motion with your spatula. You will do this just until the mixture is combined- no dry spots. Unlike regular macarons, you are NOT looking for ribboning from the spatula. The mixture will instead fall in clumps off the spatula.
Add the batter to the prepared piping bag and pipe half dollar size dollops onto the prepared baking sheets. Firmly tap (bang) the sheets on the counter to release any air pockets and gently spread the dollops. Allow to rest on the counter at least 10 minutes or until the shells are not sticky when gently touched.
While the macarons are resting and baking, prepare the jam and buttercream.
Only do one sheet at a time in the oven! Once the macaron shells are in the oven, turn the heat down to 275° F. They will bake for 20 minutes. Rotate the pan in the oven every five minutes. Allow the shells to cool completely before filling. Optional: brush or sprinkle edible luster dust or glitter powder onto the shells.
To assemble: Match shells by size into pairs. Flip one shell over and make a circle with the "butter"cream. Pipe the jam into the center and cap with the other shell. Use a gentle twisting motion rather than a pressing motion to meld the shells together with the filling. Finished macarons will have the best texture and flavor the next day. Store macarons in air tight containers in the refrigerator for up to 4 days.
Vegan Guava Buttercream
Beat the vegan butter until fluffy.
Add salt, optional vegan meringue powder, powdered sugar, and vanilla and beat until combined.
Add the guava flavor and almond milk and beat until combined.
Strawberry Jam
Combine berries, yuzu, sugar, and grated apple in a small saucepan over medium heat. Cook the mixture, stirring occasionally, until the berries are mushy.
Use an immersion blender or other blender to puree the mixture. If you want seedless jam, pour the mixture through a sieve or mesh strainer before returning to the saucepan. Use a spatula or spoon to scrape the mixture through the strainer.
Over medium low heat, continue cooking the pureed (strained) mixture for another 5 minutes, stirring often. Add the vanilla and cook an additional minute.
Transfer the jam to a plate or bowl to cool in the fridge until ready to use.