Pizza Dough recipe and tricks for delicious homemade pizza in 30 minutes.
I am no stranger to a good pizza delivered to my door, but I also love to make homemade pizza. I can use local honey and whole wheat pastry flour to make my dough a little healthier without the housemates being any the wiser. Little leftover bits of protein and cooked veggies can also be used up in a deliciously fun way.
I've been making homemade pizza since I was a little kid. My mom even had little mini pizza pans for this purpose. (Thanks Mom! Those are some fun memories!) Being one of 4 kids, it was pretty darn exciting to make my own pizza the way I wanted it. Now that I'm a mom; I still think it's pretty darn exciting to make a pizza the way I want it. Spinach and caramelized onions? Yes, please.
My children also love to make their own pizzas. I think it has to be as much about the choices as it is about the feeling of accomplishment when eating food they prepared themselves. It's also a fantastic play date or sleepover meal/activity. Making personal pizza is serious fun! We do this team style at my house: while I work on the dough prep, the kids grate the mozzarella and pull out the ingredients for their toppings.
Finding a good homemade dough is key. My mom's dough recipe is good, but it wasn't the whole package. Then a friend recommended Mel's Kitchen Cafe for some random recipe and after looking at her blog, I stumbled across her quick and easy foolproof pizza dough recipe. I made a few minor adjustments; doubling it, using some whole wheat pastry flour, and then I have added some technical notes.
One of the most important tips for success in my opinion is par-baking (partially baking) the dough. Once the dough is par-baked, it's easy to top, transfer and finish baking in the oven or even on the grill. Par-baked dough also freezes excellently. Crusts can be taken out in the quantity you desire and used right away without having to make a fresh batch of pizza dough every time your or your kids want a little pizza.
I do use a pizza stone for par-baking and finishing my pizzas. I find it's easy to use and gives me a nice crispy crust. I think a pizza pan or cookie sheet would work fine too. Just make sure to oil your sheet and toss a little cornmeal over it before you put the pizza dough on. You can also top par-baked dough and finish it on the grill. (Yes! Pre-make your crusts for a fun make your own pizza summer get together.)
When my kids were little, I made the pizzas 6 inches and they froze beautifully in a large freezer bag. Now my kids say those 6 inch pizzas are too small and they prefer a 10 inch pizza. These won't fit in freezer bags, so I wrap them in foil with a piece of parchment between each crust.
This dough recipe can be used to make appetizer pizza, regular pizza, or dessert pizza.
Appetizer pizza ideas: Fig jam (sauce), prosciutto, arugula, and crumbled goat cheese topping. Cream cheese (sauce), raspberry jalapeno jelly/preserves, chopped pecans and arugula. Herbed goat cheese (sauce), roasted red peppers minced, basil pesto, toasted pine nuts.
Regular pizza: Whatever you like! Taco? Barbeque? Traditional?
Dessert pizza: S'mores- chocolate ganache or fudge sauce (sauce), mini marmallows, graham crackers, and chocolate chips for topping. Rocky Road- marshmallow creme for sauce, chocolate chips, nuts, and crumbled shortbread cookies for topping. Fruit- Any pie filling, crumble topping, Frosting to drizzle after cooking.
Let's take this step-by-step:
Preheat your oven, with pizza stone inside it, to 450° F.
Start with your warm water (I let the faucet run hot for a few minutes and usually that gets me some water right around 110°), yeast, salt, olive oil, and honey.
Get your bread hook going if you're using a Kitchen Aid mixer, or just your white attachment if you're an Ankarsrum user like me. Then slowly add 2 cups unbleached all purpose flour, and two cups whole wheat pastry flour while the mixer runs on low speed. You will likely need to add 1 additional cup of either flour, possibly even two. Use your judgement. The goal is to have the dough pull away from the sides of the bowl without being too sticky.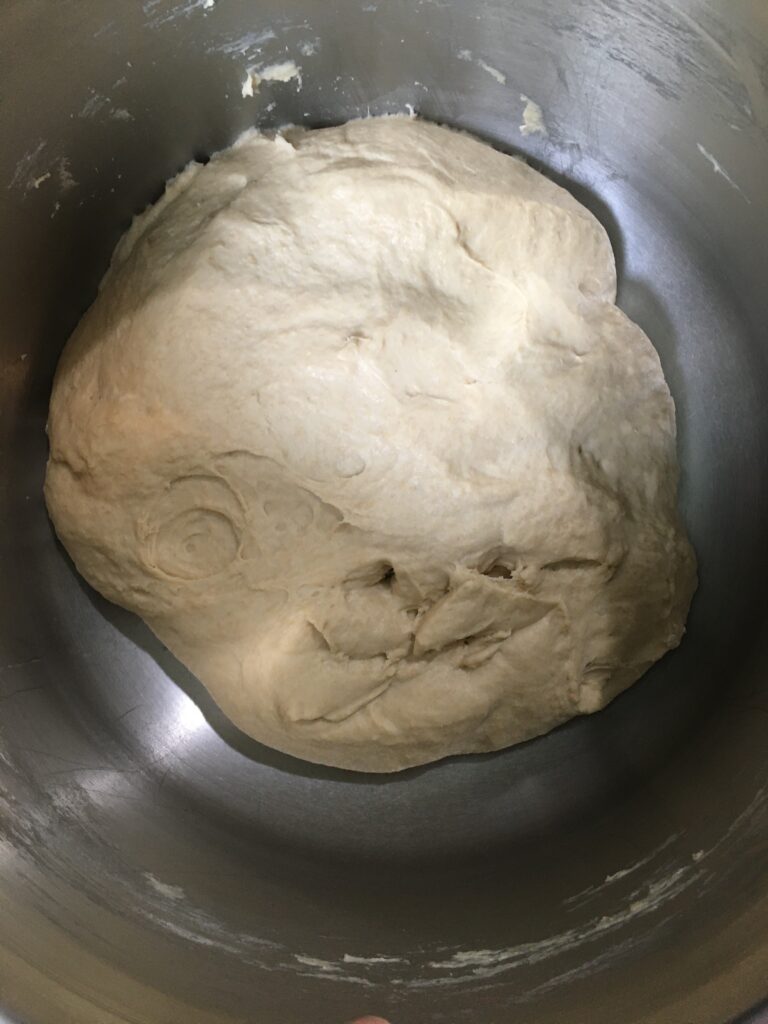 Allow your dough to rest in the bowl, covered, for 10 minutes. It will just about double in size.
To shape your dough, begin by cutting the dough into the number of pizza crusts you intend to make. We generally go for a thinner crust, so if you are doing a pan pizza or you like thicker crust, you'll get fewer crusts out of this recipe. This recipe will make 8-10 inch pizza crusts, or 10/11- 6 inch pizza crusts. A 10-inch pizza crust usually requires about a 4 inch ball of dough.
On a floured surface, lightly cover your hands and the dough ball with flour.
Make a circle with your thumb and forefinger of one hand and pinch and push the dough through that circle to make a nice ball.
Flatten the ball with your fingers or on the lightly floured surface.
Use your fingers to hold the edge of the dough and move in in a circular fashion while using other fingers to gently pull the dough from the center, outward.
When your dough is the thickness you desire, finish shaping it on the floured surface.
If you plan to par-bake, use a fork to poke holes in the dough. This will prevent big bubbles from forming during baking.
Sprinkle a small handful of corn meal onto your pizza stone, then set the dough onto the preheated stone. Bake for 3 minutes and 30 seconds to par bake. Remove to a cooling rack to cool before topping or freezing. Repeat the process until you've par-baked all your dough.
To make the best pizza:
Keep the pizza stone in the heated oven.
Brush the par-baked crust with olive oil. This prevents the sauce from making your crust soggy. DON'T SKIP THIS STEP!
Spread your desired sauce over the oiled dough.
Top with cheese, veggies, meats, whatever!
Return the topped pizza to the heated pizza stone and bake 5-10 minutes. I like to keep an eye on the edge of the crust and the melted state of the toppings. I'm always looking for a slightly browned edge and bubbling cheese.
Allow to cool 2-3 minutes before slicing.
Kid pizza & Mom Pizza
House Pizza Dough
Course: Appetizers, Main, Dessert
Difficulty: Medium
Ingredients
2 cups warm water 110°-120° F

2 Tbsp honey

2 Tbsp olive oil

2 Tbsp (packets) instant yeast

2 tsp salt

2-3 cups unbleached all purpose flour

2-3 cups whole wheat pastry flour

2 Tbsp corn meal for dusting pizza stone or pan
Directions
Place your pizza stone or pan in an oven and preheat it to 450° F.
In the bowl of a stand mixer fitted with the bread hook, combine the yeast, honey, salt, oil, and water. Begin to mix on low speed.
Slowly add 2 cups of unbleached all purpose flour and 2 cups of whole wheat pastry flour. If the dough is still looking wet and sticky, add up to 2 more cups of flour a little bit at a time. You may need just a little, you may need a lot. Stop adding flour when the dough begins to pull away from the sides of the bowl. The dough should appear smooth and soft.
Knead the dough using your bread hook for an additional 4 minutes on low speed.
Cover the dough and allow it to rest for 10 minutes. The dough will almost double in size during this phase.
Liberally dust a surface and your hands with flour. Use a bench scraper or other flat edged tool to cut the dough into the number of crusts you plan to make. This recipe makes 8- 10 inch crusts for me.
Shape each piece into a ball, then use your hands to rotate the dough around like a clock, using your fingers to gently pull the dough to the outside and stretch it. Finish shaping the dough on the floured surface and pierce multiple times with a fork. See full post for shaping instructions and pictures.
Move the dough one at a time to the preheated pizza stone and bake for 3 minutes and 30 seconds. This is a par-bake.
Remove the dough to a cooling rack and continue with the remaining pieces of dough until they have all been par-baked.
Notes
Before topping with sauce and other toppings, brush the par-baked dough with olive or some other oil to protect the crust from becoming soggy.
Smaller crusts can be frozen in a freezer bag with parchment paper between layer and removed when you are ready to use. Larger crusts will need to be wrapped in aluminum foil with parchment between the layers.
Par-baked dough can be topped and finished on the grill instead of the oven.