A Baker's Trick for Adding Flavor
Let's start by first exploring what fruit powder is. Fruit powder is dehydrated, sometimes freeze dried, all natural fruit that is pulverized into powder form. Think of it like cocoa powder's fruity cousin.
Like your fruity cousin, fruit powder adds color and flavor to all your sweet gatherings. I regularly use fruit powders in cream fillings for bonbons, in cakes, macarons, buttercreams, pastry creams, marshmallows, sugar cookies, spritz cookies, and even smoothies and oatmeal. The great thing about fruit powder is it adds a punch of flavor and color without adding moisture. This is key in many applications, as additional moisture from fresh fruit would compromise the final product.
Pre-online shopping trend, fruit powders were not easy for me to come by. I have been able to order them without too much trouble or cost on Amazon the past few years. I have even been able to find plenty of reasonably priced organic fruit powders, which I prefer. I typically have strawberry and raspberry fruit powders in the house as I use those most frequently in my baking. You can, however, easily find everything from dragon fruit to pomegranate powders on Amazon alone.
Fruit powders are gaining momentum in the pastry world, and you can find almost any fruit or vegetable powder you can think of from manufacturers like Chef Rubber or nuts.com. The more exotic the fruit, the pricier the powder. Don't fret at the price tag though. Fruit powders are very potent, therefore, a little goes a long way. A small bag will last you longer than you think.
Let's talk about HOW to use this versatile ingredient: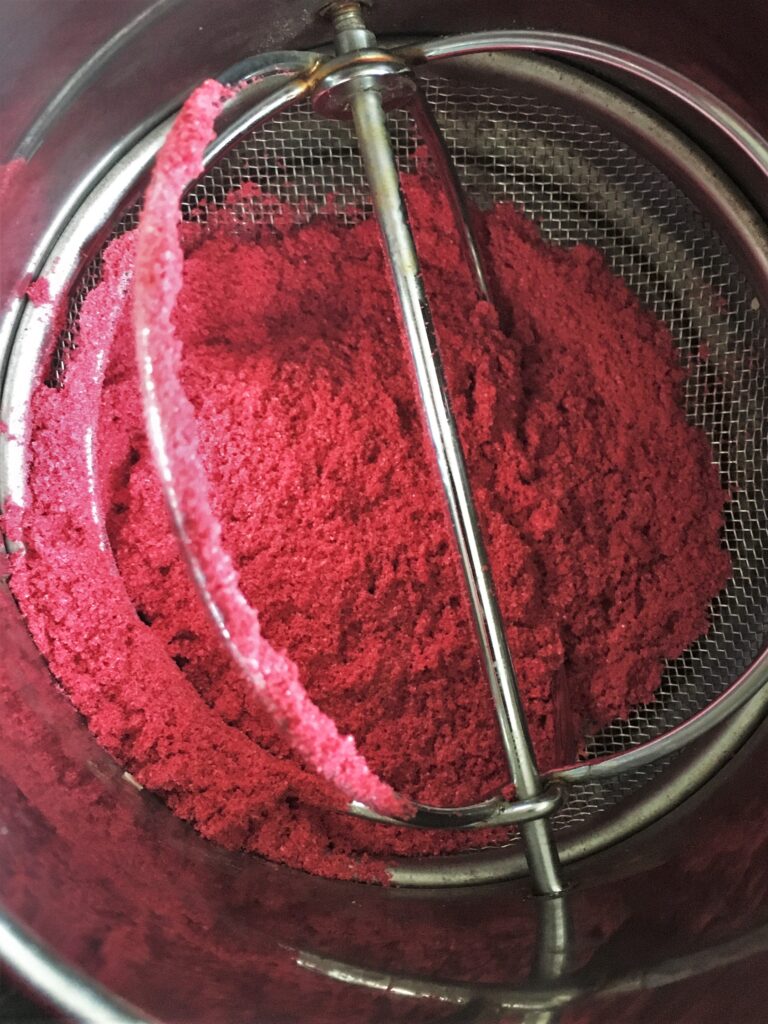 *If you are using a seedy fruit like strawberries or raspberries, you may decide to sift the seeds out of the powder using a mesh strainer or sifter. Not always necessary, but I do this when I'm doing bon bon creams or marshmallows.
Marshmallows, Macarons, and Buttercream: Replace a small amount of the powdered sugar with the fruit powder. 1-3 tablespoons is a good starting range for these applications. With macarons, you can also dust the top of the macarons with the fruit powder immediately after removing from the oven.
For cakes, pastry creams, and buttercreams, the measurement is more forgiving. You can usually add up to 1/4 cup without needing to adjust anything else in the recipe. For a cake, I would mix it in with the dry ingredients. If your batter seems too dry, maybe add 1-2 Tbsp additional liquid.
Smoothies and oatmeals are also pretty flexible. Experiment with your flavor level until you find what's right for you. I like a 2 tsp in a typical bowl of oatmeal and I use the same measurement when I'm using a fruit powder to add flavor to a smoothie. Chocolate raspberry smoothie? Yes please.
I'd love to know if you're using fruit powders as well as how you like to use them. Also, if you know of any great resources for locating less expensive organic powders, please share!