AKA: Daddy's Birthday Cake
Birthday cakes are a big deal in my family. Growing up, my mom would make whatever cake we wanted for our birthdays. Over time, we have all identified and adopted our own birthday cake flavors. Mine is German chocolate, my dad and my brother prefer a banana cake with browned butter frosting, my older sister likes an angel food cake with a strawberry and whipped cream filling, and my little sister likes carrot cake. My mom is a bit of an outlier as she makes all the other cakes, so her request is usually for something chocolate, but it's never the same thing each year. If I'm being honest, I selfishly look forward to celebrating everyone's birthday, because I like ALL of those cakes. And now I can't eat any of those cakes without thinking of the family member associated with them. I tell my kids; "You know who would really like a bite of this _________ cake?"
Food associations are powerful.
When I met my husband, he made it clear that any home made cake would be pretty exciting, but his favorite flavor combination was and still is peanut butter and chocolate. Over the many years we have been together, I have searched for the perfect recipe. Peanut butter cake with chocolate frosting? Chocolate with peanut butter frosting? I've made at least a dozen different cakes with some form of chocolate and peanut butter combination. We have found our version of chocolate peanut butter perfection, and I think the next 50+ birthday cakes will be this exact recipe.
It's also possible that my daughter will adopt this as her birthday cake standard as well. She did this year. No complaints here! I'm just as happy to make it as I am to enjoy it with them.
This cake is best when enjoyed with a glass of cold milk on the side.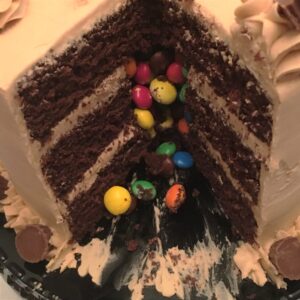 If you want to fill the cake with m&ms as pictured here, just cut the bottom and middle layers of cake with a large biscuit cutter. Frost and fill your layers as you normally would, avoiding frosting in the "hole." Then pour in the m&ms and place the top cake layer on.
Chocolate Cake with PB Frosting
Course: Dessert
Difficulty: Medium
A moist chocolate cake frosted with creamy peanut butter frosting. For easier frosting, make the cake at least one day in advance!
Ingredients
Chocolate Cake

2 1/2 cups +2 Tbsp unbleached all purpose flour

2 1/2 cups +2 Tbsp granulated sugar

1 cup + 2 Tbsp unsweetened natural cocoa powder

1 1/2 tsp baking powder

1 Tbsp Baking soda

1 1/2 tsp vanilla salt (or salt of your choice)

1 1/2 cups buttermilk room temperature

3/4 cup melted coconut oil or liquid coconut oil

3 large eggs, room temperature

1 1/2 tsp vanilla extract (I like VAIN vanillas)

1 1/2 cups freshly brewed strong, and still hot, coffee

Peanut Butter Frosting

1 1/2 cups unsalted butter, room temperature

1 1/2 cups natural peanut butter

1/2 tsp vanilla salt

3 cups confectioner's sugar (sifted if lumpy)

2 Tbsp whole milk or cream

Optional Extras

peanut Butter Cups

mini peanut butter cups

peanut butter m&ms
Directions
For the chocolate Cake
Preheat the oven to 350 degrees F. Butter and flour (or use baking spray) on 3- 9 inch round pans. I like to put a parchment paper round in the bottom of each pan so my cakes always come out of the pan.
Sift together the flour, sugar, cocoa powder, baking powder, baking soda, and salt into a large bowl. Set aside.
In a stand mixer, starting on low speed and raising to high, mix the oil, buttermilk, eggs, and vanilla until combined. Turn the mixer back to low and slowly add the dry ingredients to the wet ingredients. Add the hot coffee. The batter will be very thin.
Pour the batter in equal amounts into the prepared baking pans and bake for 23-28 minutes or until a toothpick inserted into the center comes out clean.
Allow the cakes to cool in the pans for 10 minutes. At this stage, I take a long serrated knife and cut the top of the cake off using the pan to help me get a level cut. Then I remove the cakes from the pans and allow to cool on a cooling rack. I like to bake my cakes at least day ahead of frosting. I wrap them in plastic wrap and cool them in the refrigerator or in the freezer if I've made them more than a day ahead. Frosting a hot cake is a lost cause.
Peanut Butter Frosting
In the bowl of a stand mixer, fitted with the paddle attachment, beat the room temperature butter, peanut butter and salt on medium-high speed until creamy, about 2 minutes. Reduce the speed to low. Gradually add the confectioner's sugar and beat until just incorporated. Add the milk, increase the speed to medium-high again and beat until the frosting is light and spreadable, 1-2 minutes.