with Maple Vanilla Coconut Yogurt
I have a "thing," about making sure that people with food sensitivities are included in celebrations. Whether it's a birthday party where allergies need to be considered, a meal for a friend in need, or serving up treats to the school staff for appreciation events, people with food sensitivities are deserving of consideration. As I prepared for a staff breakfast up at the school this week, one of my responsibilities was to have something for our gluten free and vegan staff. There are only a few, but they are important. This recipe is a direct result of my desire to always be inclusive and to make people feel welcome.
While being a gluten free and vegan friendly recipe, this scone brings plenty of the flavor and texture of a traditional scone. My daughter didn't even realize that it wasn't a traditional scone and gobbled hers up right away.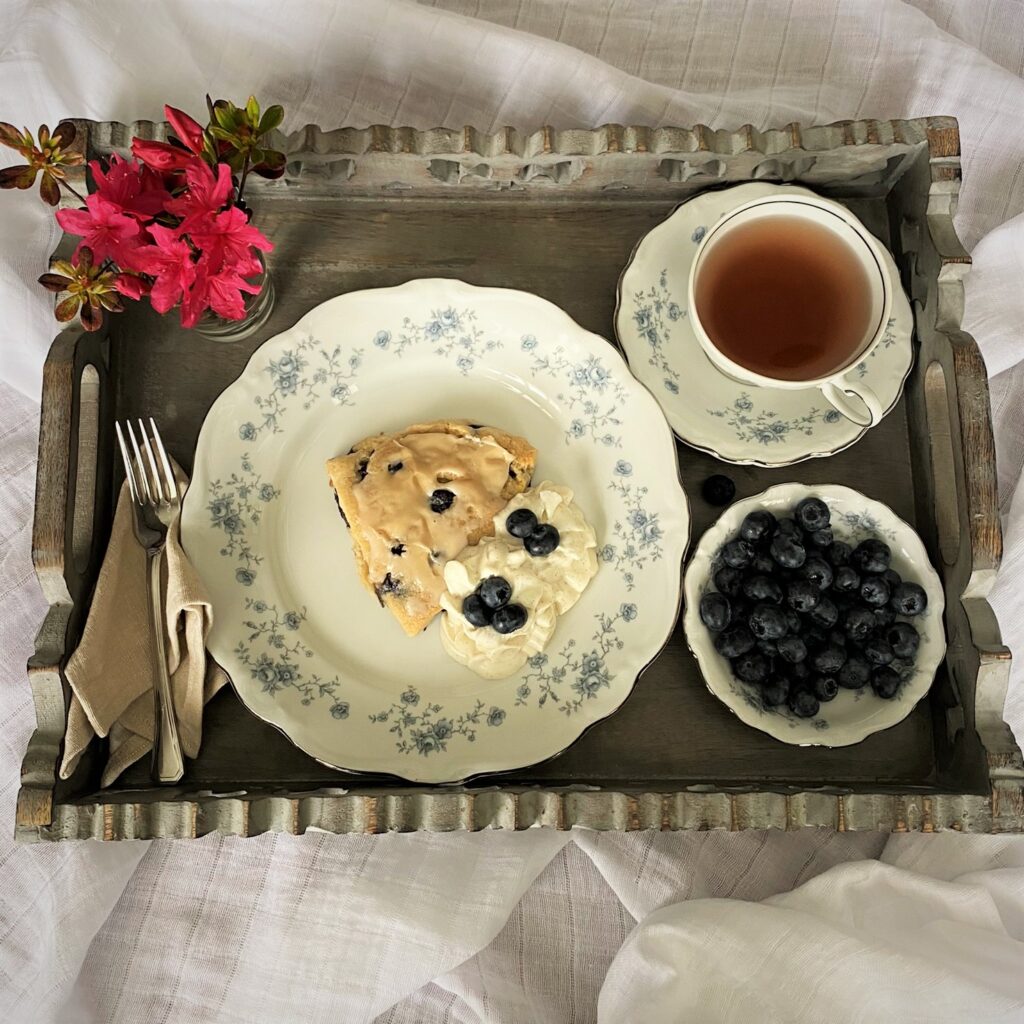 The addition of the maple vanilla coconut yogurt is spectacular and it really elevates a simple scone, particularly if you are serving these scones for a brunch or special occasion. The cool, creaminess and tang of the yogurt balances perfectly with the warm scone and sweet blueberries. Whip it out for Mother's Day (hint hint) or a Bridal Brunch. Or maybe just a lazy weekend morning when you want to feel indulged. I don't take out my grandmother's fancy tea settings for just anything. This scone is worthy.
The original recipe came from Saucy Kitchen, whose recipe was adapted from Serious Eats. I'm finding more and more that this is how cooking and recipe development works for a lot of us. We take something that already exists and then adjust it to our tastes and technique preferences.
Most of my adjustments were with technique, but I did make a couple ingredient adjustments. And the maple vanilla coconut yogurt on the side is entirely my own idea.
Ingredients for success:
Use a 1 to 1 gluten free flour mix that has Xanthan gum listed in the ingredients such at King Arthur or Bob's Red Mill. I used Bob's Red Mill as that is what my grocery store had available. If your flour blend doesn't include Xanthan in the ingredients, you will need to add 1.25 tsp to the dry ingredients before mixing.
Use a high quality vegan stick butter such as Miyoko European Style Vegan Butter and don't forget to set it in the freezer for at least 30 minutes before you plan to use it.
The coconut milk must be full fat coconut milk! It almost always comes in a can. I can find it in the Asian foods (Thai) section at my grocery store.
Fresh berries work well in this scone recipe. Frozen berries will likely add too much water and could also discolor the scone.
Use real maple syrup for the glaze!
If you can find a "Greek Style" coconut (or other plant based) yogurt, that is ideal. It is thicker and will hold up well to the addition of the maple syrup and vanilla paste.
Techniques for Success:
Weigh your dry ingredients if possible.
Make sure your "butter" is very cold, or even frozen
Cold coconut milk is best as well. If the coconut milk separated in the can, blend it before adding it to the scones.
Shape the scone disc using lightly GF floured hands to avoid sticky spots.
Cover and refrigerate the scone dough at least 30 minutes, preferably overnight.
Cut AFTER it is chilled.
Allow the scones to cool slightly before spreading the glaze.
Serve warm.
Can reheat in a 300° F oven for 5-10 minutes.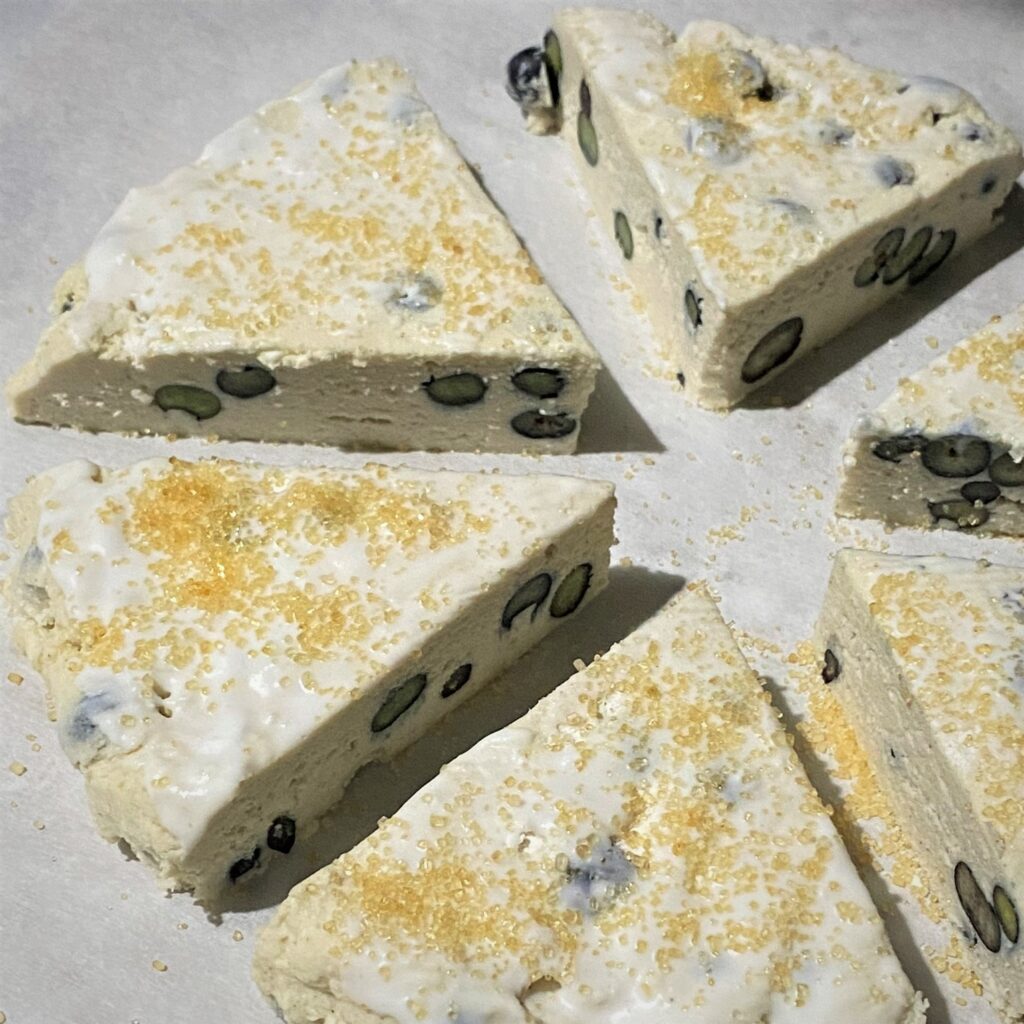 I'd love your feedback in the comments below!
Blueberry Scones GF + Vegan
Course: Breakfast, Brunch, Dessert
Ingredients
Scone

1 3/4 cups (245g) gluten free flour blend *see notes! + additional 2-3 Tbsp for dusting baking sheet and hands

*1 1/4 tsp xanthan gum ONLY if flour blend does not contain xanthan gum already

1/4 cup (50g) cane sugar or coconut sugar

1 Tbsp baking powder

1/4 tsp vanilla salt or sea salt

1/4 cup (55g) high quality vegan stick butter, chilled/frozen**

1 cup (170g) fresh blueberries, rinsed and dried well with a towel

1 cup (225g) full fat coconut milk + additional 2 Tbsp for basting scones

Coarse turbinado or cane sugar for sprinkling

Maple Glaze

1/2 cup (56g) sifted powdered sugar

1 Tbsp Maple syrup

Maple Vanilla Coconut Yogurt

12 oz (340g) Greek style unsweetened plain coconut (or other plant based) yogurt

1 tsp vanilla paste

2 tsp maple syrup
Directions
Scones
Line a baking sheet with parchment paper or a silicone mat. Sprinkle it lightly with gluten free flour mix.
In a large mixing bowl, whisk together flour, sugar, baking powder, and salt.
Coat the stick of vegan butter in the dry mixture, then grate the butter directly into the mixture. Stir with a silicone spatula or fork to incorporate the grated vegan butter. The mixture will seem dry.
Add the coconut milk to the mixture and stir gently to combine. The dough will seem very soft.
Fold in the blueberries.
Scoop the dough onto the prepared baking pan. Flour your hands and shape the dough into a 7 inch disc. The disc should be 1 1/2- 2 inches thick.
Cover the dough and place in the refrigerator at least 30 minutes, preferably overnight.
Preheat the oven to 400° F.
Once the oven is preheated: Cut the chilled scones into 6 wedges and pull the wedges apart, about 2 inches between each, on the baking sheet. Brush the tops of the scones with the reserved coconut milk and sprinkle with the coarse turbinado or sanding sugar.
Bake for 25-30 minutes. The scones should rise and turn slightly golden in color.
Allow the scones to cool for 5-10 minutes before spreading on the glaze. Serve with 1/4 cup of the yogurt and additional fresh berries if desired.
Maple Glaze : Mix while the scones bake
Wisk the powdered sugar with the maple syrup. The glaze should be very thick, but spreadable. Add additional maple syrup in small increments if the glaze is too thick.
Whisk the vanilla bean paste and maple syrup with the coconut yogurt. Return to the fridge until ready to use.
Notes
*Look for a 1 to 1 or a measure for measure gluten free flour blend. Bob's Red Mill or King Arthur are reliable.
*Only add the xanthan gum if your flour mix doesn't have xanthan in it already.
**Cold, solid coconut oil can be substituted for the vegan butter. Instead of grating it, use a pastry cutter or fork to blend the oil with the flour mixture.