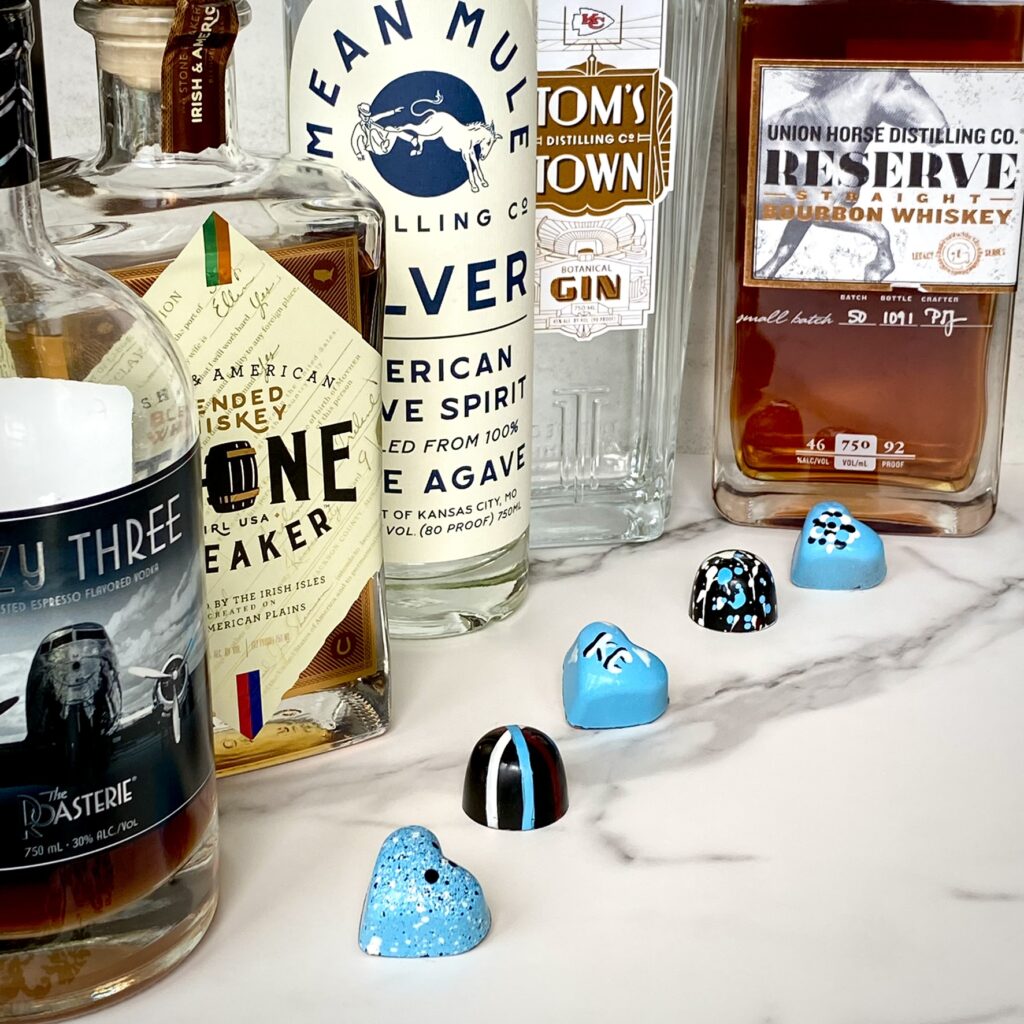 We've Got Spirit! Collection
I've got spirit yes I do, KC spirits, how 'bout you?
It was my honor and pleasure to design this chocolate collection to support the Big Slick Fundraiser benefiting Children's Mercy Hospital in Kansas City. If you received a package of these bonbons, then you've got KC spirit like no other. Thank you for everything you have done to support Kansas City and the children being served at Children's Mercy Hospital. You are a gift to us all.
The bonbons in this collection are inspired by craft distilleries and spirits making their mark in the KC metro. Each bonbon includes a unique spirit representing five different Kansas City area distilleries. I prefer to use as many local ingredients as I can in my products, including local Shatto cream, VAIN Vanilla, locally grown pecans, and Roasterie Coffee.
Allergy Statement: All of the ingredients in these chocolates are gluten free. However, the chocolates are made in a home that uses gluten products. The bonbons contain dairy and tree nuts.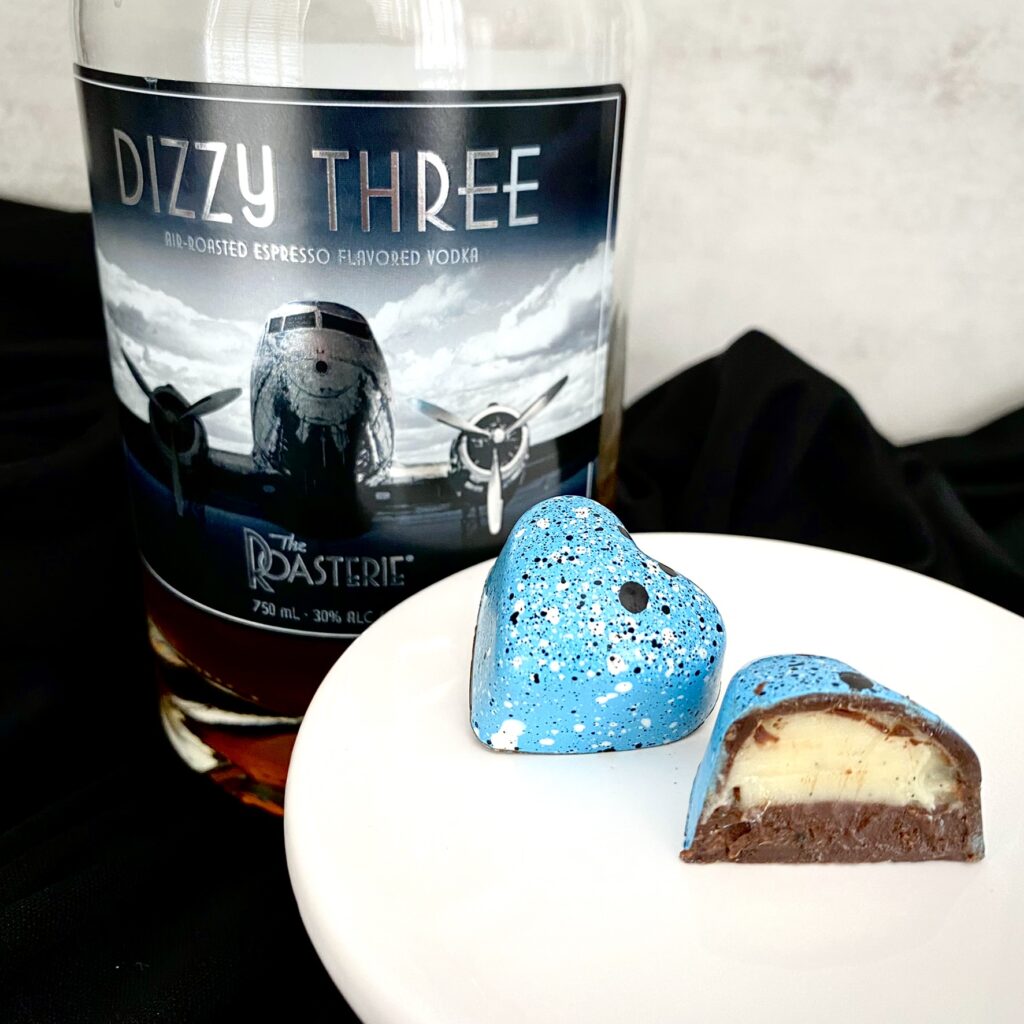 Good Spirits and Roasterie Coffee Truffle
This dark chocolate truffle flavored with locally roasted coffee vodka and coffee grounds is just the perk for all your hard work. There's a layer of vanilla ganache to balance the boldness of the coffee layer. I think you'll like it a latte.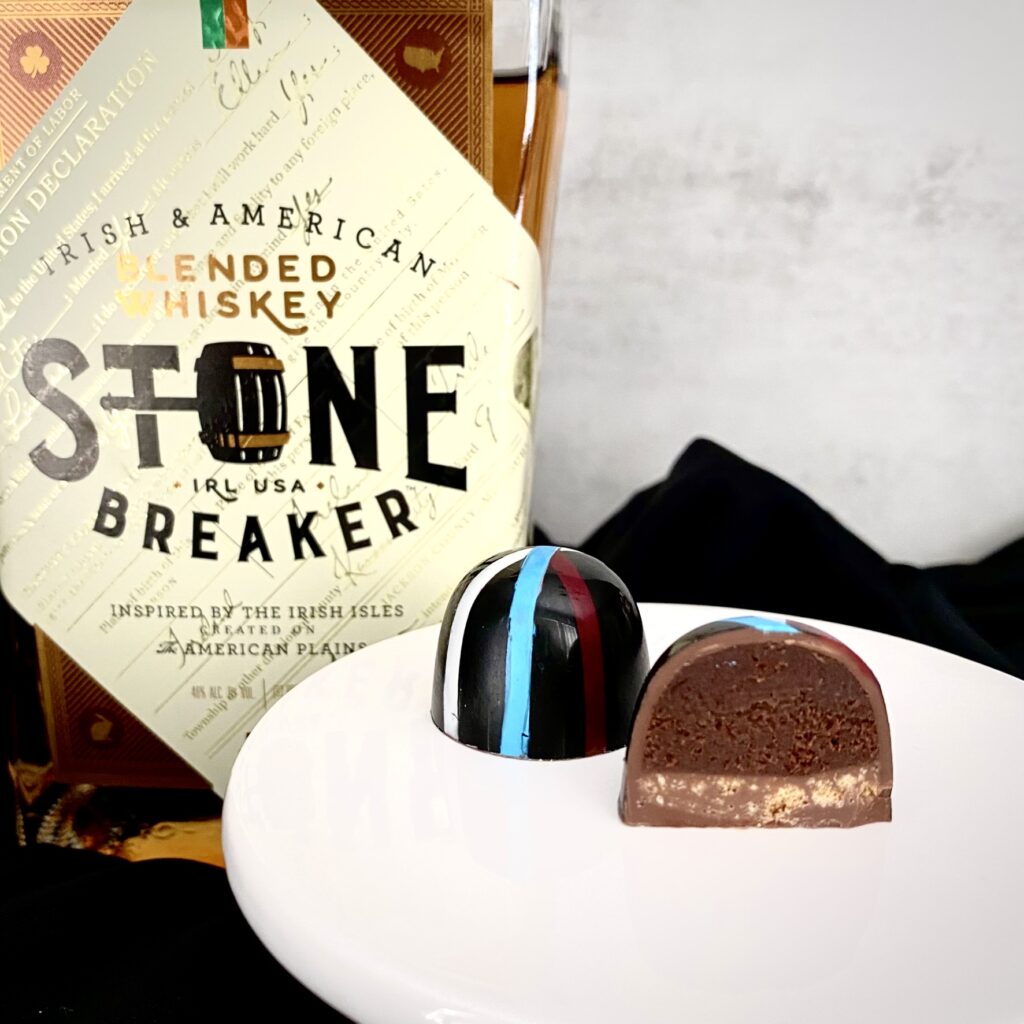 Restless Spirits Whiskey Pretzel Crunch Bonbon
This is the bite where salty meets sweet, and melty meets crunchy. Stone Breaker Blended American and Irish Whiskey is infused into a silky, milk chocolate ganache, followed by a salty, crunchy, gluten free, pretzel base.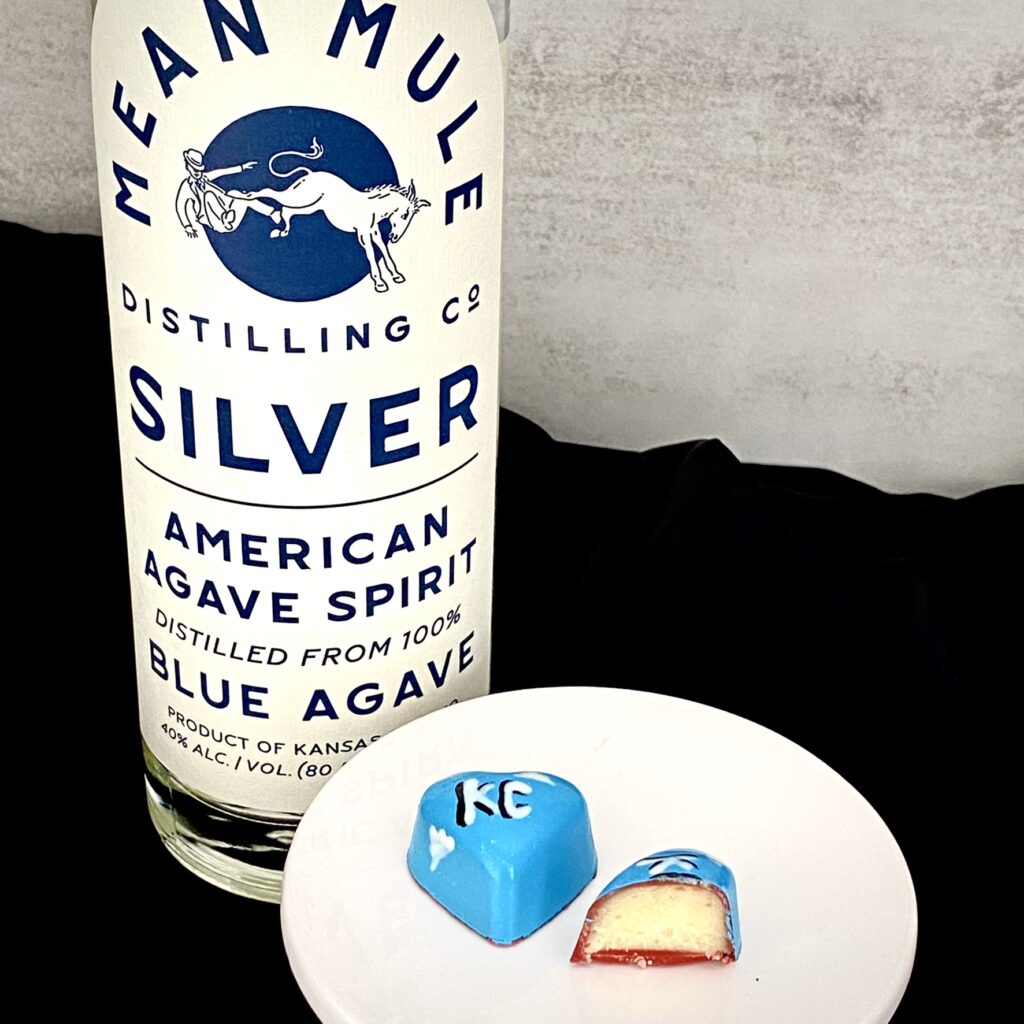 Mean Mule Strawberry Margarita
A fruity strawberry chocolate shell filled with a white chocolate and lime ganache, infused with plenty of locally crafted agave spirits and Triple Sec will send your taste buds to your favorite summer beach retreat. No need to be "searchin' for my long lost shaker of salt," each bonbon is sprinkled with fleur de sel on the bottom for that true margarita flavor.
**This design was inspired by the Charlie Hustle Shirts made for the 2022 Big Slick event.**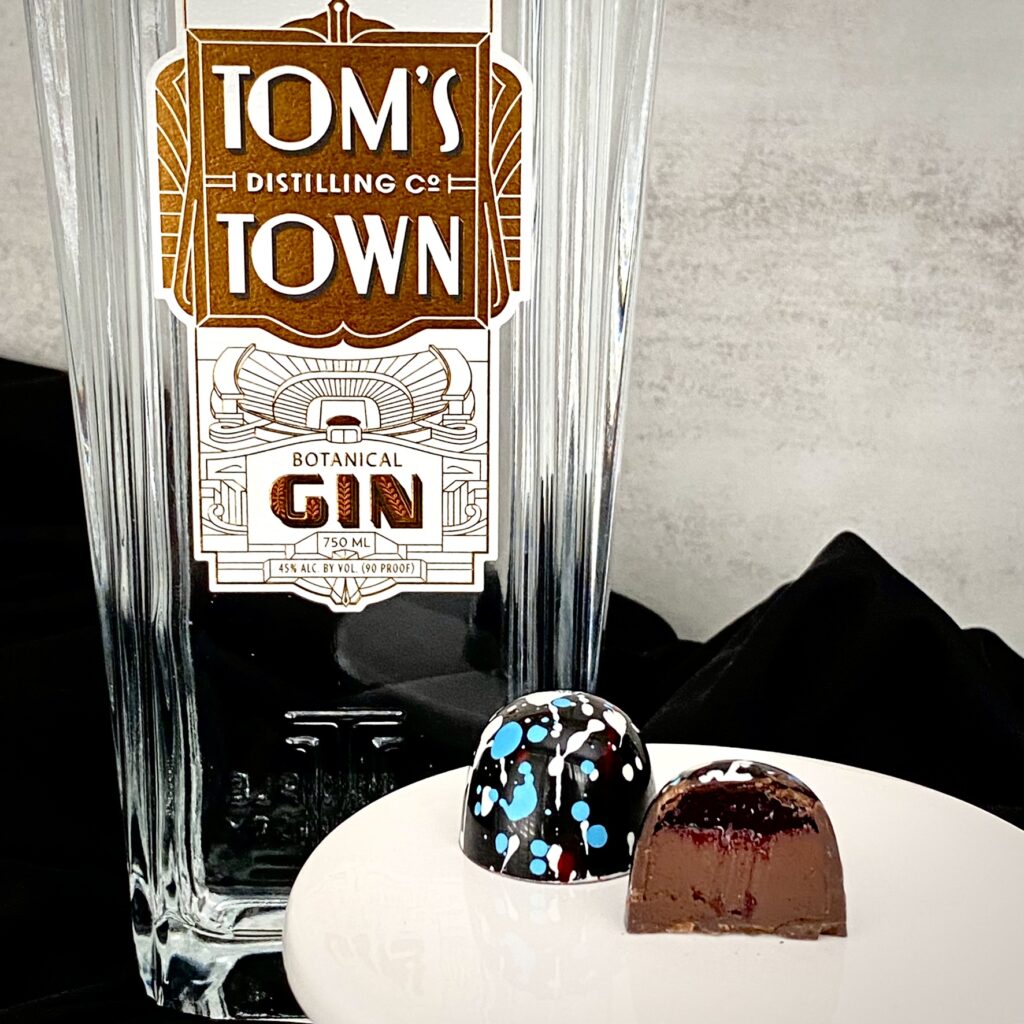 Tom's Town Gin and Blackberry Bonbon
This dark chocolate bonbon layered with housemade, fresh blackberry jam and gin infused dark chocolate ganache hits all the fruity, earthy, botanical notes. The flavors of the botanical gin and dark chocolate will pleasantly linger long after the bonbon is gone.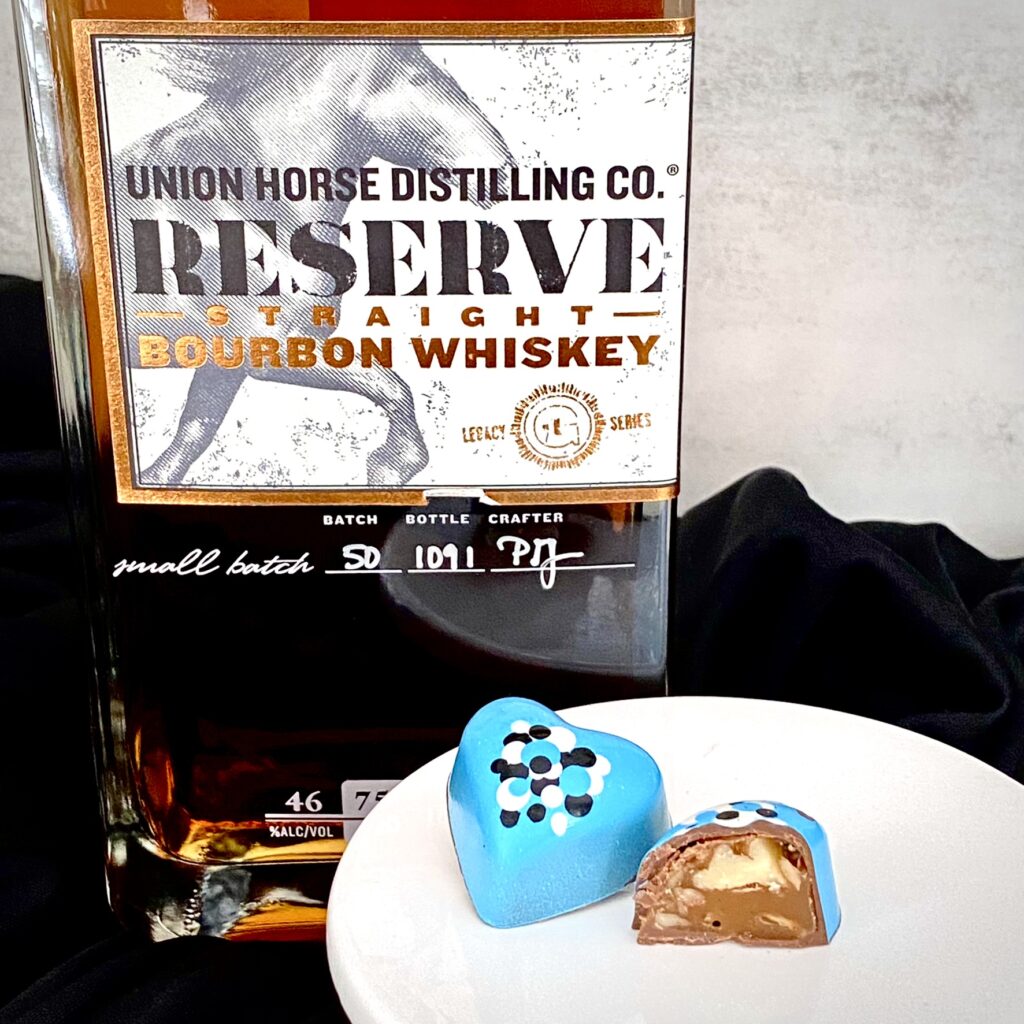 Union Horse Distilling Bourbon Turtle
There's nothing pedestrian about this milk chocolate shell filled with homemade caramel that is infused with bourbon, Applewood smoked sea salt, and studded with Missouri pecans.