I was inspired to make this particular ice cream during the holidays by my good friends who moved away- and thus, did not give me a batch of the spectacular peppermint ice cream they usually give away for holiday gifts. I'm not sure what their recipe is; (HINT HINT!) but I do know it always has lots of crunchy bits of candy cane in it. So, I pulled what was left of our peppermint candy canes off the tree and crushed them up for ice cream. I figured I should add some peppermint extract as well.
I was going to stop there……but…….I had some chocolate sugar cookies hanging out in the freezer, and then I noticed I had just enough coffee infused chocolate butter from Alaska Falls Farm to tie it all together. It's OK if you don't have those last two things. Oreos make a great substitute for chocolate sugar cookies, and any fudge sauce or loose chocolate ganache will stand in for the chocolate butter.
Going crazy with ice cream creations is both fun and easy to do. No need to stress about it. If is something that you enjoy on it's own, it's probably also good with ice cream.
I adapt the CoolHaus plain custard recipe for most of the ice cream that I make. Their full recipe will not fit in one of my Cuisinart ice cream machine bowls, so I always have two bowls frozen and ready to go. You can also just half the recipe. This time, I made all of it vanilla, then split the base so I could dress up half of it for the peppermint version that I am giving below. The recipe below is halved for you already and should fit into one ice cream machine bowl. The base is supposed to chill for a day, or at least overnight, so work that into your plan.
Let's make ice cream!
Day 1: (Give yourself about 30 minutes for this part.) Since the base will need chill for a day, and your ice cream machine bowls need to freeze; put your ice cream bowls in the freezer before you begin making your ice cream. You should only need one ice cream bowl for this recipe which makes 6-8 scoops, but if you plan to double it, freeze two.
Make your base using the freshest eggs, milk and cream you can get. I use Shatto cream and milk in my ice cream as it's local and the cream has a high fat content, which makes the ice cream even richer with a smoother feel on your tongue. I store my base in a drink pitcher or a glass container that has an airtight lid. You can also store it in a plastic zip bag or a bowl with tight wrap over it. I find it is easier to pour into the machine if the ice cream base is in a pitcher or other container that pours without being too messy. If you use a plastic storage bag, pinch one corner on the bottom and hold it up so the liquid flows away from that corner. Cut that corner off and you should be able to easily pour from the plastic bag.
Day 2: Mix it! Mix it good.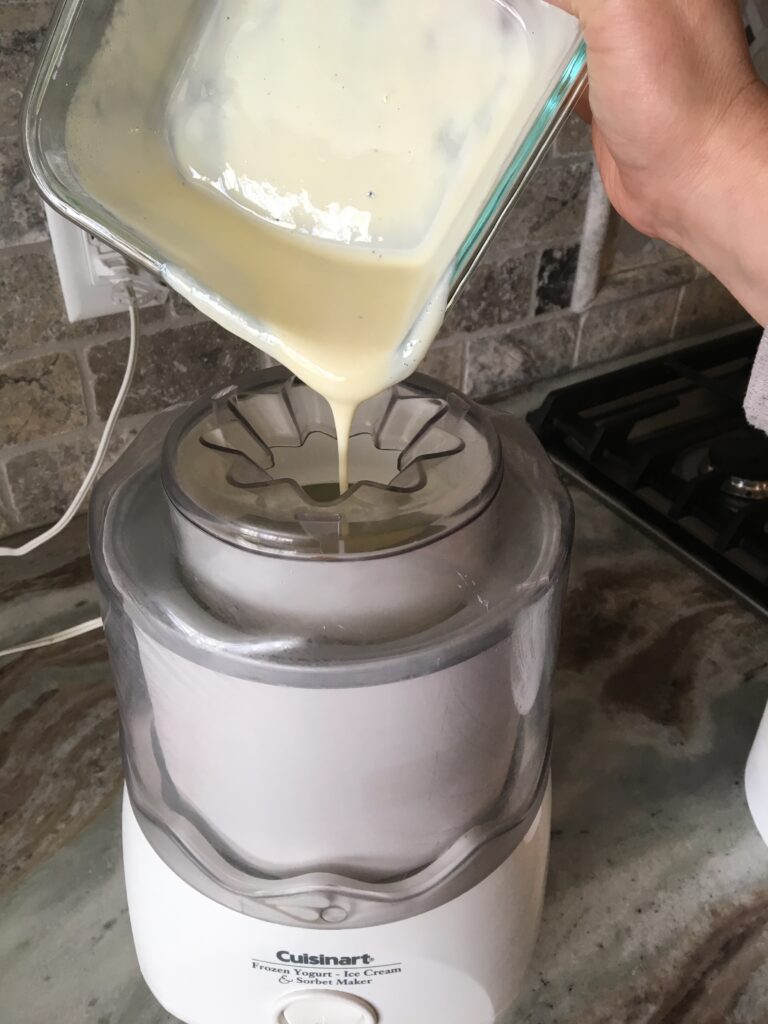 Mix the custard base in the ice cream machine according to the directions that came with the machine.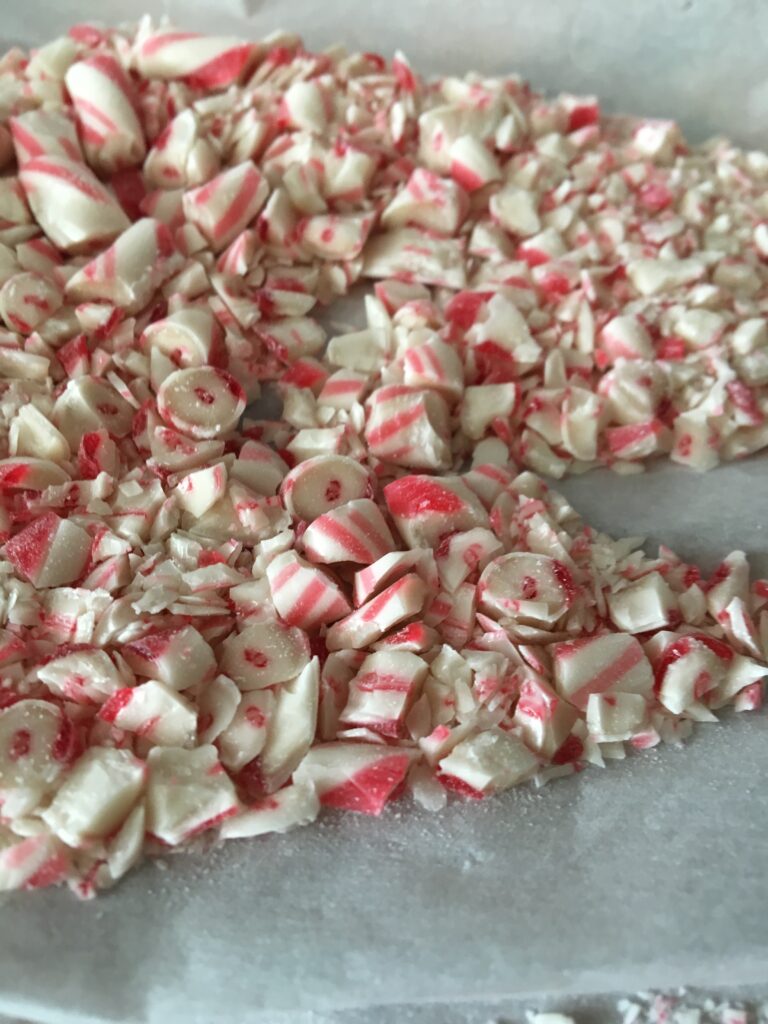 Crush your candy candy canes. I made a parchment paper pocket and my son beat and rolled them with my rolling pin. He loved helping in that way.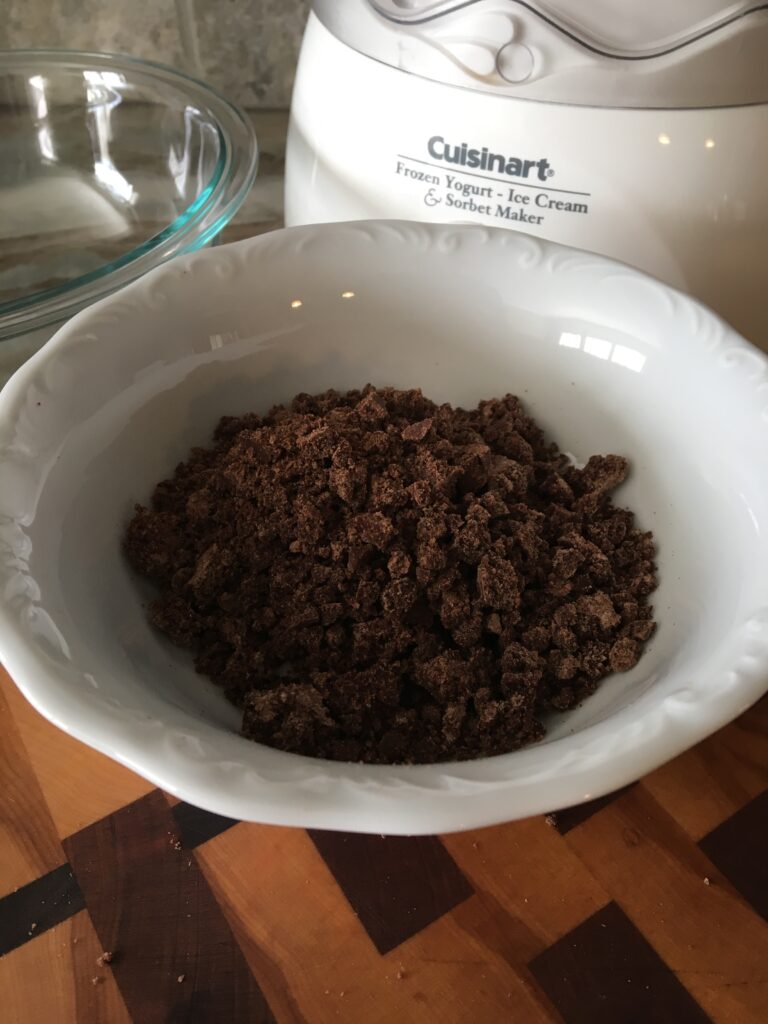 Crush your chocolate cookies the same way. Put your chocolate fudge sauce into a piping bag or baggie.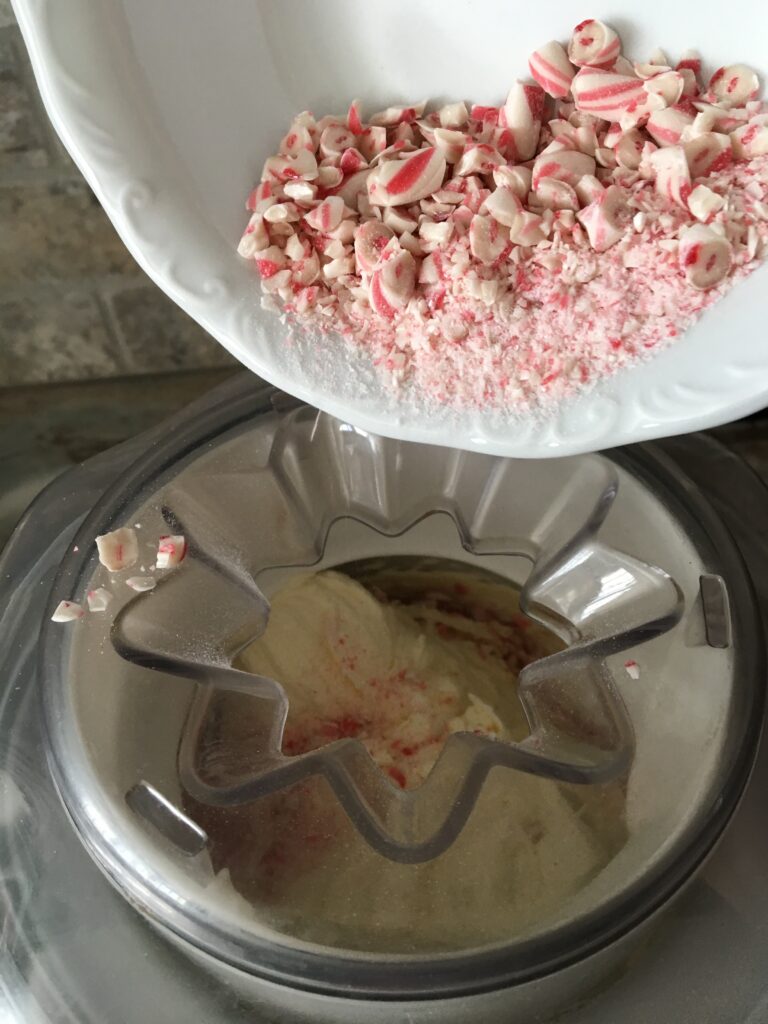 When it looks like ice cream (this takes about 25 minutes for my machine); add the candy cane pieces and chocolate cookie crumbles.
Spoon 1/3 of the ice cream into the storage container of your choice. I have a Tovolo ice cream storage container that I like and the shape does make it easy to scoop. Drizzle it with the chocolate fudge sauce and repeat two times. You'll see the swirl when you scoop the ice cream!
Freeze for at least 3 more hours before serving. Ice cream should last several days in the freezer. My family at this whole batch in one nigh. Eek. But it was soooooo good.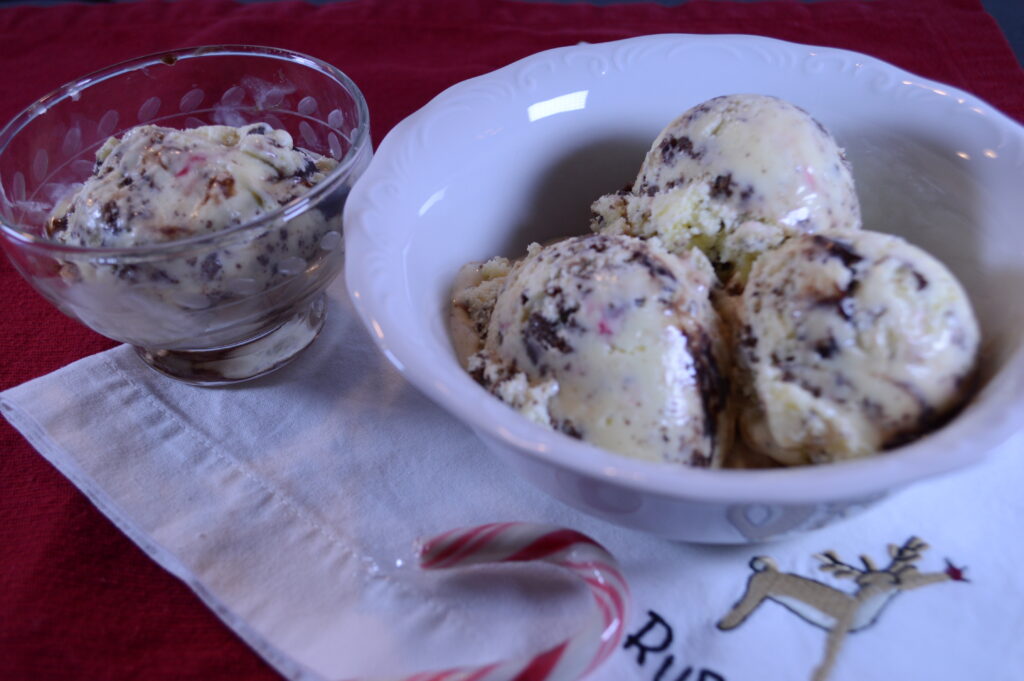 Peppermint Fudge Swirl Ice Cream
Course: Dessert
Rich peppermint ice cream studded with candy cane pieces, chocolate cookie crumbles and a swirl of decadent chocolate fudge sauce.
Ingredients
1 cup whole milk

1 cup heavy cream

1/2 cup + 2 Tbsp granulated sugar

4 large egg yolks

1/2 vanilla bean pod scraped or 1/2 tsp vanilla extract

1/2 tsp peppermint extract

3 crushed peppermint candy canes crushed

2 large chocolate sugar cookies or 6 Oreo cookies crushed

3 Tbsp chocolate fudge sauce or chocolate ganache
Directions
In a saucepan, combine milk, cream, and half of the sugar. Set over high heat, and cook, stirring occasionally until the mixture comes to a boil.
While the milk mixture is heating, whisk egg yolks and remaining sugar in a medium bowl until smooth, heavy, and pale yellow, about 30 seconds. (I use a hand mixer to do this.)
When the milk mixture just comes to a boil, whisk by hand with a clean whisk, remove from heat, and slowly stream half of the milk mixture over the yolk mixture, whisking continuously by hand until blended. (This tempers your egg yolks without turning them into scrambled eggs.)

Return pan to stove top on low heat. Whisking continuously by hand, add the yolk-milk mixture back into the pan.
Continue stirring with a silicone spatula or wooden spoon until the mixture registers 165-180 degrees on an instant read thermometer (about 2 minutes!). Do not go above 180 degrees- it will scramble the eggs.
Gently stir in the vanilla beans/extract and the peppermint extract.
To ensure the smoothest result, pour the mixture through a mesh strainer when you transfer it to the airtight storage container you intend to use.
Refrigerate for 12-24 hours before processing in an ice cream machine. You can make this base up to 4 days before processing it in the ice cream machine.
Process the ice cream base according to the manufacturers instructions on the machine you'll be using.
When the ice cream begins to look like soft serve, this takes about 25 minutes using my Cuisinart, add in the candy cane pieces and chocolate cookie crumbles. Continue until the pieces are just mixed in.
Scoop 1/3 of the soft ice cream into a freezer friendly storage container, then drizzle about 1 tablespoon of the chocolate fudge sauce over it. Repeat twice.
Freeze an additional 3 hours before serving.
Notes
Be sure to put your ice cream machine bowls in the freezer when you make the base. Most bowls need 12+ hours to freeze completely.