ADULTS ONLY!!!
Rum+Brown Sugar+Warming Spices+Butter+Dark Chocolate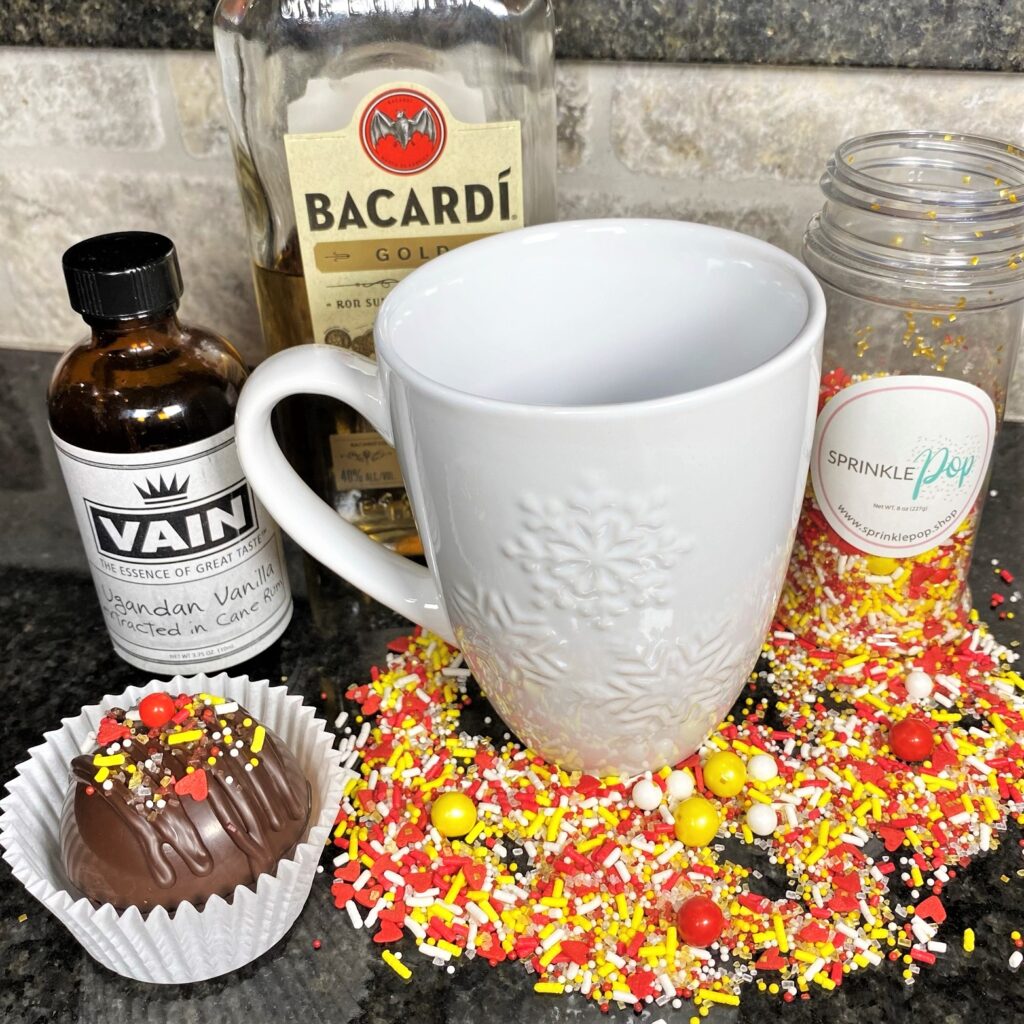 Oh, you raised your hand to be part of this?! Smart.
My first taste of hot buttered rum was in college. All of the cool kids had graduated from Cowboy Koolaid (aka: Jungle Juice) to more refined cocktails. A hot, rummy drink was a girl's dream come true on a cold evening out. There was always rum for the boys' rum and Cokes, so hot buttered rums were an easy choice.
Recently, while talking recipe development with my friend Kate, who owns VAIN Foods, the idea for a hot buttered rum bomb took root. Taking one of my favorite hot cocktails and giving it a chocolate upgrade as well as some theatrics? I was all in! I fixated on how to accomplish it. I spent a week working it out, tweaking it, and making it……THE BOMB!
Some important tips:
Use 2.5 inch dome molds. I would encourage you to get plastic or polycarbonate. I tried the silicone and was not liking those at all.
Make sure you melt both halves and get a good seal! These babies will leak rum out of the tiniest little hole.
Use a good quality gold rum. If you're putting a whole shot of booze in something; make it good booze.
The mister and I tried this recipe with water, milk, and with water topped with rummy whipped cream. We both agreed that the milk tasted too much like a Mexican hot cocoa and preferred the water. I loved it with the whipped cream and my husband said he liked it best without. Lots of ways to customize this drink to your tastes.
If you don't have chocolate molds, or you just don't want to mess with the whole "bomb" thing, check out the recipe notes for a single mug version!
Cheers!
Hot Buttered Rum Bombs
This recipe will make 4-5 bombs. To make one, or just make the drink without the shell, check the notes section!
Ingredients
1 pound dark chocolate for making bomb shells

1/2 cup (1 stick) unsalted butter softened

1/2 cup dark brown sugar

1 tsp ground cinnamon

1/8 tsp vanilla salt (or flake sea salt)

1/4 tsp freshly grated nutmeg

1 tsp vanilla (I used VAIN Ugandan Vanilla in Rum)

1 tsp rum extract

10 Tbsp good quality gold rum

cupcake liners

Optional: Sprinkles for topping

Optional: whipped cream (see notes)
Directions
Melt your chocolate and paint or pour the chocolate into the molds to make the shells. Allow to completely cool before filling.
In a bowl, combine butter, sugar, spices, vanilla extract, and rum extract. It should look like a paste.
Warm a nonstick pan to the very lowest heat. Gently melt the edge of one shell and place into a cupcake liner. Pour in 2 Tbsp gold rum. Melt the rim of another half and fill with 2 Tbsp of the butter mixture. Gently press the halves together making sure to seal the bomb. Repeat with the remaining shells.
Melt leftover chocolate for drizzling on top of the finished bombs. Optional: While the chocolate is still wet, sprinkle with your choice of sprinkles.
To Serve:
Boil water. (Or heat milk to steaming if using milk.)
Set the bomb into a large heatproof mug.
Pour 8oz of hot liquid over the bomb. Stir until completely dissolved.
Optional: Top with whipped cream and more sprinkles!
Serve while hot!
Notes
To make an individual serving without making a chocolate shell: Combine 2 Tbsp unsalted butter with 2 Tbsp dark brown sugar, 1/4 tsp cinnamon, pinch of salt, pinch of nutmeg, 1/4 tsp vanilla, 1/4 tsp rum extract, 20 chocolate chips in a mug. Pour 8oz boiling water or steamed milk into the mug and stir. Add 2 Tbsp gold rum and stir. Optional: Top with whipped cream and sprinkles.
Homemade Whipped Cream with Rum: In a whipping canister (or use a whisk in an electric mixer on high) combine 1 cup heavy cream with 2 Tbsp rum, 2 tsp powdered sugar and 1/2 tsp vanilla extract.