Smoothies are a staple breakfast item in our house, and pretty much what I have most days of the week. I plan to share the recipes and process for all my favorite smoothies with you here. So, if you're a smooth(ie) operator, be sure to check back for more great recipes.
My Chocolate Cherry Smoothie is a creamy concoction of banana, cherries, greens (don't panic! You can't even taste them), natural cocoa powder, coconut milk, coconut oil, and cinnamon. Each of these ingredients are all natural, unprocessed foods, and have mega health benefits. Cherries are packed with antioxidants and are knows to reduce inflammation and gout attacks, bananas are rich in potassium and fiber. Cinnamon can reduce inflammation, natural cocoa has healthy antioxidants and fat, coconut oil has many benefits- my favorite of which is gut health. (Seriously, a little coconut oil in a smoothie will get things moving in your GI!)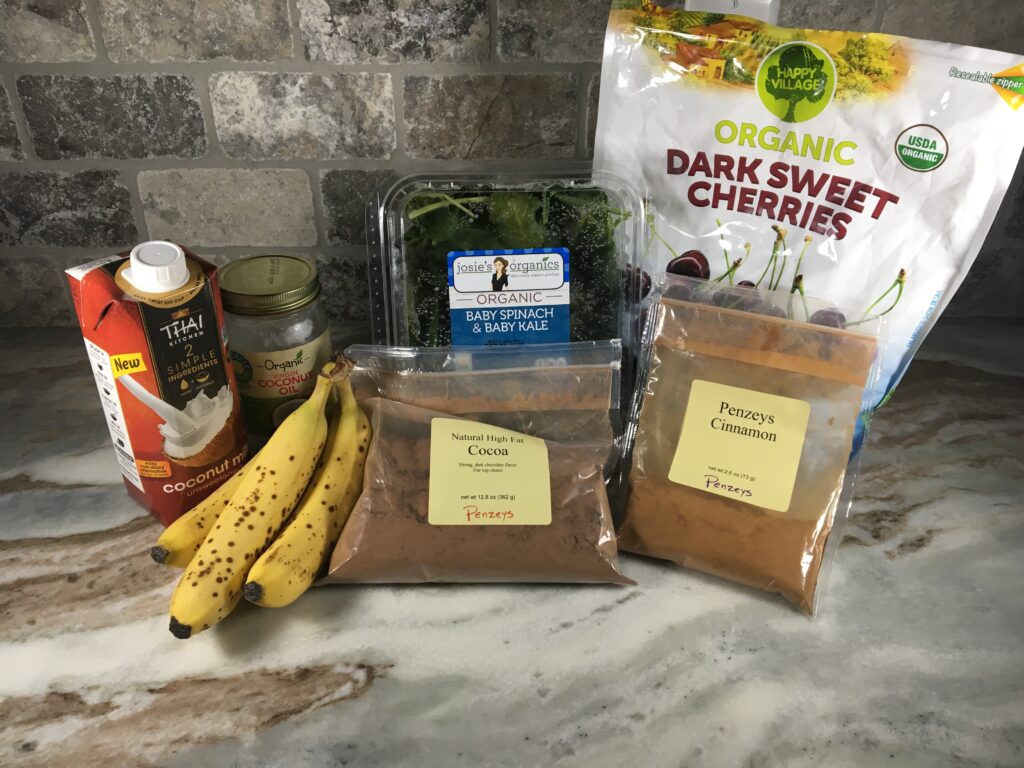 If any of those ingredients are just not your jam, there are lots of ways to trade out ingredients in this smoothie to find what you like best. I'll share a few tasty ingredient substitutions in the notes of the recipe.
This recipe is adapted from The Wahls Protocol: Cooking for Life cookbook created and written by Terry Wahls, M.D. and Eve Adamson. I came across this book a couple years ago when my MS diagnosis was still somewhat new and I wanted to try as many natural ways to complement my disease modifying therapy (pharmaceuticals) as possible. My neurologist suggested I try the Wahls Protocol Diet, so I did.
The Wahls Protocol Diet is a strict, and slightly modified version of Paleo diet. In a nutshell, that means no dairy, gluten, eggs, or processed sugar. Essentially, anything I had normally eaten for breakfast, and even the smoothies I used to make with protein powder or greek yogurt, were out. I followed the Wahls Protocol fastidiously for 7 months. It was challenging, and I did feel healthier, but it didn't prevent my MS relapses as I had hoped. The level of difficulty in maintaining that diet while also feeding my family did not outweigh the benefits for me, so I pulled back on the strict regimen and decided to apply as much of those healthy eating practices as I am able, without adding stress to myself- or my family.
Smoothies make it easy for me to maintain some of the health benefits of the Wahls Protocol in an easy and delicious way. This is my son's favorite smoothie too!
Here's what you need: Frozen Bananas. I just buy mine and peel them when I get them home and stick them in a container in the freezer. Do NOT freeze them in the peel, that just makes your life hard. Don't worry if they oxidize (get little brown) in the freezer without their peel, it tastes the same, and you're putting it in a chocolate (brown) smoothie! Frozen Cherries. I like to buy organic ones when I can. Costco sells the bag in the picture. Coconut Milk. Thai Kitchen just started selling organic full fat coconut milk in the carton- woo hoo! If you don't want to use full fat, just make sure you are not using any milk with added sugar. If you use lower fat almond milk or coconut milk, maybe skip the water and just do a full cup of the lower fat milk. Greens. Spinach is most mild/flavorless in smoothies, but I find that kale is good too. If you're a newbie to greens in your smoothies, start with spinach. I try to go organic with greens as they are on the dirty dozen list, and non-organic is likely to contain pesticides and other chemicals I would prefer to ovoid. I do freeze my smoothie greens when I get them home from the store. It is quick and easy to grab them, and they don't go bad before I can use them up (wash them before you freeze if they are not already washed!). Coconut oil. You can use MCT-E oil, or fractionated coconut oil. I do find that those options make my smoothie more runny, so I typically go with the less expensive virgin coconut oil. Cocoa Powder. Do get the all natural variety instead of the dutch process cocoa which will give your smoothie a bit of an odd aftertaste. I prefer Penzey's all natural cocoa as I think it is nice and dark and has a smooth, chocolaty flavor. Go with what you like! Cinnamon. Again, I prefer Penzey's cinnamon blend to any other cinnamon I've tried. They know what they're about over there!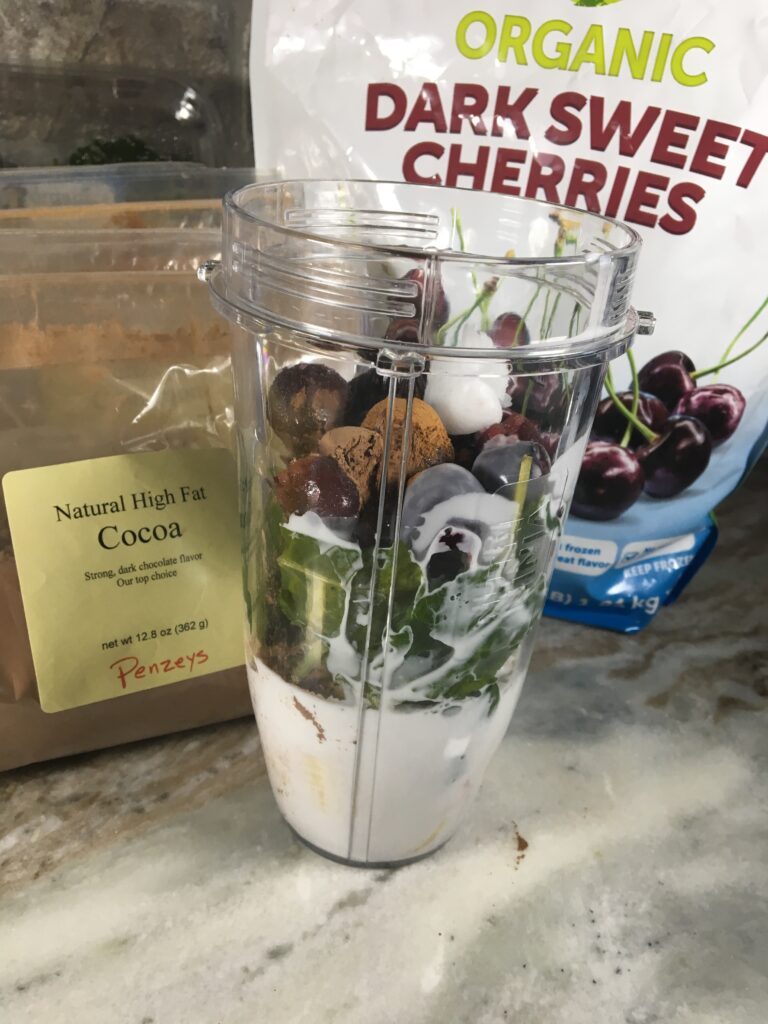 Blending tips: I do not have a Vitamix, so I use my NutriNinja to blend all my smoothies. I have found that the most important trick for me is to have the greens in the middle. I don't want them first by the blade, or first in the cup. That always gives me green chunks, which is not nice on the palate. I also avoid putting spices in first because sometimes they'll stick to the bottom and not get mixed in nicely the way I like it.
After much trial and error, here's how I fill my NutriNinja cup: Bananas, greens, cherries, coconut milk and water, cocoa, cinnamon, and coconut oil. Lid goes on, then it all get flipped over to blend. One of the nice things about a cup blender is that it eliminates the need for another dish. I did pour the smoothie in a pretty glass for this post, but that doesn't actually happen on a regular day. I just pop in a reusable straw and enjoy straight from the blender cup.
Chocolate Cherry Smoothie
Course: Breakfast, Lunch, Snack
Ingredients
1 frozen banana

1/2-1 cup frozen spinach (I grab and handful)

1/2 cup frozen cherries (should have pits removed)

1/2 cup full fat coconut milk

1/2 cup water

1 teaspoon all natural cocoa powder

1/2 teaspoon cinnamon

1 teaspoon coconut oil
Directions
If your banana was frozen whole, break it into 2-3 chunks before placing in the blender.
Add the remaining ingredients and blend until fully incorporated and no chunks remain.
Enjoy immediately.
Notes
Substitutions: Any nut butters can be substituted for the coconut oil in equal amounts. Nut milks and regular dairy milks can also be substituted in equal amounts in place of coconut milk. Other good greens for this smoothie include kale or baby spring lettuces. The cinnamon is optional.
If coconut isn't your favorite or you just want to mix it up, go almond! Use almond butter in place of the coconut oil and almond milk in place of the coconut milk. If you want it to stay creamier, use 1 cup of almond milk and omit the water.