Blood orange caramels are a fruity declaration of love for all things caramel.
The inspiration for doing a blood orange caramel bonbon came from my love for my dad who loves blood oranges.  I believe it makes people feel special when they know you cooked something new just for them. I'm pretty sure "acts of service" is my primary love language, so making this blood orange caramel was just one of the ways I let my dad know that I love him.  
I looked online for a recipe to meet my needs and couldn't find one.  The closest I found was a recipe for blood orange caramel sauce by Jenni Field's Pastry Chef Online.  I was really torn about whether I should just give up the idea or work out a caramel recipe. I felt like creating my own caramel recipe was a big deal 5 years ago.  I'm not a formally trained pastry chef. I don't fully understand all the ratios and chemistry behind sugar work. I was prepared for disaster, but was rewarded with something magical.
This recipe can be made softer or firmer depending on your preferences; see recipe notes.  If you go firm, you don't even have to coat it in chocolate. I always pair this pink, fruity caramel with white chocolate as that reminds me of an Orange Dreamsicle from when I was a kid.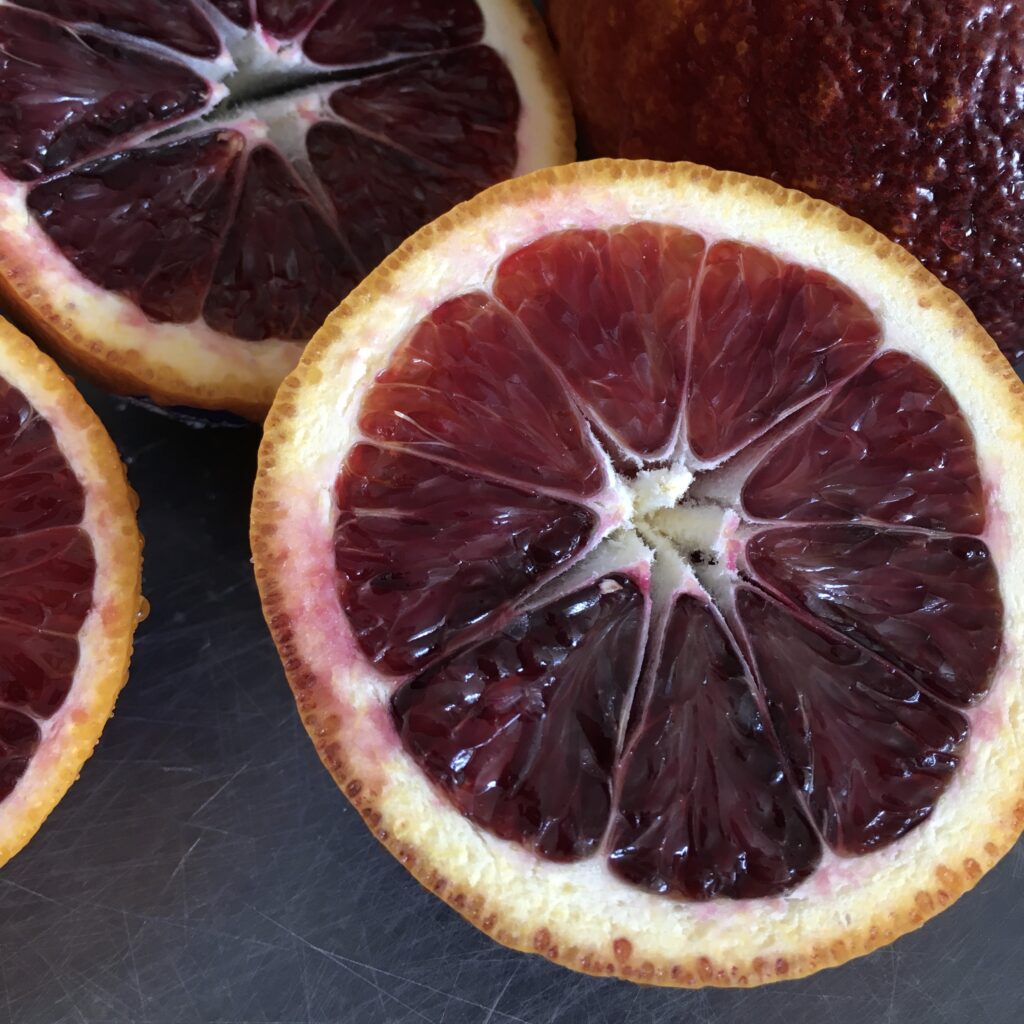 A note on blood oranges. They are in season from December to May and are primarily produced in Italy. Blood oranges have been said to have a flavor profile that is a cross between a sweet orange and a raspberry.
I regret that I do not have photos of the caramel cooking process, but I will say that it's somewhat dangerous to be distracted to any degree when working on 200+ degree sticky sugar. Be smart folks. I do not recommend allowing children of any age to work on caramel without an adult working beside them. In fact, I haven't allowed my kids to even be in the kitchen while caramel is being made until somewhat recently. So, any child under the age of 8 should probably be kept away from the kitchen altogether while you are making caramel.
For your viewing pleasure, I am including pictures of the latest edition of the blood orange bonbon process.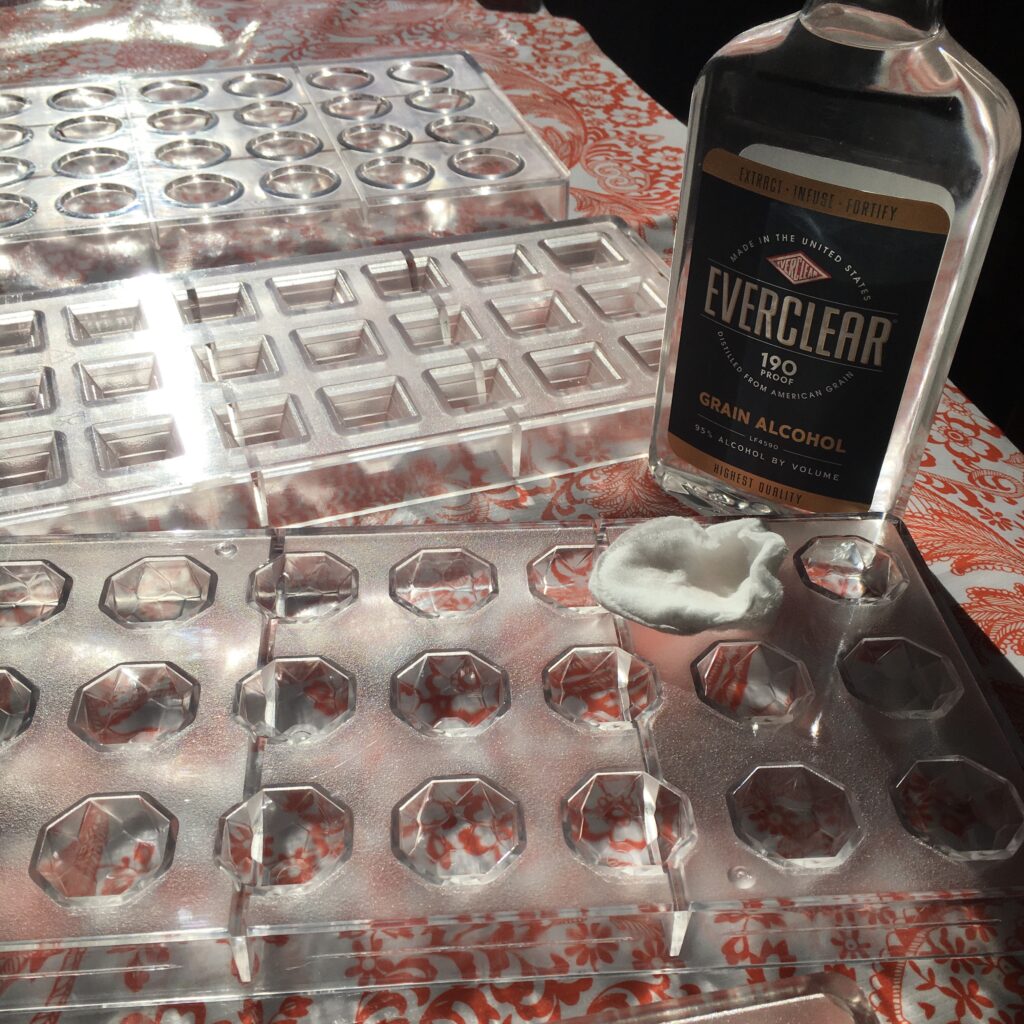 Blood Orange Caramel
Course: Dessert
Difficulty: Difficult
Ingredients
1 cup granulated cane sugar

1 Tbsp glucose syrup (corn syrup can also be used)

1/4 cup water

6 oz. freshly squeezed blood orange juice, strained (about 7 blood oranges)

2 oz heavy cream

1/2 tsp fleur de sel

2 Tbsp unsalted butter

2 T vanilla whiskey (I use Crown Royal Vanilla)

Candy Thermometer or instant read thermometer!!!
Directions
Prep and measure all your ingredients before you begin cooking anything. This is very important with caramel!
Place a large sheet of parchment paper in a 9 inch casserole dish. If you are doing soft caramel to fill chocolate shells, you just need a place for the caramel to safely pool and cool. If you are making caramels to cut, you may want to use a 6 inch square dish and carefully line the dish with parchment so you can remove the caramel to cut it after it's cooled.
In a bowl, mix together the sugar, water and corn syrup until you have what looks like a paste.
In a small saucepan, over low heat, combine the juice, butter, salt, cream, and vanilla whiskey. Keep warm, but do not allow to boil.
Heat a heavy bottomed saucepan (at least 4 quarts) with a tight fitting lid over medium heat. When the pan is hot, pour the sugar mixture into the pan and cover it. Covering the pan at this point prevents you from having to brush down the sides of the pan with water while the sugar caramelizes.
You can check your caramel color every couple of minutes by lifting the lid. Replace the lid after checking and gently swirl the pan. Do not stir the caramelizing sugar mixture with any tools at this point. When the sugar is starting to turn golden, remove the lid and watch the sugar closely until it is the color you like. I always look for a medium amber color. If you go too far, you'll smell it and will need to start over with a new batch of sugar.
The moment your sugar is that medium amber color, you'll add the heated cream mixture while stirring constantly with a long handled silicone spatula. Your caramel will bubble up and spit violently. Be careful!
Insert your candy thermometer or instant read thermometer. Continue stirring while the caramel cooks until it is at 235 degrees F for soft caramel. See notes for firm caramel. At 235 degrees F, remove from heat and pour into the parchment lined dish. *DO NOT SCRAPE THE SIDES OR BOTTOM OF PAN- JUST POUR.
Allow caramel to cool to 75 degrees F or room temperature before transferring it to a piping bag to fill chocolates.
Notes
If you would like a firm caramel chew, cook the caramel to 245 degrees F before removing from the heat.
Stirring the sugar while it is caramelizing will create sugar crystals and your caramel will seize up or be gritty.
Although it feels wasteful, scraping the sides of the pot will loosen sugar crystals that will cause the rest of your finished caramel to crystallize and your end result will be grainy/gritty.